In this essay, I will be discussing Tallgrass Energy Partners (NYSE:TEP), a growth-oriented Delaware based MLP.
The Story So Far
This midstream partnership was formed by Tallgrass Development to own, operate, acquire and develop midstream energy assets in North America. TEP provides i) natural gas transportation and storage services in the Rocky Mountain and Midwest regions through its TIGT System and ii) processing services in Wyoming through Midstream Facilities. For the year ended December 31, 2012, TEP generated Adjusted EBITDA of ~$76.4 mn and net income of ~ $50.1 mn. The company acquired its portfolio of current midstream energy assets from Kinder Morgan (NYSE:KMI) at an enterprise value of ~$3.3 bn in November 2012.
What are the key investment highlights?
Attractive Foot Print with Strong Growth Prospects: TEP's assets represent an important link to end-user markets in the Midwest that are well positioned to capture growing natural gas volumes in the Denver-Julesburg Basin and the Niobrara and Mississippi Lime shale formations.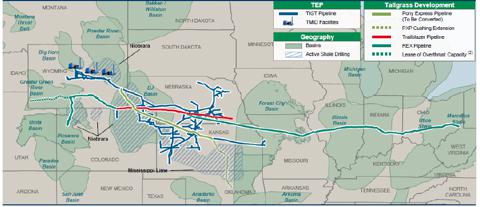 i) Gas Transportation and Storage: The TIGT System is a FERC-regulated natural gas transportation and storage system with ~4,645 miles of pipelines in Wyoming, Colorado, Kansas, Missouri and Nebraska. Following the Pony Express Abandonment, the TIGT System will have capacity to transport ~938 MMcf/d. The TIGT System also includes the 35.1 Bcf Huntsman natural gas storage facility, with ~ 210 MMcf/d of peak withdrawal capability. As of December 31, 2012, ~72% of its pipeline transportation capacity and 74% of working gas storage capacity was committed under firm contracts.
| | | | | |
| --- | --- | --- | --- | --- |
|   | Capacity | Total Firm Contracted Capacity | % Subscribed under Firm Contracts | Wtd Avg. Remaining Life |
| Transportation | 938 MMcf/d | 678 MMcf/d | 72 | 4 yrs |
| Storage | 15.1 Bcf | 11.1 Bcf | 74 | 2 yrs |
ii) Processing: The Midstream Facilities comprise of natural gas processing plants in Casper and Douglas, Wyoming, and a natural gas treating facility in West Frenchie Draw, Wyoming. TEP's is currently undertaking an expansion of the Casper and Douglas plants to increase capacity by ~50 MMcf/d and expect the project to be completed in the second half of 2013. The Casper and Douglas plants are the only natural gas processing plants that currently provide straddle processing of natural gas flowing into the TIGT System out of the Niobrara shale.
| | |
| --- | --- |
| Plant Capacity (MMcf/d) - Existing | 138.5 |
| Plant Capacity (MMcf/d) - Expansion | 188.5 |
| Existing Capacity Under Contract | 100% |
| Wtd. Avg. Remaining Contract Term | 5 years |
| Approximate Average Inlet Volumes for (MMcf/d) | 117 |
Strong alignment of Management, Sponsor and Unit-holder interests: Members of TEP's management team are strongly incentivized to grow business and cash flows through their indirect 25% interest in GP, which will own TEP's 2.0% general partner interest and all of its IDRs.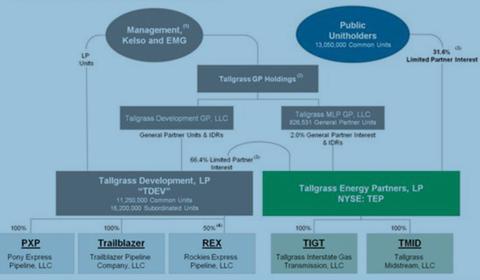 Management team owns 25% stake in Tallgrass GP Holdings that owns TEP's GP (Tallgrass MLP GP, LLC)
EMG and Kelso own 38% and 37% of the remainder of the GP, who in turn owns ~ 64% of the LP units plus the 2% GP interest in TEP.
A major part of the management team was formerly employed and involved in the operations of the assets acquired by Tallgrass Development from KMP in November 2012.
Sharing of management team by TEP with Tallgrass Development, leading to profitable commercial relationships
| | | | |
| --- | --- | --- | --- |
| Distribution | Target Amount | GP Share | LP Share |
| Minimum Quarterly | $0.2875 | 95% | 2% |
| First Target | > $ 0.2875 up to $0.3048 | 98% | 2% |
| Second Target | > $ 0.3048 up to $0.3536 | 85% | 15% |
| Third Target | > $ 0.3536 up to $0.4313 | 75% | 25% |
| Thereafter | above $0.4313 | 50% | 50% |
Management team has substantial industry experience and expertise acquiring and managing midstream assets. The executive team has been involved in midstream transaction totalling more than $10 bn. Several members, including David Dehaemers and Bill Modler worked with these specific assets before they were acquired by Kinder Morgan
Strong Backing of Sponsors, Kelso and EMG: EMG and Kelso collectively own 75% of Tallgrass GP Holdings, the owner of TEP's GP. EMG and Kelso acquired membership interests in Tallgrass Development GP as well as limited partner interests in Tallgrass Development in August 2012 in order to fund a portion of the cash purchase price paid by Tallgrass Development in connection with the acquisition of assets from Kinder Morgan. EMG is the management company for a series of specialized private equity funds. EMG focuses on investing across various facets of the global natural resource industry including the upstream and midstream segments of the energy complex. EMG has ~$6.2 bn of total investor commitments (including co-investments) with in excess of $3.1 bn deployed across the energy sector since inception. Kelso is one of the oldest and most established firms specializing in private equity. Since 1980, Kelso has invested in over 115 companies in a broad range of industry sectors, including over $2.0 bn of equity invested in energy-related companies.
Less Concentration and Counterparty Risk: None of TEP's storage and transportation represents more than 10% of its sales. The largest client Phillips 66 of NGL's accounts for 33% of 2012 sales.
Stable cash flows supported by attractive contract mix and customer profile: A substantial majority of TEP's revenue are under long-term contracts with high-quality customers. This profile, along with its contract mix, gives TEP the ability to maintain a stable cash flow and thereby provides operating visibility and flexibility. In the Gas Transportation and Storage Segment, majority of its firm transportation contract are demand driven and enjoys the following benefits.
Under these arrangements, customers are under obligation to pay a fixed monthly reservation or demand charges irrespective of the pipeline for storage usage.
The weight age average remaining contract life is still long (~4 years for transport and ~2 years for storage) and adds cash flow visibility.
About 3/4th of transport revenues are generated from "on-system" customers and even the other "off system" customers are contracted till 2017.
Moreover more than 70% of the capacity is committed under firm contract.
The scenario is same under processing segment, where the base capacity is fully contracted till 2015 with a weighted average remaining contract life of 5 years.
Strong Balance Sheet and financial flexibility to pursue acquisitions and expansion opportunities: Post IPO, the management of TEP has established a strong balance sheet and liquidity profile to facilitate growth. TEP has a leverage of ~1.8x with a $500mm revolving credit facility, which is amongst the best in the industry.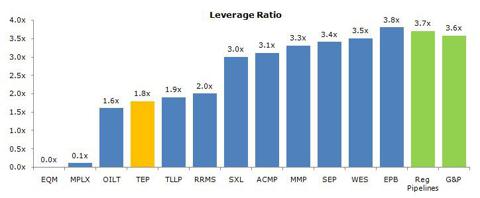 What would drive future Growth?
Relationship with Tallgrass Development provides significant dropdown opportunities: Tallgrass Development, a leading provider of midstream energy services in the United States owns ~66% LP interest in TEP. In November 2012, Tallgrass Development acquired a portfolio of midstream energy assets from Kinder Morgan having an enterprise value of ~$3.3 bn. Tallgrass Development has an excellent portfolio of midstream assets that could be sold ultimately sold to TEP.
Pony Express Project, which upon completion will consist of an ~690 mile oil pipeline connecting the Bakken Shale to Cushing, Oklahoma. The converted pipeline and related expansion pipeline forming the Pony Express Project is expected to be placed in service in the second half of 2014.
Trailblazer Pipeline, an ~439-mile interstate pipeline with a capacity of up to 862 MMcf/d, that transports natural gas from southeastern Wyoming to interconnections with the Natural Gas Pipeline Company of America and Northern Natural Gas Company pipeline systems in Nebraska.
REX Pipeline (Rockies Express Pipeline), a 50% interest in, ~1,698-mile natural gas pipeline with a long-haul design capacity of up to 1.8 Bcf/d, that extends from Opal, Wyoming and Meeker, Colorado to Clarington, Ohio.

Pursuant to the Omnibus Agreement, Tallgrass Development has granted TEP a right of first offer to acquire these remaining assets, which could generate an EBITDA of ~$400 mn.
What Would Drive Valuation?
Drop Down To Drive Valuations
TEP got listed in May 2013, after raising $295 mn in an IPO at $21.5 per unit. Post IPO, TEP looks well positioned to drive long-term high distribution growth in the range of 7-9% given its i) $500mn EBITDA potential from its dropdown assets, ii) strong balance sheet and iii) stable cash flow generation capability.
TEL sports a nice dividend yield, currently standing at a 5.2%. This looks very compelling while comparing with independent Oil & Gas peers that usually yield 1-2%, as well the broad U.S. stock index that historically yields around 2-3%. The below sensitivity table gives investors an idea of TEP's target price based on TEP's distribution and yield.
Tallgrass Energy Partners - Price Target ($)

 
 

Target Yield

Distribution

 

3.75%

4.00%

4.25%

4.50%

4.75%

5.00%

5.25%

5.50%

$1.35

36.0

33.8

31.8

30.0

28.4

27.0

25.7

24.5

$1.31

34.9

32.8

30.8

29.1

27.6

26.2

25.0

23.8

$1.28

34.1

32.0

30.1

28.4

26.9

25.6

24.4

23.3

$1.25

33.3

31.3

29.4

27.8

26.3

25.0

23.8

22.7

$1.23

32.8

30.8

28.9

27.3

25.9

24.6

23.4

22.4

$1.19

31.7

29.8

28.0

26.4

25.1

23.8

22.7

21.6

$1.15

30.7

28.8

27.1

25.6

24.2

23.0

21.9

20.9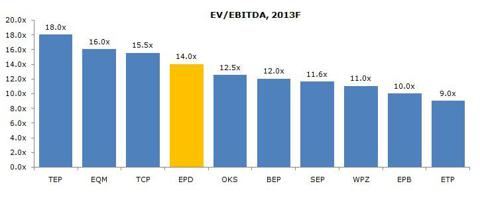 Though TEP looks very expensive based on EV/EBITDA, it is still attractive in my view. A significant chunk of TEP's growth would arise from the drop downs which we have discussed. These drops down opportunity would begin from 2014 onwards and so valuations look reasonable at current price levels of $21.1.
Key risks: i) Contract renewal risks, ii) volatile commodity prices, iii) conflict of interest between TEP and Tallgrass management, iv) Ability to raise capital to fund future expansion and v) Dropdown plans failing to materialize.
Conclusion: TEP looks well positioned to drive earnings growth, given the strong dropdown asset portfolio, which offset contract renewal price risk. The company would also benefit from the strong foot print in the Midwest and proximity to attractive end markets. It is also trading at attractive valuation and can be a potential alpha catalyst for the portfolio.
Disclosure: I have no positions in any stocks mentioned, and no plans to initiate any positions within the next 72 hours. I wrote this article myself, and it expresses my own opinions. I am not receiving compensation for it (other than from Seeking Alpha). I have no business relationship with any company whose stock is mentioned in this article.