Australia has moved back towards the conservative side of the spectrum and South Korea adjusted their growth figures up last night. Both instances are providing bullishness to the markets and are the latest news pieces in a growing list which seem to have turned market sentiment 180 degrees.
Although the world markets are turning around and look headed back to their highs, we want to focus on American stocks. Today we talk about some blue chips which long-term fit the bill of names which should handsomely reward readers as they use their developed American business to build out businesses worldwide.
Chart of the Day:
One chart which we have failed to highlight recently is the NYSE Advance/Decline Line. Like the market it has turned lower recently but also looks like it may have found some support and could be turning higher.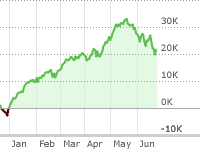 Chart courtesy of TDAmeritrade.com
We have economic news due out today, and it is as follows:
Initial Claims (8:30 a.m. ET): 345k
Continuing Claims (8:30 a.m. ET): 2958k
Personal Income (8:30 a.m. ET): 0.2%
Personal Spending (8:30 a.m. ET): 0.4%
PCE Prices - Core (8:30 a.m. ET): 0.1%
Pending Home Sales (10:00 a.m. ET): 1.5%
Natural Gas Inventories (10:30 a.m. ET): N/A
Asian markets finished higher today:
All Ordinaries -- up 1.64%
Shanghai Composite -- down 0.08%
Nikkei 225 -- up 2.96%
NZSE 50 -- up 0.53%
Seoul Composite -- up 2.87%
In Europe, markets are higher this morning:
CAC 40 -- up 0.02%
DAX -- up 0.13%
FTSE 100 -- up 0.40%
OSE -- down 0.43%
In yesterday's article (located here) we discussed how Chinese capital was finding its way back to the US and being invested here in assets from real estate to corporations (think Smithfield Foods). That got us to thinking about the current state of the economy as well as capital markets and we arrived at the conclusion that America is still the best place in the world to invest with the current economic conditions.
It is among the safest for one's capital, is the largest economy in the world, has some of the strongest fundamentals in the world right now and is one of the few areas of the world seeing organic growth in industrial output and demand for commodities. Two signs that the green shoots are for real.
The strength in the US Dollar Index, a chart we have been highlighting often in recent weeks, is the first indicator that this is the case. One must delve a bit deeper in understanding the current state of the finance world and companies' balance sheets to recognize the importance of free cash flow and the ability to use this cash flow to invest in organic growth.
So this morning we want to highlight some of the best buys we see out there for investors looking for growth paired with dividends (that are growing) and solid balance sheets with the required cash flows to expand their business lines.
Manufacturing
First up is Boeing (NYSE:BA), the airplane manufacturer and defense contractor which has seen its stock take off just like one of its planes. We have been proponents of the stock for some time now as they are in a phase where the airline industry is upgrading their aging fleets to the new class of planes and that industry's improved health has led to. The company's pipeline keeps getting fatter and fatter and with new planes setting to be rolled out in the years ahead one can see greater sales and profits down the road as well. The company has a payout ratio of only about 1/3 and with free cash flow expected to increase look for the company to have plenty of reasons to increase the dividend.
Manufacturers are usually boring, however these two names are outpacing the S&P 500. That may not sound too impressive, however when one factors in the other names in the index and the technology ratio of the index it does become impressive...quite impressive indeed.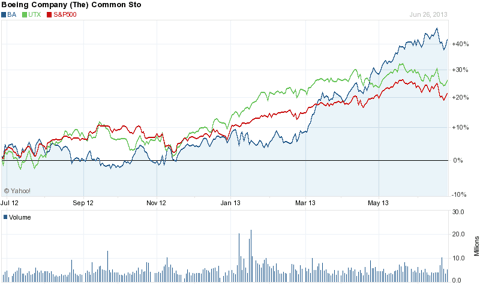 Chart courtesy of Yahoo Finance.
Another beneficiary of the improved business climate in the aerospace industry and manufacturing in general is United Technologies (NYSE:UTX). Like Boeing the stock is near a 52-week high and although some like General Electric better we have United Technologies at the top of our list of conglomerates right now. There is too much going on right now in the general economy which will lead to a better business climate and UTX is very well positioned to see revenues increase as construction picks up and redeploys cash to build its business lines overseas.
Consumer Goods
We talk about Proctor & Gamble (NYSE:PG) and Johnson & Johnson (NYSE:JNJ) a lot here as they have been two of the better performers in the blue chip group we threw out there for readers in the past. Both companies are very well entrenched with their brands in the US and have added big brands in years past to their portfolios to build steady cash cows when others were looking to find growth opportunities. The cash cow strategy has worked, especially as companies have been able to refinance the debt they took on to make purchases such as these and drive down the cost of deals long-term.
Yes these names have come under pressure lately, however they continue to outpace the S&P 500 (like the previous names pointed out) which we believe can continue as the companies build their brands overseas. Total return is much higher and readers can expect the dividends to be increasing as well.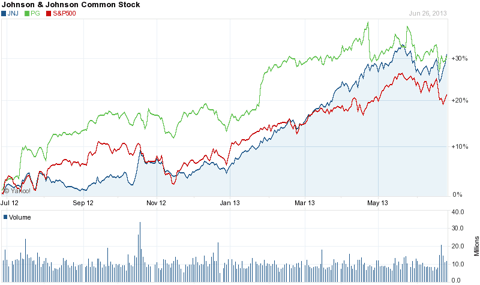 Chart courtesy of Yahoo Finance.
J&J and P&G will continue developing the billion dollar brands here in the US while simultaneously exporting these great American brands overseas to the developing world and building new revenue streams. It is a double edged sword here where a new billion dollar brand helps move the needle for their business in the developed world while they use the steady cash flows from that business to provide double digit growth for their developing world business segments. Best of all investors get to have the security of a blue chip paired with the steady growth of dividends all fueled by cash flows from solid brands here in the US. The key to the model is the US with the rest of the world supplying the required additional growth.
Oil & Natural Gas
If this is all sounding absurd, look no further than ExxonMobil (NYSE:XOM) which made what many consider to be their worst acquisition a few years ago when they purchased XTO Energy. Yes natural gas prices have fallen dramatically since then and new areas have been discovered which appear more lucrative than the assets Exxon purchased, but through it all Exxon has been able to fund the continued growth in their natural gas reserves and stuck to their plans to develop the huge drilling inventory they picked up because their core business kicks off so much cash.
They take the cash flows generated by the oil business to subsidize the natural gas segment while they patiently sit back and wait for the market to turn. This is patient capital and a cheap way for the company to continue to grow. Yes, one would prefer that they focus solely on oil and drill only those wells, but Exxon needs somewhere to invest their money and right now as unattractive as natural gas drilling is, in many cases it does beat earning essentially nothing in interest on that capital sitting in a bank.
Disclosure: I have no positions in any stocks mentioned, and no plans to initiate any positions within the next 72 hours. I wrote this article myself, and it expresses my own opinions. I am not receiving compensation for it (other than from Seeking Alpha). I have no business relationship with any company whose stock is mentioned in this article.