We are beginning to see separation between the haves and the have nots in the commodity space, and by now it should be obvious as to which category each sector falls in. Obviously precious metals and coal are not where one wants to be, but oddly enough oil is. Oil seems to be attracting some of the capital rotating out of precious metals and, in theory, it makes sense. It has become an inflation trade in the past and has exposure to the economy due to its uses. We have been long oil and natural gas E&P plays for some time and we welcome this rotation; ,however it must be noted that not all boats are rising at this time. Look for a delayed rally in equities as they follow the price of oil higher. Buying some of the names we have thrown out in recent articles would be the best way to go. Remember, stick to the names with increasing production.
Chart of the Day
Platinum did not find support at $1,400/ounce but it did find support at $1,300/ounce, which should keep the bears at bay for a while. Coming off of their victories against gold and silver we are watching both platinum and palladium right now as it only seems natural for the bears to press their advantage after all of these years of being on the ropes.
Click to enlarge images.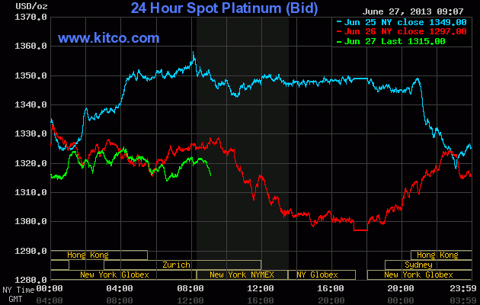 Source: Kitco.
Commodity prices this morning are as follows:
Gold: $1224.60/ounce, down by $5.20/ounce
Silver: $18.50/ounce, down by $0.087/ounce
Oil: $95.64/barrel, up by $0.14/barrel
RBOB Gas: $2.7321/gallon, up by $0.0015/gallon
Natural Gas: $3.725/MMbtu, down by $0.012/MMbtu
Copper: $3.058/pound, up by $0.017/pound
Platinum: $1314.20/ounce, up by $10.50/ounce
Market Losers
The commodities space is beginning to see a rotation whereby investors are starting to take money off the table and invest elsewhere, rather than adding to winning bets and taking winnings from one trade and shifting them to areas that should be due for a rebound. Part of this is due to non-commodity money finally exiting (think the precious metals complex here), while in other instances it is due to changing long-term fundamentals in businesses (the coal sector, for instance).
This is the only explanation why we continue to see this mass migration out of these two sectors and why a bottom has not been reached yet. One could argue that the market is simply pushing for capitulation, and that may be true, but the fact of the matter remains that these names continue to head lower and have barely paused as new lows are hit across the board.
The best example of this is Walter Energy (NYSE:WLT), a stock some may think we've paid far too much attention to over the past few months. But it's one of the names that has been behind the amazing downturn in the industry, which has pulled down such names as Peabody Energy -- the blue chips of the industry. Walter, a company that not all that long ago traded above $100/share, briefly sported a single-digit stock price yesterday as it hit a new 52-week low. Sadly, the fundamentals still look poor here as the new lows are hit almost daily and hit on high volume (yesterday's volume was roughly 20.6 million shares). This simply shows a compounding issue, not a sudden capitulation.
One has to go all the way back to 2000-03 to find an area on the chart with lows that can provide some insight as to just how bad the current situation is. Readers should keep in mind that even the financial crisis was kinder to Walter than this most recent downturn.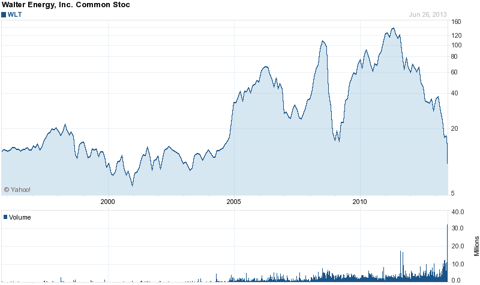 Source: Yahoo Finance.
While coal has problems created by new regulations, competition from new mines around the world, cheap natural gas in North America and a weak economy, the same cannot be said for precious metals. Both Barrick Gold (NYSE:ABX) and Silver Wheaton (SLW) hit new 52-week lows yesterday on above average daily volume. Their problems stem from the precious metals bubble finally bursting and pushing ordinary investors and hedge funds alike toward the exits.
Both companies, Barrick Gold and Silver Wheaton, have made missteps recently. Barrick took off all hedges not so long ago, a move we thought might be a high water mark for the precious metal, and Silver Wheaton purchased a gold stream from another mining company. Those are both big deals and the jury remains out on them; however, currently they appear to be bad, plain and simple.
All of these names should be avoided like the plague until support is found. Once that happens it will be safe to move in, but until then one should protect their capital and live to fight another day. No need to be a hero here.
The Indicator
Cheniere Energy (NYSEMKT:LNG) turned higher yesterday with shares finishing the session at $28.26/share after rising nearly 6% on the day. Volume was above the three-month daily average and its partnership units advanced over 10% on the session with abnormally high volume as well. Jim Cramer gave it a bit of a bump, so we are not too excited about this move higher on what has been a great prognosticating tool for us for over a year. We will need to let the dust settle and re-evaluate the situation after the fast money has had an opportunity to rotate out again. For the time being, however, if our feet were put to the fire to make a decision on where we are headed based on the latest moves our guess would be higher -- based solely on our one rule that up is up. That is always hard to ignore.
Reader Question
It seems a lot of our readers got involved with Valero (NYSE:VLO) during its spectacular move higher and now are worried about the stock. We have been receiving a bit of mail asking us for our opinion on it, and the truth is that our opinion has not changed. We were bullish on the way up, moved to a trader's position near the top, and said to sell if it broke below the $40-$42/share level for those still holding because that was the support. Shares have retreated a good bit since then, and we understand the concern readers have at this time.
Long term, you should be fine as it has managed to grow its margins in recent years and continues to upgrade its facilities and in turn reduce costs. This is no longer a trading tool as the fast money has, in our opinion, been made, but rather an investing tool with gains to be realized over years and no longer months. That is the way we see the current situation. Long term, this should work out, but pay attention to whether $35/share support is able to hold. Thus far it has.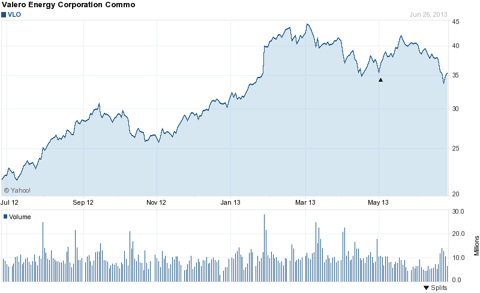 Source: Yahoo Finance.
Disclosure: I have no positions in any stocks mentioned, and no plans to initiate any positions within the next 72 hours. I wrote this article myself, and it expresses my own opinions. I am not receiving compensation for it (other than from Seeking Alpha). I have no business relationship with any company whose stock is mentioned in this article.