Based in Illinois, Deere and Company (NYSE:DE) is one of the largest manufacturers of agricultural machinery in the world. It also produces equipment for construction forestry. In this article, I will take a closer look at DE's recent years, judging it on its growth in revenue, net income, earnings per share, and dividends. I will also look at its valuation.
Revenue: Increasing year after year
Deere has had some amazing growth in revenue over the past 10 years. The revenue has been higher than in the previous year for each year except 2009. Revenue was at $36.2 billion in 2012, which is well more than double the $15.5 billion in 2003. The average yearly increase has been just under 10%.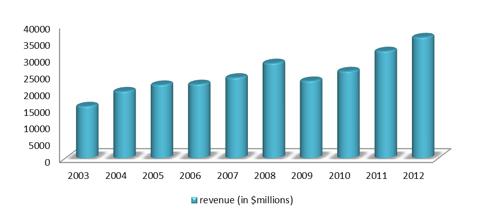 Net income and EPS:
While the growth in revenue has been very impressive, it gets even better when we look at DE's net income growth. As we would expect from the previous graph, net income declined in 2009. However, in each of the other years in the 10-year period I have looked at, net income has gone up. In 2003, net income was at 643 million dollars. This had increased to over $3 billion in 2012, giving DE's net income an average growth rate of 19%. The profit margin (which is difined as net income divided by total revenues), has more than doubled from 4.1% in 2003, to 8.5% in 2012.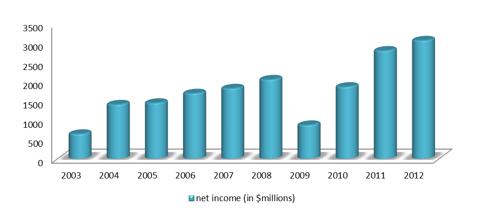 Now, while DE's net income growth was impressive, the EPS growth is even higher. In 2003, EPS was at only $1.32. By 2012, this had grown to $7.63. That's an average yearly growth of just over 21%. Analysts expect DE s EPS to grow even further this year, with expectations of $8.52 on average. The reason EPS has grown faster than the net income is simple: DE regularly buys its own shares, which returns a lot of value to shareholders, and brings us to our next subject.
Share repurchases and dividends: Giving back money to shareholders
Deere has shown its commitment to returning value to its shareholders, not just by paying out dividends, but also by extensive share repurchases. Between 2003 and 2012, DE has decreased the number of shares by 85 million, leaving it at 402 million in 2012.'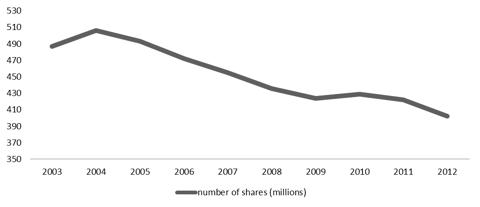 Deere's dividend is currently at $0.51 per quarter, which at a price of $82.04 per share gives us an annual dividend yield of 2.5%. This is very reasonable, especially when we consider the fact this dividend has grown at double-digit rates on average over the past 10 years.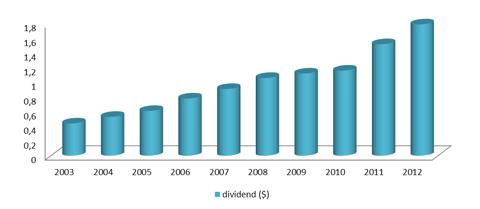 I consider this dividend to be quite safe, for two reasons. The first is the fact DE has over six billion dollars in cash. The second is its payout ratio, which is very low at 23.5% for 2012. The payout ratio has actually gone down over the past 10 years, thanks to the amazing growth in EPS.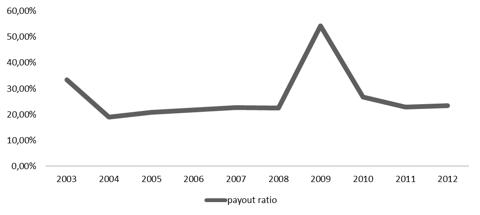 Valuation: DE's p/e hasn't been this low in years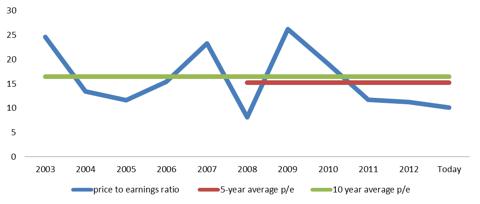 Deere currently has a price-to-earnings ratio of only 10.1. This is lower than both its 5-year average (15.3) and its 10-year average (16.5). Its forward p/e is even lower, at only 9.6.
Conclusion:
DE's growth in revenue, net income and EPS has been nothing short of amazing. Its dividend is very respectable, at 2.5%, and increases by double digits annually. The share repurchases boosts up the EPS and the stock's price. Meanwhile, the price-to-earnings ratio is at a historically low point. I believe investors buying at this price level should get some very decent returns in the next couple of years.
Disclosure: I have no positions in any stocks mentioned, but may initiate a long position in DE over the next 72 hours. I wrote this article myself, and it expresses my own opinions. I am not receiving compensation for it (other than from Seeking Alpha). I have no business relationship with any company whose stock is mentioned in this article.