This couldn't be any more exciting! Apple (NASDAQ:AAPL) at $400 per share again, and with a 3% yield. This could present one of the best entry points on one of most undervalued and best dividend growth companies yet to come. In this article, let's take a look at Apple's dividend safety and dividend growth prospects with respect to the Dividend Cushion.
Undervalued with Strong Cash Flow Generation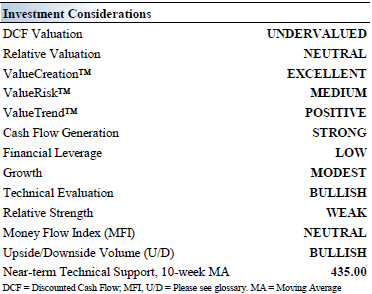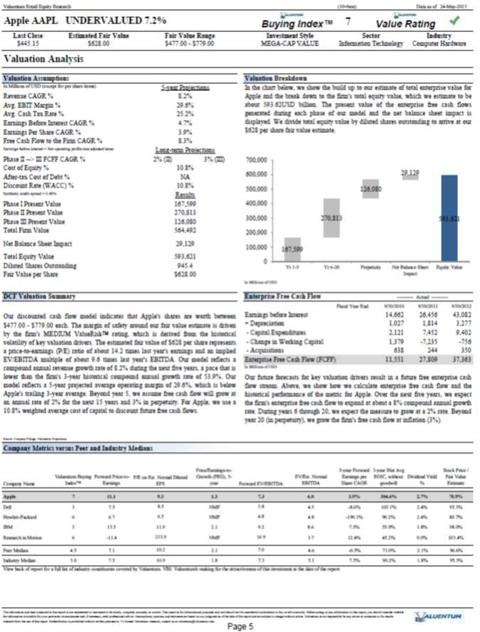 Look at Those Returns on Invested Capital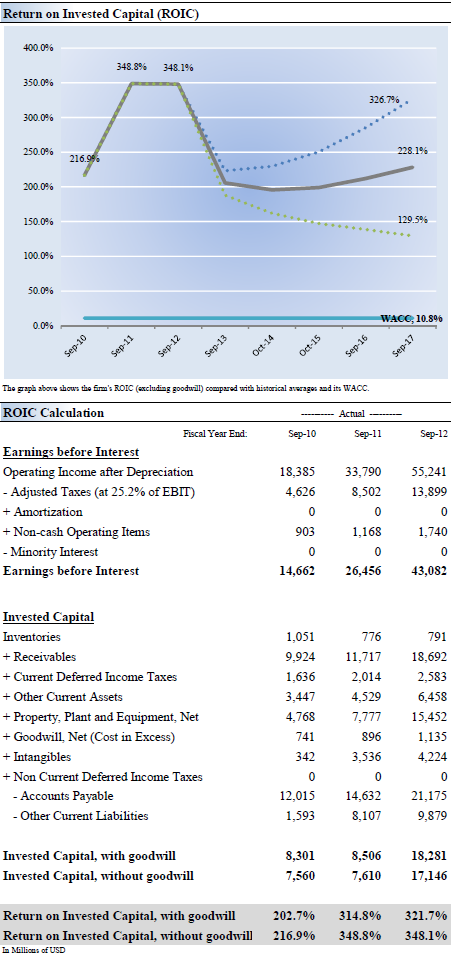 Future Growth Prospects Are Still Evident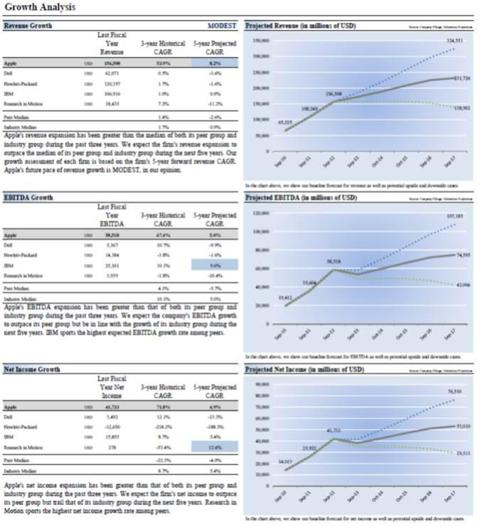 Evaluating Apple's Dividend
Apple's dividend yield is finally above average, offering a 3% annual payout at recent price levels. We prefer yields at or above 3% and don't include firms with yields below 2% in our dividend growth portfolio. So Apple fits the bill thus far. But how is its dividend safety and dividend growth prospects?
For starters, we think the safety of Apple's dividend is excellent (please see our definitions at the bottom of this article). We measure the safety of the dividend in a unique but very straightforward fashion. As many know, earnings can fluctuate in any given year, so using the payout ratio has some limitations. Plus, companies can often encounter unforeseen charges, which makes earnings an even less-than-predictable measure of the safety of the dividend. We know that companies won't cut the dividend just because earnings have declined or they had a restructuring charge that put them in the red for the quarter (year). As such, we think that assessing the cash flows of a business allows us to determine whether it has the capacity to continue paying these cash outlays well into the future.
That has led us to develop the forward-looking Valuentum Dividend Cushion™. The measure is a ratio that sums the existing cash a company has on hand plus its expected future free cash flows over the next five years and divides that sum by future expected dividends over the same time period. Basically, if the score is above 1, the company has the capacity to pay out its expected future dividends. As income investors, however, we'd like to see a score much larger than 1 for a couple of reasons: 1) the higher the ratio, the more "cushion" the company has against unexpected earnings shortfalls, and 2) the higher the ratio, the greater capacity a dividend-payer has in boosting the dividend in the future. For Apple, this score is 3, revealing that on its current path, the firm should be able to cover its future dividends with net cash on hand and future free cash flow.
Now on to the potential growth of Apple's dividend. As we mentioned above, we think the larger the "cushion," the larger capacity it has to raise the dividend. However, such dividend growth analysis is not complete until after considering management's willingness to increase the dividend. To do so, we evaluate the company's historical dividend track record. If there have been no dividend cuts in 10 years, the company has a nice growth rate, and a nice dividend cushion, its future potential dividend growth would be excellent, which is the case for Apple.
And because capital preservation is also an important consideration, we assess the risk associated with the potential for capital loss (offering investors a complete picture). In Apple's case, we currently think the shares are undervalued, so the risk of capital loss is low. If we thought the shares were fairly valued, the risk of capital loss would be medium.
Apple's Competitive Environment
iOS 7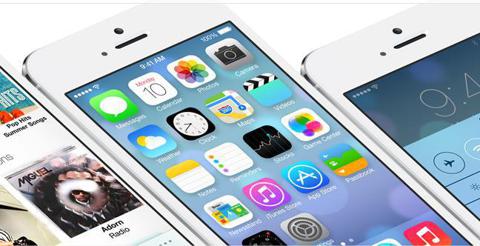 Image Source: Apple
iOS 7 looks like a promising upgrade, in our view. The most striking difference is the appearance of the icons on the home screen. The font is more pronounced, and the colors and design of standard icons has been changed. Further, the company has enhanced productivity, thanks to the inclusion of multi-tasking capabilities. In addition to using switching between apps with less effort, the new operating system will act more intelligently when performing updates and provide users with applications available at relevant times based on past usage. Apple also added an AirDrop function that allows iPhones within a close radius to transfer files.
Siri has also been upgraded. Now Siri comes in male and female voices, speaks more realistically, and can change phone settings for users. Additionally, Siri now aggregates answers from Wikipedia and Microsoft's Bing (NASDAQ:MSFT) for search results. Although we're sure Microsoft appreciates the new revenue stream, we do not believe it materially benefits Microsoft or hurts rival Google (NASDAQ:GOOG). If anything, it underscores the deep hatred Apple has for Android's parent company. If Google wasn't so popular, we think Apple would have already banned its applications from the iTunes store.
One final upgrade iOS 7 has recently received was filter (new editing) functionality. We believe this is long overdue since a pre-emptive filtering system may have stalled Instagram in its infancy. Though it's a nice upgrade, we think Instagram is pretty well entrenched at this point. Facebook (NASDAQ:FB) has no reason to worry that its $1 billion acquisition is facing any serious competition from Apple. Plus, even if users started posting pictures filtered in Apple, the pictures would likely go on Facebook or Instagram anyways.
Overall, we think iOS 7 does a nice job of making Apple's mobile operating system look newer, though it comes at the expense of some design borrowing from Android. We think John Ive's design will improve functionality while preventing users from getting "tired" of iOS.
iTunes Radio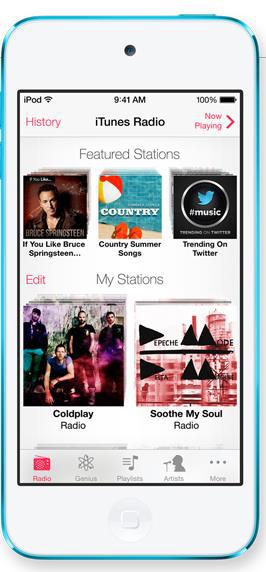 Image Source: Apple
We wrote extensively about the "iRadio" rumor, so we were glad to see the service confirmed. As we predicted, Apple will have some exclusive content, and its service mimics Pandora and Spotify Radio. However, we must admit we're a bit disappointed in the company's decision to display text and audio advertisements. Yes, we think the service will be a serious competitor to Pandora, but we think iTunes Radio could have buried Pandora if it offered ad-free, unlimited streaming.
Since it will have some useful features that Pandora and Spotify lack (think on-demand song/album purchases), as well as a large installed base, we think iTunes Radio will gather steam quickly and establish formidable market share. Siri can even take station/song requests. Still, we think free streaming could potentially obliterate the competition and make iOS even more attractive and harder to leave. We'll see how this story plays out, but we are disappointed Apple won't be "Amazon-ing" Pandora.
Mac Pro
It hasn't been since perhaps the iPad that we were struck with a "what is that?" moment. Apple proved it still has some innovation left in the tank when it unveiled its Mac Pro. The newest desktop offers a complete redesign inside-out. It is smaller and more powerful than its predecessor. We think this machine could be very attractive to consumers and business users.
In a positive read-through, Valuentum favorite Intel (NASDAQ:INTC) will have its 12 core Xeon processor power the device. Though not necessarily material, it demonstrates Intel's dominance in the high-end computing space.
Unfortunately, the desktop market remains soft, and the product likely won't push the needle for the company. However, we think it eliminates the rumor about the death of Apple's innovation. In fact, a few years ago, the Mac Pro would have stolen the show, in our view. The firm's ability to rethink the desktop computer is a net-positive.
All things considered, we like the potential growth and safety of Apple's dividend. And to top it off, the stock is undervalued.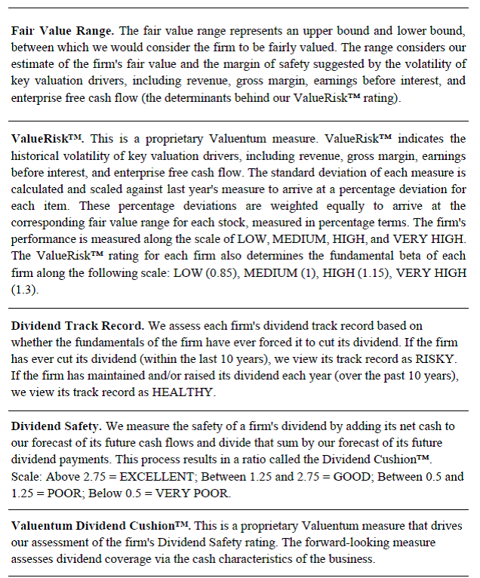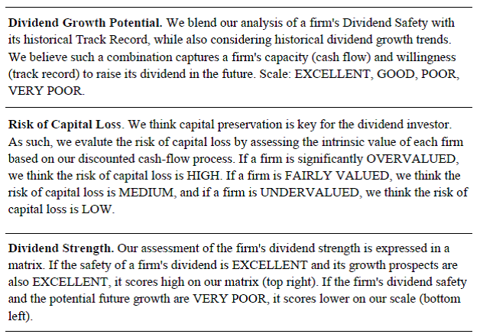 Disclosure: I have no positions in any stocks mentioned, and no plans to initiate any positions within the next 72 hours. I wrote this article myself, and it expresses my own opinions. I am not receiving compensation for it (other than from Seeking Alpha). I have no business relationship with any company whose stock is mentioned in this article.
Additional disclosure: Some of the firms mentioned in this article are included in our actively-managed portfolios.