By David Urani
We've already gotten blowout numbers for new-home sales (five-year high), existing-home sales (four-year high), the Case Shiller home price index (biggest one-month gain ever), and Lennar's (NYSE:LEN) Q2 report (EPS beat by $0.28, revenues +53% to $1.43), so today's strong results for pending home sales (contracts to buy existing homes) perhaps shouldn't be a surprise. Even so, the magnitude was still impressive and it's more evidence that the housing market is on fire.
Total U.S. pending home sales were up 6.7% month to month, and up 12.1% year over year. Gains were seen in all regions except for the Northeast, which was flat. This headline result was the highest level of sales since December 2006. In a way, it's almost worrisome how strong the reading was considering 2006 was during the housing bubble. This month the National Association of Realtors says that it's likely sales are actually being boosted (as we've heard from other sources) by the recently rising mortgage rates, which are spurring fence-sitters to hurry up and buy.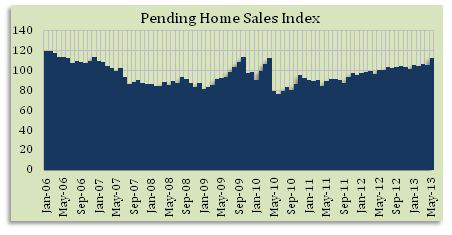 So given the latest batch of housing data you can't deny that the housing market recovery remains well under way. Yet with housing stocks (as measured by the Dow Jones U.S. Home Construction Index) still more than 15% off the high, there continues to be a big bet on the Street that interest rates will be an anchor on the industry. So far that hasn't been the case, with a number of sources including the NAR, Toll Brothers (NYSE:TOL), and KB Home (NYSE:KBH) noting that rising mortgage rates have only spurred more buyers to hurry up and purchase.