With expectations of the Fed tightening monetary policy sooner rather than later, long-term interest rates of recent have increased significantly. Investors are now planning to re-position their portfolios, by choosing the assets, which are expected to do well with rising interest rates. You may well then think that banks are going to benefit from higher interest rates; after all, bankers have been blaming the low interest rate environment and quantitative easing to explain why their net interest margins have shrunk so much in recent years.
Banks would be able to earn higher interest rates on the loans they offer, reinvest into higher yielding investments, and increase profits from bond trading. However, it is not so clear that banks are really going to benefit overall. Although banks would be able to purchase 'new' investment securities that have a higher yield, they will make significant losses on their existing portfolio of securities and loans, which have fixed rates. Furthermore, new legislative measures and stricter capital requirements restrain banks from significantly increasing lending. Without meaningful economic growth, any increase in the interest earned from loans made would be offset by falling loan demand.
Regional banks are more likely to benefit more from rising long-term interest rates. This is because they generate far more of their income than large banks from traditional banking services, where they earn the spread from higher interest rates on loans, against low interest paid to depositors. Because of their high level of deposits in their funding mix, they would be able to continue to borrow at low cost. This is because short-term interest rates have not moved much since the Fed's announcement, and the Fed maintains its promise to keep the short-term rate near zero until unemployment is above 6.5%. Given this, banks can take advantage of higher long-term interest rates to generate higher interest margins because of the steepening yield curve. Furthermore, because regional banks tend to hold significantly smaller portfolios of securities, they are likely to suffer from a smaller hit from their bond losses.
East West Bancorp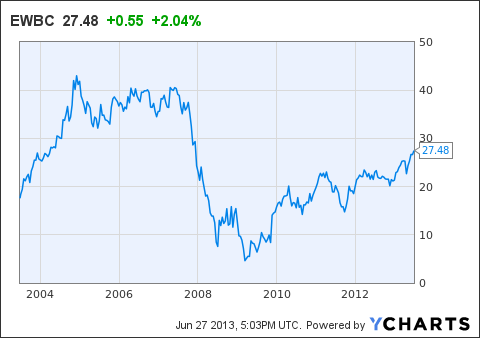 East West Bancorp (NASDAQ:EWBC) is a regional bank with a strong deposit base, a well-capitalized balance sheet and good growth potential. Regional banks with a high deposit-to-loan ratio, like East West Bank, are more able to take advantage of higher interest rates, without significantly increasing their cost of funding. Because of the low interest paid on its large sum of deposits, and higher interest rates charged on loans, they are likely to increase their net interest margins.
East West Bancorp is the fifth largest independent bank headquartered in California based on its total assets of $22.5 billion. The bank primarily serves the Asian American community in California but is also present in many other states, including New York, Massachusetts and Texas. It offers a full range of personal and commercial banking services. In particular, the bank's commercial and industrial (C&I) banking services has been growing rapidly, and currently accounts for 32% of the bank's loan portfolio.
Selected Financial Data for East West Bancorp

2012

2011

2010

Total Assets ($ millions)

22,536

21,969

20,701

Total Loans ($ millions)

14,646

13,985

13,231

Total Deposits ($ millions)

18,309

17,453

15,641

Net Interest Margin (NIM)

4.63%

4.66%

5.05%

Net loan losses to average loans

0.72%

0.68%

0.79%

Efficiency ratio

42.34%

43.04%

47.51%

Return on Assets (RoA)

1.29%

1.14%

0.82%

Return on Common Equity (RoE)

12.29%

11.08%

6.42%

Book value per share ($)

16.39

14.92

13.67

EPS ($)

1.89

1.60

0.83
In November 2009, East West Bancorp acquired the banking operations of its former rival, United Commercial Bank (UCB) in a Federal Deposit Insurance Corporation (FDIC) assisted transaction. This was because UCB was declared insolvent by federal regulators following the financial crisis in 2008. UCB was also primarily focused on the Asian American communities in California, and so the acquisition had the advantages of both cost and revenue synergies. This acquisition allowed East West Bancorp to increase its total assets by roughly $8 billion to total almost $21 billion by 2010. It also strengthens the bank's ability to offer commercial and industrial loans and trade financing between the US and Asia. The integration of the two banks is now almost fully complete, and costs savings have enabled the efficiency ratio to fall from 47.51% in 2010 to 42.34% in 2012. East West Bank's banking operations are now very efficient when compared to its industry peers, and even more so when compared to larger competitors. Even Wells Fargo (NYSE:WFC), a large 'efficient' US bank, has an efficiency ratio of 59.3%.
The geographic concentration of the bank's operations could lead the bank to be highly susceptible to California's economy. A deterioration in the real estate market could lead to increased loan losses, and reduce the collateral the bank holds. This is an important concern because a large proportion of the loan portfolio is secured by real estate. However, the bank has generally been prudent with its lending, and the overwhelming majority of its real estate loans are originated at a loan-to-value (LTV) ratio below 65%. Furthermore, the bank has greatly reduced construction loans, and this should significantly reduce its loan loss provisions in the future.
With deposits that pay out only very little interest, or none at all, East West Bank is able to maintain a very low cost of funding. $3.9 billion of the $18.3 billion in deposits are demand deposits, and therefore carry no interest. The loans-to-deposit ratio is at 80.0%, which shows the bank is not reliant on potentially more expensive costs of external sources for funding. East West Bank's strong deposit base, and its modest loan-to-deposit ratio means that the bank can expand its lending at little expense to its overall cost of funding.
Since 2010, East West Bancorp has seen strong organic growth in deposits and loans. Deposits rose by compound average growth rate (OTCPK:CAGR) of 8.2%, whilst loans rose by a CAGR of 5.2%. For the first quarter of 2013, deposits continued to rise by an annualized 13.7% against Q4 2012, and total loans rose by an annualized 7.5%. The company's EPS for Q1 2013 rose to $0.50, which represents an increase of 11% over the corresponding quarter in 2012. So far, the trend for strong growth is still continuing. Although net interest margins have declined since 2010, they are still high at 4.63% for 2012, when compared against its peers.
Comparison of East West Bancorp against some of its peers
A comparison of East West Bancorp against some of its peers

East West Bancorp

Cathay General Bancorp (NASDAQ:CATY)

City National Corp. (NYSE:CYN)

Market Capitalization ($ millions)

3,680

1,560

3,380

RoA (2012)

1.29%

1.11%

0.82%

RoE (2012)

12.29%

7.48%

9.20%

NIM (2012)

4.63%

3.28%

3.61%

Tier 1 Capital Ratio

14.80%

17.36%

9.41%

Efficiency ratio

42.34%

52.37%

-

P/B

1.64

1.17

1.42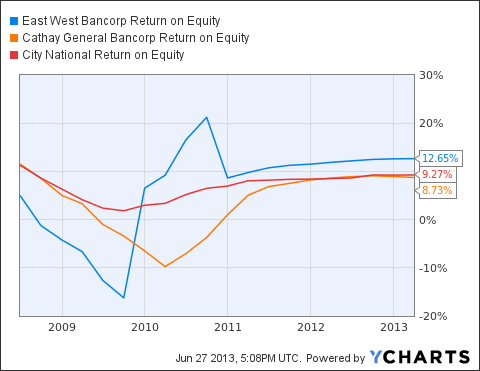 EWBC Return on Equity data by YCharts
East West Bancorp seems to be undervalued against its peers as the bank has superior growth prospects; because of its strong deposit base, higher loan demand growth, and superior cost efficiency. Although, East West Bancorp is trading at a significantly larger premium to book value than its peers, and whilst many small to midsized banks are still trading below book value, East West Bancorp is well positioned for future growth. It also generates a return on equity of above 12%, which is expected to continue to improve with higher interest rates. Given that East West Bancorp plans a dividend payout ratio of 40%, and earnings set to continue to rise, there is plenty of scope for further dividend increases. The dividend for 2013 is expected to be $0.60, up from $0.40 in 2012.
With East West Bancorp's stable deposit base, it is well positioned to take advantage of a steepening yield curve, and a continued recovery from the economy.
Disclosure: I have no positions in any stocks mentioned, and no plans to initiate any positions within the next 72 hours. I wrote this article myself, and it expresses my own opinions. I am not receiving compensation for it (other than from Seeking Alpha). I have no business relationship with any company whose stock is mentioned in this article.