Once again it is that time where I turn my attention to my speculative holdings and potential new investments to determine what stocks or events could offer the greatest potential return. These speculative stocks or catalyst events are risky in nature, so a careful approach should always be taken. That being the case, I have identified 2 potential investments that may offer investors some outsized gains for those willing to take a chance.
Firsthand Technology Value Fund (NASDAQ:SVVC)
SVVC is a publicly traded venture capital fund that invests in technology. At first glance this ticker does not seem to have appeal at any level. The stock price has languished and the fund's overall management has been questionable when it comes to their investment strategy. To start, consider the following chart of the fund's stock price.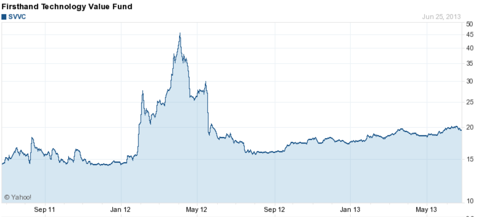 As of May 31, 2013 the fund's top 3 holdings were as follows:

Twitter is a very well-known online social networking service. As of May 31, 2013, SVVC's investment in Twitter consisted of 194,000 shares of preferred stock and 812,200 shares of common stock and represented approximately 8.8% of the Fund's estimated gross assets. What is important to remember is that Twitter is currently still private and does not trade on the major exchanges at this time.

SolarCity Corp. (SCTY) was their second top holding at the time of the filings. SCTY is an installer of commercial and residential solar photovoltaic systems. As of May 31, 2013, SVVC's investment in SolarCity consisted of 426,300 shares of common stock and represented approximately 8.3% of the Fund's estimated gross assets.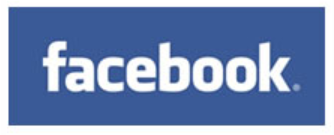 Facebook, Inc. (NASDAQ:FB) is the third top holding for the fund. As of May 31, 2013, the Fund's investment in Facebook consisted of 600,000 shares of common stock and represented approximately 7.0% of the Fund's estimated gross assets.
Along with the top holdings, SVVC also announced that as of May 31, 2013 estimated gross assets of the fund were approximately $210 million. At that time the share value was calculated to be $24.50 per share. The most important piece of information here was that the fund was holding cash of approximately $14.74 per share. This means that as of May 31, 2013, the fund's top five holdings constituted 29.9% of the estimated gross assets. The largest single holding of this fund is cash, plain and simple. Finally, the fund is selling at a very deep discount to net asset value. The most recent estimates are well over 17%.
As a retail investor, this fund seems to have problems and normally I would stay away, but there is a unique set of circumstances taking shape here. The problems that scare most retail investors are attracting other entities to the table. With such a huge cash pile on the table and a discontent shareholder base, the activists begin to take their positions. Picking up shares of FB, SCTY, Twitter, and stockpiled cash at 17% discounts is just too good to ignore. It's like pouring blood in shark-infested waters; you just know that sooner or later you are going to attract something looking for an opportunity.
One such investor making his move is legendary hedge fund activist Phillip Goldstein of Bulldog Investors. Recently I had a lengthy interview with Mr. Goldstein and he shared some preliminary plans dealing with SVVC. Mr. Goldstein's fund has taken a very focused approach to SVVC. Bulldog has been buying up shares of SVVC at a pretty good rate and is now at 10% of the total of outstanding units. In conjunction to this, Mr. Goldstein sent a letter to SVVC's board of directors and management calling for the ouster of the current fund manager. So the question is how is this situation going to turn out, and how can retail investors make money?
Let's remember that Bulldog Investors has a well-known history of engaging in and winning proxy battles. In many instances the mere threat of activism by Mr. Goldstein and Bulldog is enough to effect desired changes. SVVC's lackluster performance have left many investors disillusioned and ready to embrace a change, and that is what Bulldog Investors will capitalize on. If Mr. Goldstein is successful, his first mission will be to narrow the discount to net asset value. Consider this direct quote from Mr. Goldstein when I asked him what should be done in my latest article:
"First thing you do is you offer a liquidity event. You know, do a self-tender or sizeable self-tender offer to return cash. The other possibility would be a sizeable cash dividend. I like the self-tender offer better because that allows people the freedom to tender or not, depending on what you do with the fund afterwards. Some people may elect to stay with it and not tender. I think the self-tender is probably the fairest best way to go, at a narrow discount to NAV. Let's say like 2% discount to NAV."
Obviously there is much more to this story, but to sum it up I doubt that SVVC will be able to fend off the movement by Bulldog Investors. There will probably be a proxy fight in the near future and it looks like change is coming to SVVC. Buying shares now could set investors up to ride the coattails of this change. If the discount was narrowed to 2% from the current 17%, it would offer a great return for the speculative investor. Needless to say, I'm buying shares of SVVC and will vote those shares with Bulldog if and when the time comes.
Arena Pharmaceuticals, Inc. (NASDAQ:ARNA)
The next speculative investment is the biotech company known as Arena Pharmaceuticals. Unlike most speculative biotech stocks, ARNA has a unique set of circumstances. No longer is the company waiting for FDA approval or clinical testing results. ARNA's anti-obesity drug Belviq has hit the market and prescriptions are currently being written.
The speculation here revolves around how much demand will there be for the drug. Since the launch is still very recent, trying to determine any meaningful data is still just a guessing game. Article after article is released where experts take sides predicting the future for the company. Some say the prescription numbers will disappoint and the company will fade. Meantime, other so called experts envision a runaway success and promote stock prices that reach into the stratosphere. As each pundit makes their individual case, the stock price rises and falls based upon emotions, rumors, and knee jerk reactions. In reality no one really knows at this time exactly what is going to happen. Basically we still have a speculative stock, and that makes this trade very attractive.
What we do know is that IMS Health is reporting that Belviq had 1,087 prescriptions filled during the week ending June 14th. This is a good start in the process, but not enough to determine if the drug is taking hold in the markets. Another important piece of information came from the American Medical Association where they recently voted to classify obesity as a disease. What we can derive is that the ground where ARNA is operating in is fertile and favors these new products. Obesity is a real problem and insurance companies, FDA and the medical community want as many weapons in their arsenal to combat it. This is a very positive environment for a company like ARNA.
I like ARNA's chances for success and am willing to do a bit of speculative investing with them. What is needed is time, and plenty of it to see how demand plays out. Even if the initial demand figures are lackluster, they can pick up steam as time moves forward. This being the case, for ARNA I have decided to use options to invest.
Currently ARNA shares trade for $8 a share and have been stuck in this range for some time. To buy 500 shares would cost $4,000, which is a bit more than I would want to speculate with on one ticker. Instead I have decided to use January 2015 options and buy five calls at the $7 strike price. Currently those five calls cost around $2.85 per contract so that would be a total cost of $1,425. This will give me control of 500 shares of ARNA at $7 per share for the next year and a half, and breakeven would be around $9.85 per share. These long calls should give the speculation trade in ARNA enough time to play out. The downside risk would be limited to the price of the calls, and the upside potential would be unlimited if the price of the shares increase. See the chart below for the profit/loss breakdown: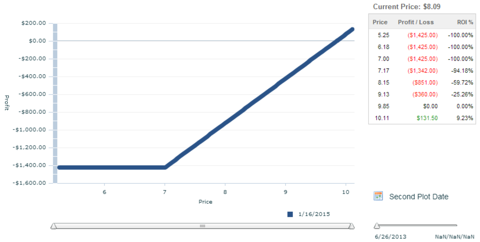 Of course the purchase of these long January 2015 calls could be combined with other option trades along the way. One could easily sell front month calls at a higher strike to generate an income stream or reduce the initial cost. Also one could easily use puts to lock in profits if the stock were to trade at higher levels than today's prices.
By using the unique situation in which we find ARNA, trading options just might prove to be a profitable proposition for the speculative investor.
Disclosure: I am long SVVC, ARNA. I wrote this article myself, and it expresses my own opinions. I am not receiving compensation for it (other than from Seeking Alpha). I have no business relationship with any company whose stock is mentioned in this article.