When looking for a company that will deliver outstanding returns, my method is to look for companies, which provide significant upside potential with minimal downside risk. It is important to look for a stable or growing company trading at a discount to its true value. Ultra Petroleum (NASDAQ:UPL) appears to fit those criteria.
Although the name may be misleading, UPL is primarily a natural gas producer, whereas only 3% of the company's production is actually oil. Natural gas on the spot market in the U.S. (Henry Hub for our purposes) closed the day at $3.72/MMBtu, significantly above the historic lows seen in 2012, but nowhere near the highs reached in the preceding years.
Over the past few years natural gas producers have been declining as storage facilities of natural gas are limited and the current transportation infrastructure along with the regulatory environment make export a non-option. These producers have been selling their supplies on the spot market at a loss.
Where UPL stands out is that UPL is likely the lowest-cost producer in the sector. Therefore, while other companies are selling their supply at a loss, UPL is able to squeeze out a narrow profit. In fact, all-in production costs for UPL were under $3.00/Mcfe, more than 59% lower than the industry average of $7.31.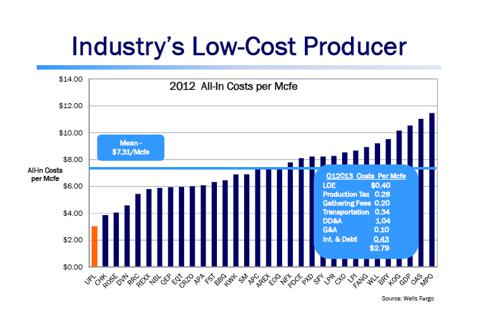 Comparison to Chesapeake Energy (NYSE:CHK), Rosetta Resources (NASDAQ:ROSE), Devon Energy (NYSE:DVN), Range Resources (NYSE:RRC), Rex Energy (NASDAQ:REXX), Noble Energy (NYSE:NBL), QEP Resources (NYSE:QEP), EQT Corporation (NYSE:EQT), Carrizo Oil & Gas (NASDAQ:CRZO), Apache Corp. (NYSE:APA), Forrest Oil (NYSE:FST), Bill Barrett Corp. (NYSE:BBG), Quicksilver Resources (NYSE:KWK), SM Energy Co. (NYSE:SM), Anadarko Petroleum Corp. (NYSE:APC), Approach Resources (NASDAQ:AREX), EOG Resources (NYSE:EOG), Newfield Exploration Co. (NYSE:NFX), PDC Energy (NASDAQ:PDCE), Pioneer Natural Resources Co. (NYSE:PXD), Swift Energy Co. (NYSE:SFY), Concho Resources (NYSE:CXO), Laredo Petroleum Holdings (NYSE:LPI), Diamondback Energy (NASDAQ:FANG), Whiting Petroleum (NYSE:WLL), Berry Petroleum (BRY), Kodiak Oil and Gas Corp. (NYSE:KOG), Goodrich Petroleum Corp. (OTC:GDP), Oasis Petroleum Inc. (NYSE:OAS), and Midstates Petroleum Company (NYSE:MPO).
Financial Analysis
Looking at UPL's FY 2012 earnings, we see the full impact of the collapse of natural gas prices. Due to SEC regulation, companies must carry gas reserves at the prevailing price, even at the lowest point in the cycle. UPL was forced to book the reserves at $2.63/Mcfe, far lower than the current value based on natural gas Henry Hub spot prices. This ceiling-test write-down was the cause of UPL's $14.24 loss per share.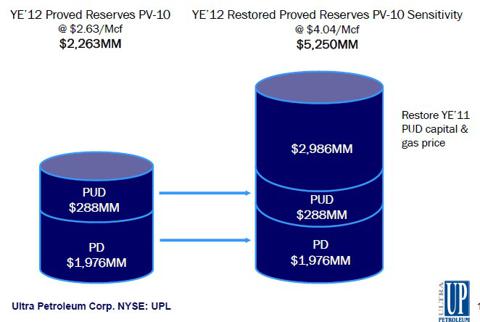 The write-down of close to $3 billion of assets including a whopping 38% of the value of their natural gas reserves, or 3.1 Tcfe. This write-down wreaked havoc on Ultra's balance sheet as well, yet in reality the write-down is insignificant since the reserves still exist and will be written back up in the event that natural gas prices rise.
Looking at reserves from another metric, UPL actually grew their 3P reserves while 2P reserves stayed steady, indicative of high-quality fields. Currently UPL has an estimated reserve life of 12 years. UPL has steadily been increasing production while at the same time increasing reserves to balance depletion.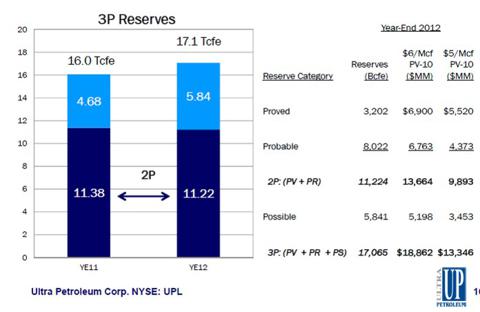 Cash Flow
Due to the aforementioned cost structure as well as the effects of excellent hedging, UPL was able to maintain excellent margins in what was a dismal year for Exploration and Production outfits. Operating cash flow margins were 64% and the adjusted net income margin was 29%. Looking at UPL's investing activity, CapEx was cut from $1.5 billion to $839.4 million.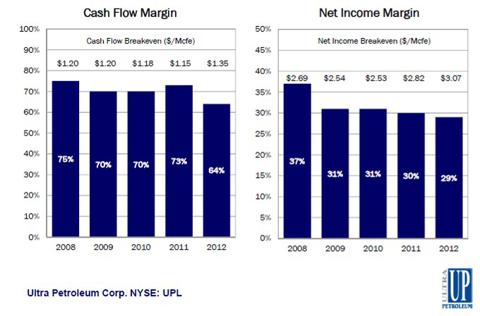 Management
UPL remains quite leveraged due to past acquisitions so management has made it clear in the most recent conference call that they will invest within cash flow in assets with a target ROI of 20% (40% outside of cash flow.) This disciplined approach is crucial to management's plan to increase EBITDA by 100% over the next four years and production by 10% in the same period.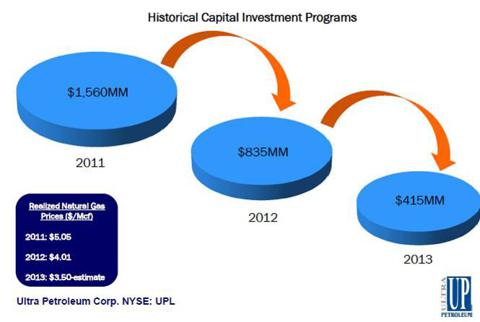 Management has also been effective in hedging, enabling them to hedge 75% of 2012 production at $4.43/Mcf, realizing $4.01/Mcf instead of $2.79/Mcf had the production been unhedged. Currently management has 35% of 2013 production hedged above market value at $3.74/Mcf, which protects a segment of production from downside, while leaving significant room for upside with a rise in prices.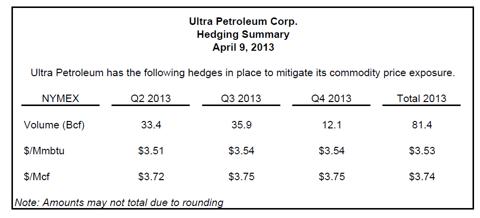 Outlook
The future share price of UPL is highly correlated to natural gas prices. While I will not focus on the macro picture, there are numerous drivers that may drive the price up in the future. Factors include U.S. export policy, President Obama's new environmental policy, increased demand by utilities, and generally unsustainably low prices. Nonetheless, there is currently an oversupply and a huge inventory of natural gas here in the states, which will restrain price appreciation in the short term.
Share Performance
On this note there is really not much to say. Shares of UPL are cheap by every valuation metric. Net asset value is estimated to be $23 per share, meaning at the current price you are getting a steal. The company is also trading significantly below a reasonable applied EV/EBITDA multiple of 8.5x. With a rise in natural gas prices, the effect will be even larger on the shares since margins will be affected with a "delta." UPL has the most to gain, as the lowest cost producer since profit margins will rise much faster for the lower cost producers than for the average producers should the price of natural gas rise. With S&P predicting $5.00/MBtu gas in 2015, profit margins should rise to 66% assuming production costs stay flat (they have been declining steadily and management has predicted further savings.) The fact that the shares have "Hard to Borrow" status meaning a future need to buy back the large percentage of the float that is short, along with significant insider purchases also encourages me.
The implied share value using either the EV/EBITDA multiple or higher earnings (due to margin growth) is hard to pinpoint and I will not attempt to give a target, but I would not be the least bit surprised to see shares trading between $40-50 in early 2015.
Conclusion
To tie it all together, what I see in UPL is a company which leads its sector (in production costs and thereby profitability) with a great management team which is at the inflection point of the bottom of its cycle. I really don't see much of a bear case against this stock, and hence the following disclosure:
Disclosure: I am long UPL. I wrote this article myself, and it expresses my own opinions. I am not receiving compensation for it (other than from Seeking Alpha). I have no business relationship with any company whose stock is mentioned in this article.
Additional disclosure: My position in UPL consists of Jan. 15 $22 calls.