I find most reporting on the housing market to be like a dance of the seven veils. Obfuscation is the standard. Investing in the housing market right now is like smoking in fireworks factory. - Comment posted from Part 1
Originally, I explained in Part 1 of this analysis that I wanted to write a two-part article to analyze and discuss why I believe that the housing market is getting ready to crash again. However, in putting together the data and analysis for new homes sales, I realized I would need separate articles in order to cover new homes sales and existing home sales. This Part 2 will detail why the new homes sales reports are statistically overstated in the headlines and it will show why the current level of sales is nothing more than an "oversold" bounce. Furthermore, when factors I wrote about in Part 1 (linked above) plus some additional factors I outline below turn for the worse, new home sales will resume a sharp downward path.
A lot of readers probably think I'm nuts for predicting a big housing market decline in light of the stream of seemingly positive data that is currently being reported. To be sure, the headlines give the appearance of an ongoing recovery. However, please remember that a significant amount of the reported data often is based on "seasonally adjusted" data that are then transformed into an annualized number for reporting purposes. This data "transformation" can lead to results that overstate (or understate) the true number of home sales.
Let's look at the June 25 new home sales report published by the Census Bureau. The headline from Marketwatch announced that homes sales hit a 5-year high. As stated, the Census Bureau reported that new home sales hit a "seasonally adjusted annualized rate" of 476,00 homes: New Residential Sales [pdf]. Although promoted by the media as a strong number, the level activity is still 65.7% below the July 2005 peak.
But let's take a closer look at the actual data from that last link. If you scroll down the Census Bureau report, you'll see the "not seasonally adjusted" sales data by month. The data are segmented into homes "not started," "under construction" and "completed." Please note that the numbers, as cited by the Census Bureau, are estimates and not actuals. For May 2013, the month for which the headline read "476,000" homes sold, there were 45,000 homes put under contract, of which only 14,000 were complete homes. 16k, or 35.5% of the homes that went under contract had not even been started.
Keep in mind that, for the Census Bureau, when a contract is signed, a new home sale is recorded. If the contract is cancelled, the numbers are never adjusted to reflect that. Before the market crashed in 2007, new home cancellation rates in general were running around 35%. Recently, per my perusing company 10-Ks, cancellation rates have been running around 20-25% after bottoming in the low teens. The point here is that 1) right now one in five new homes sales never close and 2) the cancellation rates has been trending higher over the last year.
Conservatively, if you apply a 20% cancellation rate to the 45,000 homes placed under contract in May, the actual number of homes that might be delivered for the month is 36,000. If you use simple math to annualize that number, you now only have 432,000 homes sold. But, in fact, May is a peak seasonal month for housing. If I take the last 12 months, add them up and apply a 20% cancellation rate, the number of homes delivered over the last 12 months was only 332,000.
My point here is that, if you dig into the numbers that require actually pulling up the entire Census Bureau report, new home sales as reported by the media appear to be happening at a higher rate of sales than the real numbers. Furthermore, as I'll explain below, it is likely that any real bounce in new home sales that occurred in May was the result of a rush to sign a contract and get a mortgage rate-lock agreement in place before interest rates go a lot higher by those contemplating a new home. This "rush" before rates go up dynamic has been observed in the past.
A key factor in new home sales is relative affordability. This is driven by price, income and mortgage rates. When the housing bubble popped in 2007, the ratio of the median price of a new home to real disposable income per capita was a record 8x. By 2009, the price of new homes had fallen to a level in which the price/income ratio had dropped to under 6.5 times. The median home price bottomed in March 2009, at $205,000. As of today's new home sales report, the median price has gone up over 28% to $263,000. The average price is over $300k. Here's an instructive chart: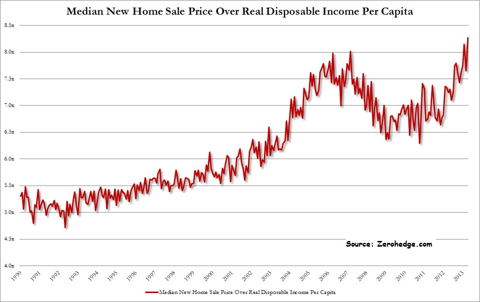 As you can see, as a result of the recent run-up in new home prices, the ratio of median sales price to income has spiked to a record high. At some point this relatively high price of new homes will choke off demand.
The second key factor in housing affordability is income. As the chart above shows, income in relation to new home prices is declining. This next chart shows an index of real median household income adjusted by CPI (sourced from John Williams Shadowstats.com):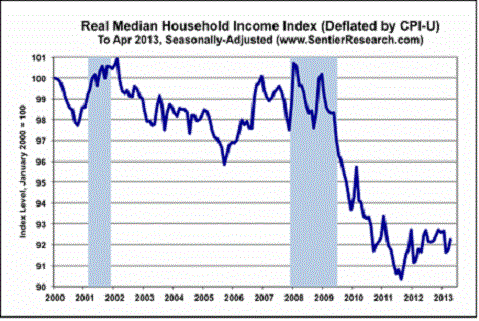 Clearly, while there has been a small bounce in household income since 2011, it's been trending sideways and is not on a path that would suggest that it could support more of a bounce in housing than has already occurred. In fact, per the latest Government report, real earnings in May actually declined again: Bureau of Labor Statistics [pdf]. If the May report becomes a sustained trend, it will be like pulling the rug out from under sales in the housing market. Not only is real income stagnating, but it was reported on Monday by CNN-Money that 76% of all Americans are living paycheck to paycheck. Based on this fact, clearly a large majority of people are not in a position to either buy or upgrade a home. Indeed, this issue will put a firm ceiling on the overall level of home sales the economy can support.
The third factor in affordability is the cost of financing a new home, or mortgage rates. At the beginning of May, the rate on a 30-year fixed-rate mortgage was 3.35%. Per Zillow.com, as of today, the national rate for a 30-year fixed-rate mortgage is 4.41%. Based on the $270,000 average size of a mortgage used to purchase a home (Haver Analytics), this 1% jump in mortgage rates adds an additional $225 of fixed costs associated with the overall cost of a home (in the early years of the mortgage anyway), or $2700 per year. Given that 76% of all Americans already live paycheck to paycheck, a small increase in mortgage rates will have a huge effect on the ability of the average person to take down a mortgage in order to buy a home or to sell an existing home and upgrade. If the Fed follows through on its threat to reduce or remove QE stimulus, it will have a significant impact on home affordability and home sales.
Finally, let's take a look at construction employment as tracked by the Bureau of Labor Statistics. If new home builders felt confident about the outlook for new home sales, it would make sense that the they would be hiring new workers. Here's the chart thru May 2013 (source: Shadowstats.com):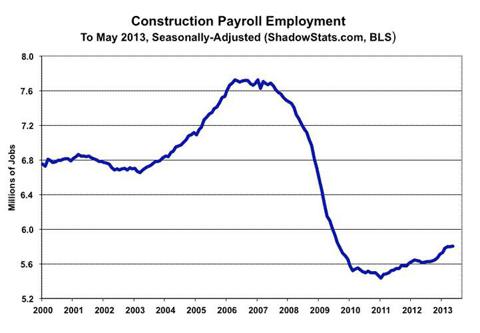 As you can see, in addition to "flattening out," the level of construction employment in our economy is at the same level it was as in mid-2009 and significantly below its level over the last 12 1/2 years.
Perhaps the Dow Jones US Home Construction Index will add some insight to why the homebuilders are not hiring. This index, as of today, is down 19% from its post-crash peak. It peaked in early May this year, about the same time mortgage rates started spiking higher, and is now solidly below both its 50- and 200-day moving averages. It would seem that both investors and homebuilder CEOs have a flat to bearish outlook for new home sales.
In summary, I believe that all the evidence presented above is telling us that the market for new home sales is set up for another serious decline. Interest rates appear to be headed higher, real monthly personal income has stagnated and could well be in a decline and, in relation to those two key variables, new homes have become expensive relative to historical affordability metrics. Moreover, the "signals" being sent by homebuilding companies with regard to hiring and by the stock market seemingly point to a bearish outlook. In Part 3, I will focus on existing home sales, the investment/rental buyer and a few other indicators that are quite negative.
If you agree with my view about new home sales, you can buy puts on XHB (S&P Homebuilders ETF) or ITB (Dow Jones US Construction ETF). You can also short either ETF, although buying puts limits the downside risk if the Fed surprises us with more QE. ITB is down 15.4% from its May high and XHB is 11.1% below its May peak. Based on their post-crash lows, both ETFs are several multiples above their bottoms. It is my view that we'll eventually see these bottom prices hit again. You can also buy SRS, which is the ProShares Ultra Short (2x short) real estate ETF. For individual stock short plays, I am short D.R. Horton (NYSE:DHI). I've discussed this play in an article a earlier this year. Despite the bounce in the DJ Home Construction Index this week on the new home sales report, DHI closed down a penny later that day and nearly a dollar off of its intra-day high. That price action is bearish. The stock closed today at $21.71 but it is quite a ways from its November 2008 low of $4.34. I believe it will eventually hit or go below that low.
Disclosure: I am short DHI. I wrote this article myself, and it expresses my own opinions. I am not receiving compensation for it (other than from Seeking Alpha). I have no business relationship with any company whose stock is mentioned in this article.