Brandon Odenath
Market Analyst, J.P. Morgan Funds

We've seen the pundits on TV and read their op eds. The drop in the labor force participation rate is proof that unemployment is falling because many of the unemployed have simply given up the search for work. The inference, of course, suggests that the economy is in much worse shape than falling unemployment rates would indicate.
Unfortunately, that inference is quite wrong. And the investment implications of taking this statement as fact can be significant.
A lower unemployment rate increases the risk of sooner-than-expected Fed tightening and raises the potential for rising inflation, both of which could be catalysts for rising interest rates, which doesn't bode well for traditional fixed-income allocations, particularly given the current very low bond yields. In his June 19 testimony, Fed Chief Ben Bernanke hinted at tapering the Fed's bond buying program, perhaps even ending it, sooner than expected.
Yes, the participation rate is falling (that is, a proportionally larger percentage of the total working age population is not currently looking for work or working), but it's demonstrably falling for reasons unrelated to the popular "discouraged worker" story line.
History puts today's situation in context
The unemployment rate has now fallen to 7.6% after peaking at 10% in October of 2009, declining much faster than expected, given that average employment growth has been less than 125,000 new jobs per month. The depressed labor force participation rate has, of course, impacted the unemployment rate, but this is where the story line and the reality part ways.
From the early 1960s to the year 2000, the labor force participation rate in the United States rose largely due to the entry of millions of women into the work force and the maturing of the baby boomers. This resulted in years where labor force participation rates soared. Since 2000, the participation rate, hurt further by the recession, has fallen to levels not seen since 1979.
Rising, and now declining, labor force participation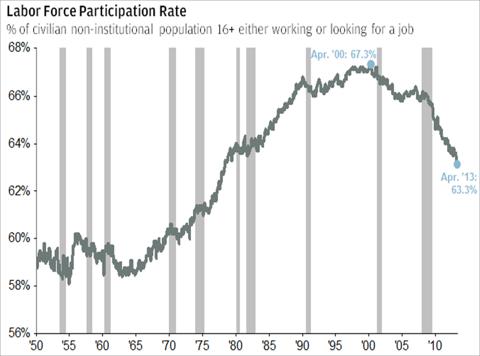 Source: BLS, J.P. Morgan Asset Management. Data as of 5/13.
However, the segment of the labor force that has actually "given up" looking for work has been -- and still is -- very small, averaging just 0.25% of the civilian population, and falling (not a typo) over the past two- and a- half years. [BLS measure of discouraged workers]. In fact, nearly 70% of the decline in participation since the end of the most recent recession can be explained by a very different reason; the population is aging and, therefore, more people are receiving Social Security disability benefits.
Disability recipients rising as the population ages
The number of workers receiving disability benefits has risen by 4.6% per year since 2000, a total of about 8.9 million claimants. Granted, it's possible that some of this growth may be because people who used to claim unemployment benefits are now receiving disability payments, but note that this trend started in 2000.
And even if -- over the past three- and a-half years -- the number of those receiving disability benefits had risen at the same rate as the working age population and all the extra claimants had re-entered the labor force, instead, this would at most have accounted for only 730,000 of the 4.2 million "missing" workers.
Clearly, most of the explanation must be found elsewhere.
You can't fight demographics
The labor force is far from a homogenous group, and both age and gender go a long way toward determining someone's likelihood of being part of the labor force.
Nearly 90% of males in their prime working years consider themselves part of the labor force, but that number drops to 24% for men 65 and older. Many baby boomers are no longer of prime working age and are pushing the overall participation rate down-just as they helped to elevate it when they entered the job market.
Participation rates declines with age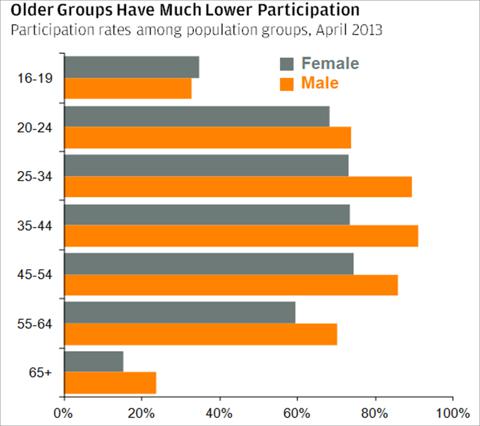 Source: J.P. Morgan Asset Management. Data as of 5/13.
If we were to hold participation rates for individual groups of the population constant and only shift the weights applied to each of those groups, we could see the impact of an aging population on overall labor force participation, as the chart above indicates. Using this methodology, we see that more than half of the decline in recent years has been caused by the shift in demographics. Furthermore, adding the 730,000 people, who may have left the labor force to collect Social Security disability benefits, back into the number explains another 11% of the drop in the working population since October 2009.
The paradox of fewer jobs needed to bring down unemployment rate
Investors must be wary of a pickup in growth, which would have ramifications on the development of monetary policy coming from the Federal Reserve. If economic and job growth does begin to pick up, the Fed may be forced to act on their March 2013 announcement of raising interest rates upon reaching a targeted 6.5% unemployment rate. We've already heard signals and seen the market's reaction. Even slightly faster economic growth and a step-up in job creation could bring the unemployment rate down to this number sooner than anticipated and signal a tighter labor market, a precursor to wage inflation and something that bond markets are likely to notice.
A smaller number of jobs created lowers the unemployment rate and spurs early Fed action, but at the same time, a small number of jobs does little to stimulate long-term GDP growth.
Rising interest rates are a clear negative for traditional fixed income investments, particularly given current very low yields. There's more specifics in J.P. Morgan's Guide to the Markets. Yet slower economic growth potential in the long-run could be a headwind for equity fundamentals, such as rising revenues and earnings growth. These should be weighed against currently undemanding stock valuations relative to bonds and cash.
In the end, investors must be cognizant of both sets of actual risks, and be wary of Fed action sooner than some might expect.
Contact JPMorgan Distribution Services, Inc. at 1-800-480-4111 for a fund prospectus. You can also visit us at jpmorganfunds.com. Investors should carefully consider the investment objectives and risks as well as charges and expenses of the mutual fund before investing. The prospectus contains this and other information about the mutual fund. Read the prospectus carefully before investing.
Any performance quoted is past performance and is not a guarantee of future results.
Diversification does not guarantee investment returns and does not eliminate risk of loss.
Opinions and estimates offered constitute our judgment and are subject to change without notice, as are statements of financial market trends, which are based on current market conditions. We believe the information provided here is reliable, but do not warrant its accuracy or completeness. This material is not intended as an offer or solicitation for the purchase or sale of any financial instrument. The views and strategies described may not be suitable for all investors. This material has been prepared for informational purposes only, and is not intended to provide, and should not be relied on for, accounting, legal or tax advice. References to future returns are not promises or even estimates of actual returns a client portfolio may achieve. Reference to specific securities, asset classes and financial markets are for illustrative purposes only and are not intended to be, and should not be interpreted as, recommendations. Any forecasts contained herein are for illustrative purposes only and are not to be relied upon as advice or interpreted as a recommendation.
J.P. Morgan Funds are distributed by JPMorgan Distribution Services, Inc., which is an affiliate of JPMorgan Chase & Co. Affiliates of JPMorgan Chase & Co. receive fees for providing various services to the funds. JPMorgan Distribution Services, Inc. is a member of FINRA/SIPC.
J.P. Morgan Asset Management is the marketing name for the asset management businesses of JPMorgan Chase & Co. Those businesses include, but are not limited to, J.P. Morgan Investment Management Inc., Security Capital Research & Management Incorporated and J.P. Morgan Alternative Asset Management, Inc.
JPMorgan Distribution Services, Inc., member FINRA/SIPC
MI-MB-LFPR_May2013
© JPMorgan Chase & Co., May 2013
Disclosure: I have no positions in any stocks mentioned, and no plans to initiate any positions within the next 72 hours.
Business relationship disclosure: This article was written by Brandon Odenath, Market Analyst, J.P. Morgan Funds, and submitted on his behalf via the J.P. Morgan Funds' Seeking Alpha profile.