We have been following Xerox Corporation (NYSE:XRX) since the middle of January 2012 largely because David Einhorn (Greenlight Capital) had purchased 17M shares of the company in Q4 2011. We were attracted to the company because it had purchased Affiliated Computer Services in 2010 and we liked that Xerox's goal was to transition its revenue exposure from hardware towards IT and Business Process Operations Services. We believe that those lucky investors who bought into Xerox at $7/share or less in Q4 2012 should give themselves a pat on the back and take their profits, especially since David Einhorn sold Greenlight's position in Q1 2013. We believe that conservative investors should reduce or sell out of Xerox and find another company that has stronger business fundamentals. Although the company has enjoyed a 17.4% jump in its adjusted EPS, this was due to the following non-operating factors:
8.3% reduction in its outstanding share count
$24M reduction in restructuring charges
$40M reduction in "other expenses"
$25M reduction in income tax expenses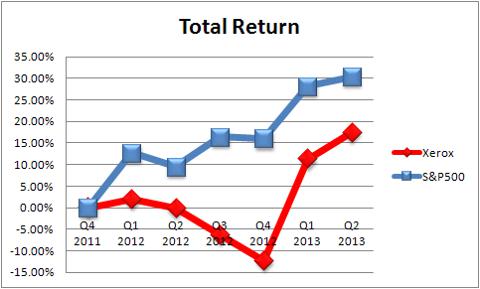 Source: Morningstar Direct
Xerox's Guidance
Due to the weak economic environment of the eurozone, Xerox continues to report sour results. We think it is becoming a trend on Xerox's part to meet consensus adjusted estimates and to reduce forward guidance and also to announce "non-recurring restructuring charges" that are "excluded from adjusted EPS guidance". Following Xerox has been like water torture not because the stock has underperformed the S&P 500 by 13% since we began increasing our research resources on it, but because the company has been steadily reporting guidance that has been soft and sour. At least we didn't buy into Xerox when everyone did in January 2012. At the beginning of 2012, Xerox issued adjusted EPS guidance of $1.12-$1.18 for FY2012. As of Q3 2012, the company has once again revised its guidance down to a range of $1.07-$1.09; down from $1.07-$1.12 in Q2 2012 and of course the company couldn't even make that target. XRX's FY 2012 reported EPS was $0.88 and its adjusted EPS was $1.03. But don't worry, this time they're projecting $1.09-$1.15 in adjusted EPS for FY 2013. Thankfully for XRX's management, people have probably forgotten that it projected $1.12-$1.18 in adjusted EPS for FY 2012.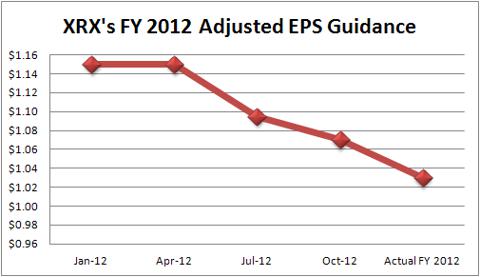 Source: Xerox's 2012 Earnings Reports
Xerox's Recent Results
Once again, Xerox announced soft financial results. As expected, stable performance in its Business Process Outsourcing business and growth in its Information Technology Outsourcing businesses was offset by soft performance in its Document Outsourcing business and its Technology equipment, services and peripherals division.
BPO revenue increased by 3% year-over-year and this represented 61% of the Services Division's revenue. BPO growth was driven by the government healthcare, customer care and healthcare payer businesses.
IT Outsourcing revenue increased by 6% and this represented 12% of the Services Division's revenue. ITO growth was driven by strong signings growth in recent quarters.
Document Outsourcing revenue increased by 1%. This represented 27% of the Services Division's revenue and was driven primarily by its new partner print services offerings.
The Document Technology Division's revenue declined by 9% year-over-year due to the weak macro-environment, the timing of its mid-range product refresh, price cuts of 5-10% and the migration of customers to XRX's Document Outsourcing partner print services offering.
XRX's operating income declined by 3% as the stable performance from Xerox Services was not enough to offset due to weaker sales of Technology Division hardware and peripheral products and supplies.
Concerns We Have About Xerox and its Management
We can understand why investors have concerns about Xerox. Ursula Burns has been President or CEO since April 2007 and the company's stock has generated a negative total return of 41% in that time frame. Xerox earned $1.22 in reported EPS in 2006, the year before Burns became President. Despite spending over $4.1B in acquisitions and $3B on share repurchases, Xerox's Adjusted EPS is expected to be $1.15 and its reported EPS is expected to be $1 after accounting for acquisition related intangible amortization and restructuring charges. Part of our apprehensiveness with regards to jumping into Xerox alongside Greenlight Capital is because we were concerned that the weak macroeconomic environment was an excuse for poor management and execution issues. We believe in calling things as we see them and we think it's appropriate to consider the poor results we have seen under Ursula Burns when evaluating her tenure.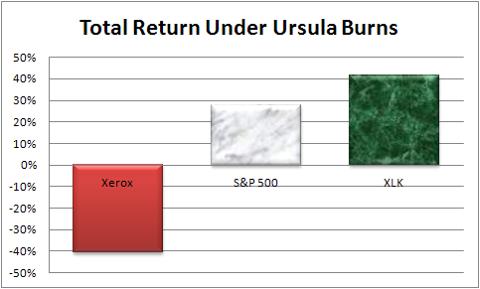 Source: Morningstar Direct
Financial Position
While the company is lugging around $8.5B in short and long-term debt, it is largely offset by $5.6B in finance receivables and equipment leases as well as $1.3B in investments in equity affiliates and $1B in cash. The company has a common shareholders' equity base of $11.5B, however $11.7B is due to goodwill and intangible assets from acquisitions. The company's cash flow patterns are seasonal in which it generates the lion's share of its cash collections in the fourth quarter of a fiscal year. The company generated $1.8B in free cash flows on its $11.5B equity base over the trailing twelve months, which was slightly lower than the $1.865B achieved in 2009 before the ACS acquisition. We don't consider ACS to be a deal from hell though because we can see that the ACS IT Services operation strength is offsetting weakness in the legacy Xerox operations. For the purpose of our free cash flow calculation, we included acquisition spending as a free cash flow outflow against operating cash flows because the company has been making acquisitions on a recurring basis and its operating cash flows benefit from the increased depreciation and amortization adjustments to net income, which also reduce taxable income and cash-based tax payments.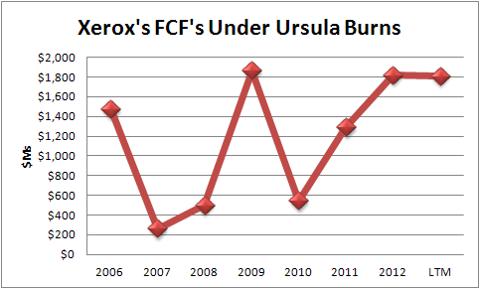 Source: Morningstar Direct
Comparison
While Xerox has seen soft results and issued a sour outlook, we believe that it compares well against its IT outsourcing competition (or at least if we were not to count its underperformance against Accenture (NYSE:ACN). Besides Accenture, we would compare Xerox against Hewlett-Packard's (NYSE:HPQ) HP Services division and Dell Inc's (DELL) Dell Services segment. Xerox gets 54.5% of its MRQ revenue from its services and solutions versus 100% for Accenture, 25% for HPQ and 22.5% for Dell. Xerox's Services Division generated 3.5% revenue growth year-over-year in Q1 2013 versus -8% for HP Services and 2% for Dell Services. The one area that Xerox Services has shown some material weakness relative to its IT Services peers is its operating margin because it operates exclusively in outsourcing services, while its peers are also involved in IT consulting and other higher-value-added services. We have seen Xerox's outsourcing services operating margins pressured recently due to the ramp-up of new service contracts as well as concessions extended to certain customers in order to retain business. Our thesis going into this conclusion was that although Xerox may not be Accenture, at least it isn't HP Services or Dell Services and we can conclude that our thesis here holds.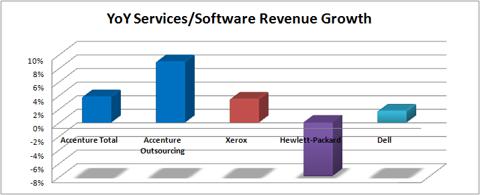 Source: MRQ Reports for Accenture, Xerox, H-P and Dell
Conclusion
In conclusion, we believe that Einhorn was premature in green-lighting a reentry into Xerox. At least he was smart enough to know when to get out. Although we are attracted to some of XRX's features, we're disappointed in its ongoing soft performance and sour guidance. Now that Xerox's market price has almost converged with its book value, we believe that investors should look elsewhere, or at least until the company replaces Ursula Burns as CEO. We also noticed that Franklin Mutual Advisers (Michael Price's old shop) trimmed its position in XRX from 6.75% in Q3 2012 to 5.62% in Q1 2013. Although it isn't as strong as IT Solutions leader Accenture, at least it is in better shape than Dell and Hewlett-Packard. However, Ursula Burns' leadership has not been able to stem the revenue declines in its hardware business, Accenture is a much stronger competitor than Xerox Services and Xerox's shares have generated a total return of negative 41% since Burns has been CEO.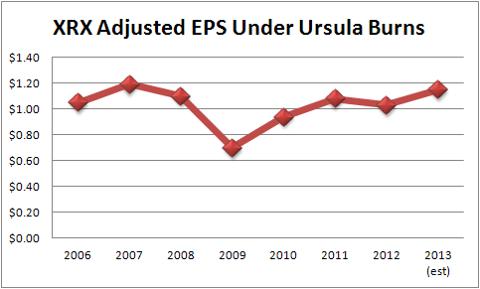 Source: Our Most Recent Report on Xerox
Disclosure: I am long ACN. I wrote this article myself, and it expresses my own opinions. I am not receiving compensation for it (other than from Seeking Alpha). I have no business relationship with any company whose stock is mentioned in this article.
Additional disclosure: This article was written by an analyst at Saibus Research. Saibus Research has not received compensation directly or indirectly for expressing the recommendation in this article. We have no business relationship with any company whose stock is mentioned in this article. Under no circumstances must this report be considered an offer to buy, sell, subscribe for or trade securities or other instruments.