By Sumit Roy
Natural gas plunged to the lowest levels since March, below $3.60/mmbtu, after the Energy Information Administration reported that operators injected 95 billion cubic feet into storage, above most analyst estimates that ranged from 88 to 92 bcf. The injection was above last year's build of 57 bcf, and above the five-year average build of 80 bcf.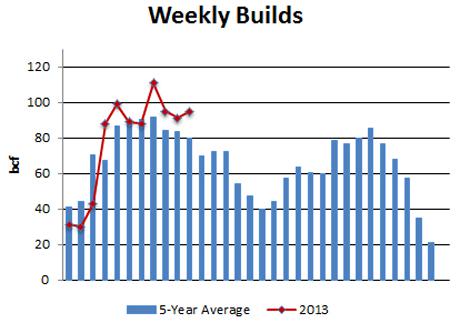 In turn, inventories now stand at 2,533 bcf, which is 530 bcf below the year-ago level and 28 bcf below the five-year average (calculated using a slightly different methodology than the EIA).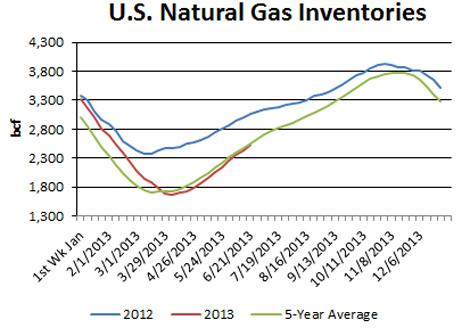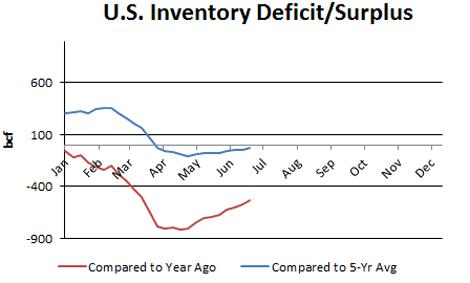 The weather last week was cooler than seasonal norms. The Edison Electric Institute said that utilities generated 81,695 GWh in the week ending June 22, which was 5.3% below the same week a year ago.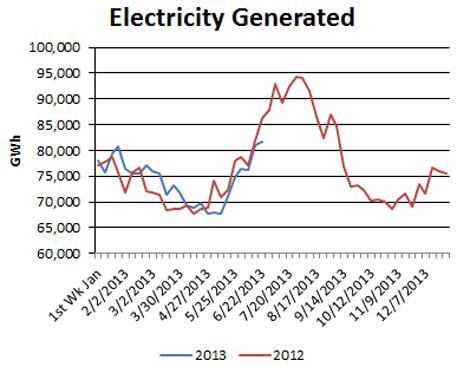 Looking ahead, the NOAA's six- to 10-day outlook calls for cooler-than-normal temperatures across a wide swath of the country.
NOAA Six- to 10-Day Outlook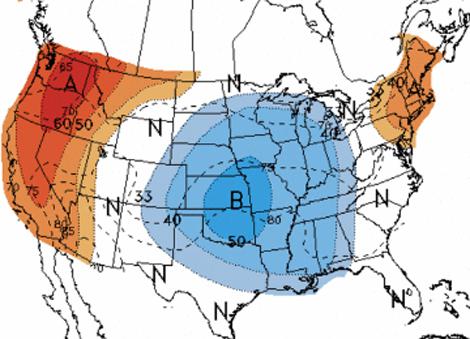 Meanwhile, the number of rigs drilling for natural gas in the U.S. fell by four to 349 last week, a new 18-year low, according to Baker Hughes.
Natural Gas Rig Count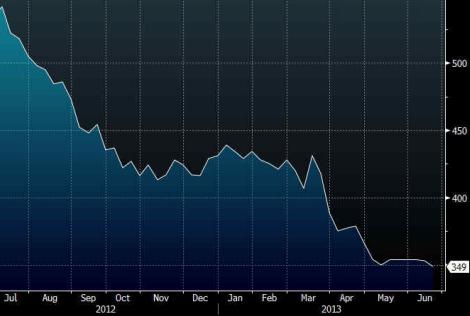 Natural Gas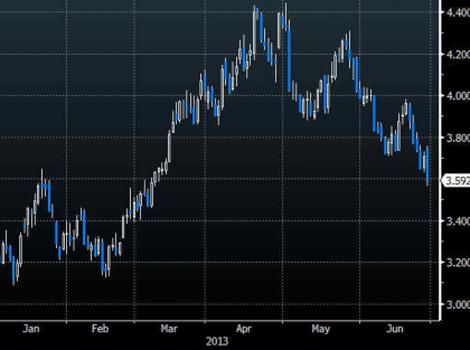 Bottom line: The latest inventory data from the EIA were bearish, as the deficit vs. the five-year average fell from 43 bcf to 28 bcf. While the natural gas market may be close to balanced on a weather-adjusted basis, cooler temperatures are on the horizon based on the latest forecasts. That will depress demand, and the deficit versus the five-year average is likely to be erased over the next few weeks.
Perhaps more importantly, the long-awaited decline in natural gas production remains elusive. Many had hoped that the strong inventory withdrawals we saw this past winter were evidence of production declines. Clearly, that wasn't the case.
Now, gas is beholden to the weather and it's not looking good for bulls. The technical backdrop has turned bearish with a series of lower highs and lower lows on the charts. A move to the low-$3s is possible as gas attempts to pick up market share vs. rival coal in the power generation sector.