Just like last week's article, we've found another energy-related stock that looks poised to capitalize on the wave of growing US petroleum exports. Transmontaigne Partners, LP, (NYSE:TLP), with its 6%-plus dividend yield, is listed in the energy section of our High Dividend Stocks By Sectors Tables.
TLP is a midstream energy company with fee-based revenues, derived from terminaling services that it provides for its customers, many of whom are on long term contracts. As such, TLP is mainly insulated from the ups and downs of oil's price swings: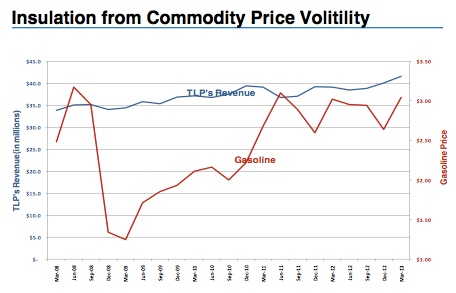 TLP has steadily increased its terminaling capacity over the past few years...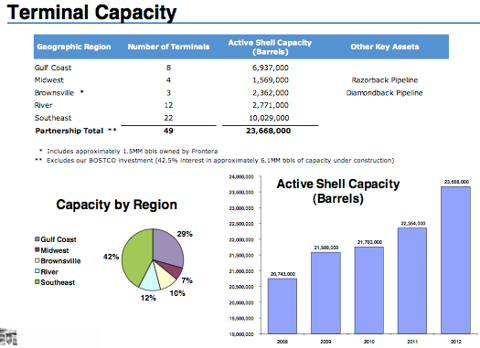 ...and its new BOSTCO black oil terminal project, in the Houston ship channel, will bolster its position in the Gulf Coast even more. This new terminal, of which TLP owns 42.5%, will boast 6.1 million barrels of capacity, when its Phase 1 is finished, in late 2013 and into mid-2014. All of Phase 1's capacity is already committed on long term contracts.
In addition, TLP has already committed $23 million to Phase 1A, which will add another 900,000 barrels of capacity, and Phase 3, which will add an additional 3 million barrels of capacity, is now in the planning stages. Clearly, TLP's management sees a major earnings opportunity here.
TLP pointed out the BOSTCO terminal's competitive advantages in a recent investor presentation: It's located in the Texas refining region, which accounts for 27% of all US refining capacity. Its deepwater design will be much more efficient than other terminals, which commonly struggle with unloading/loading problems. It's on the Gulf Coast, which is expected to be a major petroleum supplier on a long haul basis to key overseas "fuel oil deficit" markets. TLP will thus be able to capitalize upon the increasing demand for export capacity.
Earnings Growth: This export growth story has translated into robust 2014 EPS estimates for TLP. Estimates range as high as $3.30, and average $2.89, which equals 32.57% growth, and makes TLP appear undervalued on a 2014 PEG basis.

TLP also had nice top-line and EPS growth in its 1st quarter of 2013: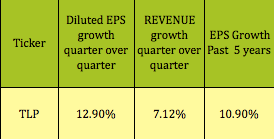 Distributions: TLP has a 5-year dividend growth rate of around 13%, growing from $2.26 in 2008, to its present projected $2.56 annual payout rate. With stronger earnings ahead, it should be able to increase its dividends even more in 2014.

Options: TLP does have options available, but they are very thinly traded, and its Covered Calls and Cash Secured Puts yields aren't that compelling at present.
Oversold: After peaking early April, TLP, has sold off, and is hovering right around the oversold level.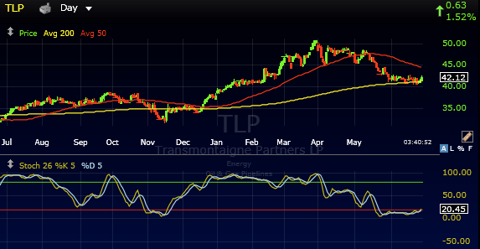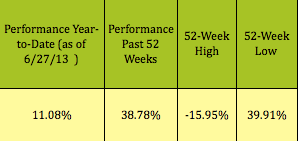 Financials: TLP's Efficiency ratios and Debt/Equity are roughly in line with its industry's averages, but its Operating Margin and Interest Coverage looks superior:

More Valuations: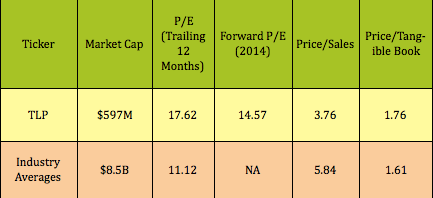 Disclaimer: This article was written for informational purposes only. The author is not responsible for any errors, omissions, or actions taken by third parties as a result of reading this article.
Disclosure: I have no positions in any stocks mentioned, but may initiate a long position in TLP over the next 72 hours. I wrote this article myself, and it expresses my own opinions. I am not receiving compensation for it (other than from Seeking Alpha). I have no business relationship with any company whose stock is mentioned in this article.