Just as the price of gold declined by 36.1%, from $1,923.7 an ounce on September 06, 2011, to $1,229.8 an ounce on June 26, 2013; the price of the most popular gold miners ETF, Market Vectors Gold Miners ETF (NYSEARCA:GDX), declined by as much as 66.2% (taking into account the dividends as well).
At this point, some analysts began considering that mining stocks have become oversold in relation to the price of gold bullion. In my opinion, the excessive decline of gold miner stocks is quite normal, and there is a simple explanation for it. The profit of gold miners depends on the cash margin, which is the difference between the price of gold and the cost of producing it, and cash margin has dropped by a rate similar to that of the ETF's price, 70.9%. Consider the following calculation: On September 2011, the top price of gold was $1,923.7, while total production cost was $945, and the cost margin was $1923.7-$945=$978.7. On June 26, 2013, the price of gold was $1,229.8 with the same total production cost of $945 and a cost margin of $1,229.8-$945=$284.8. The result is that cost margin dropped from $978.7 to $284.8, which equals a rate of 70.9%.
Of course, this sort of calculation works both ways, and when the price of gold will rise again, the rate of the ascent of gold miner stocks will be much higher than that of the price of gold.
The table below presents the price of gold and the adjusted for dividends GDX price, giving a value of one hundred for both on June 2006.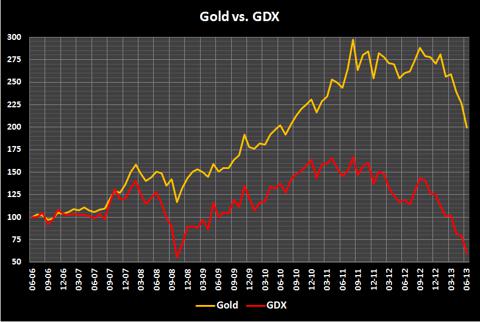 The Ychart below presents the price-to-book-value ratio of four leading gold mining companies.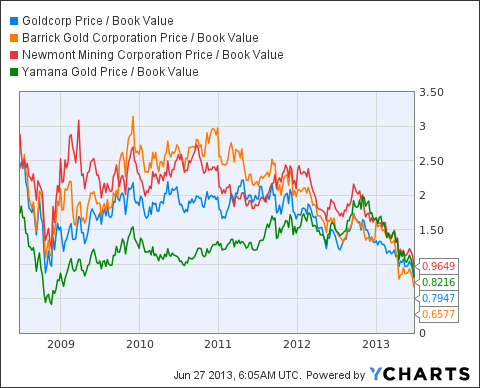 GG Price / Book Value data by YCharts
Summary
In general, the excessive decline of gold miner stocks, in comparison to the price of gold, is hardly surprising. However, naturally, not all gold miner stocks are at the same situation: some have lower production costs than others. Therefore, an investment in a gold miner should come only after conducting an intensive study of this particular stock.
Disclosure: I have no positions in any stocks mentioned, and no plans to initiate any positions within the next 72 hours. I wrote this article myself, and it expresses my own opinions. I am not receiving compensation for it (other than from Seeking Alpha). I have no business relationship with any company whose stock is mentioned in this article.