I love simple concept investment opportunities focused on businesses built to succeed in good times and bad. The business of selling athletic shoes is one which is highly profitable and somewhat insulated from the larger economic backdrop. It is a great business for a couple of reasons, specific to the athletic segment. First, this segment thrives on youth sports. The great thing about young people is they grow up, and most of the time their feet grow with them. Bigger feet = bigger shoes = new shoes, no matter what the current economy may look like. Second, this is a brand-dominated industry. Consumers want the latest version of Michael Jordan's basketball kicks and will pay close to half of what an iPhone costs to buy these shoes that might last them a year until the next version comes out. Lastly, the very nature of athletic shoes is that they wear out. Young or old, this is a recurring business model because shoes do not last forever (smart thinking by the shoe manufacturers I might add) and jumping, running, and cutting makes these a disposable item that has to be replaced far more often than one might imagine. The best pure play on in the athletic footwear and apparel space is Foot Locker (NYSE:FL). The company is seeing enormous growth in same-store sales, sits on a mountain of cash with negligible debt, and is extremely shareholder friendly via its dividend and commitment to repurchase a significant amount of outstanding shares. Most importantly, the company is cheap, especially when considering the growth exhibited the last few years and the outlook for the company going forward. There is no specific catalyst to speak of that should drive Foot Locker shares higher. This is a fundamentally undervalued stock that continues to outperform from an operational standpoint even while Europe is mired in a recession as well as plenty of economic headwinds still present in the US. The value equation will continue to grow stronger as Foot Locker grows its earnings and I see over 25% of upside in the next 12 months as the market digests the sustainability of the performance that Foot Locker is exhibiting.
Brief Company Overview
The image below taken from a recent Foot Locker investor presentation provides a symbol of why the business model is so great: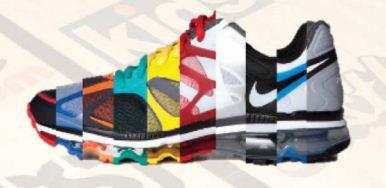 The company is brand agnostic. Carrying most of the major athletic brands, Foot Locker does not face the risk of a fickle consumer who one day decides Brand A is cool, and Brand B no longer is. Foot Locker continues to serve that consumer in either scenario.
The company operates over 3,000 stores in over 23 countries with the bulk of its business coming from the US with Europe being the second largest contributor. Below you can see the total store count broken down by the different branded stores operated by the company:

One thing you should notice is that for the latest fiscal year, even as the company grew revenue by almost 10%, it did this while shrinking its total store count. One of the biggest cloak and dagger issues with retailers is top line growth driven by growing the store base while the existing stores underperform. With Foot Locker, the company has a relatively flat store count while investing significantly in remodels and is still growing the top line significantly by getting more productivity out of its existing stores. This is music to the ears of any retail investor.
Financials
Foot Locker currently trades at ~$34 a share equating to a market capitalization of $5.2B. It's 52-week trading range spans from ~$28.50 to ~$37.70.
I would reiterate that probably the single most compelling data point about Foot Locker is the significant revenue growth the company has achieved over the last few years as seen below from the 2012 10-K report:

The revenue growth is almost entirely driven by growth in same-store sales, which clocked in at 9.4% and 9.8% for 2012 and 2011 respectively. Again this is the same retail environment where many other consumer apparel companies are seeing relatively flat growth and those exposed to Europe are using that as an excuse every chance they get. Foot Locker is actually bullish on Europe, supported by positive commentary during the Q1 2013 conference call, and even more so by the just approved agreement to acquire a German based specialty athletic retailer for ~$95M. This will further expand the company's presence in Europe while strategically doing so in the healthiest country on the continent.
Even more impressive is the operating leverage the company has achieved during the 2010 to 2012 time period. Through a combination of increasing gross margins and greater SG&A leverage, the company has increased its earnings before interest and taxes "EBIT" by over ~120% on the back of a slightly greater than 20% increase in revenue: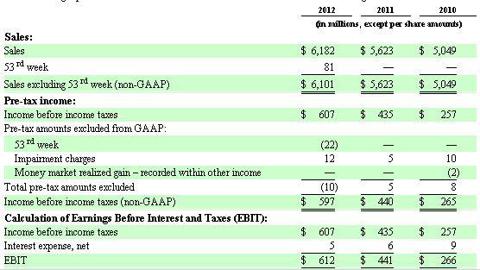 Adding in the $118M in depreciation from 2012, and the total reported EBITDA for the year was $720M. With a $5.2B current valuation, Foot Locker is trading at 7.2x its trailing EBITDA. I only give you the trailing EBITDA valuation as to highlight just how cheap the company will look when you consider what its forward valuation multiples should look like.
From a balance sheet standpoint, Foot Locker ended Q1 2013 with $1.1B in cash and equivalents and only $.1B in outstanding debt. The company has a sizable operating lease obligation which some feel distorts the true financial position of a retailer like Foot Locker. I agree that operating leases are an obligation, but they concern me very little in an investment thesis on a company that is rapidly growing its earnings without having to grow its store base and with a significant net cash position. A little less than 50% of the total cash balance is held offshore and would be subject to taxes were it to be repatriated to the US. The company notes in the 2012 10-K that it intends to fund its operations, dividend, and share repurchase plans via its domestic cash and future domestic cash flows.
Foot Locker generated free cash flow "FCF" of over $250M in 2012 after funding over $160M for capital expenditures related to store openings and remodels. The ability to generate material FCF is another one of the important tenants to the investment thesis.
Foot Locker currently pays an $.80c annual dividend, which is equivalent to a ~2.4% yield at the current stock price. The cost to fund the dividend over ~150M shares is roughly $120M annually. The company also has an outstanding $600M share repurchase authorization which it noted on the last conference call it intends to engage in after completing the acquisition of the German retailer noted above. Generating over $250M in FCF annually, Foot Locker has more than enough cash to fund its significant share repurchase plan which is equivalent to more than 10% of total shares outstanding currently.
Company Outlook
The simple financial outlook is pretty damn good considering that the US is slowly recovering, and Europe is still a complete mess. The consensus estimates are for EPS to grow to $2.82 in the current year from $2.56 last year (~10% growth). The consensus estimate for revenue is for growth of roughly $.2B to $6.4B in the current year, in line with the guidance the company provided on its Q1 2013 earnings call. Again you can see that the bottom line growth continues to outpace the topline growth, owing to additional strength in gross margins and SG&A leverage.
The company also notes that it believes it has significant growth opportunities in a few key areas. The first is its Kids Foot Locker brand, which management noted grew by 20% YoY in Q1 2013. Harken back to the beginning of the article and my joke about how kids have growing feet. This is a huge market, one that can be targeted for both athletic, as well as everyday footwear. The company also notes it is significantly growing its apparel business. This is a win-win for the company and investors. There is very little incremental cost or risk to having apparel be a bolt on to the consumer shopping experience when a person sets out to buy shoes. This is a logical growth area, and one where the company should see significant growth over the next few years.
There is also the general undertone of people continuing to be more health conscience. The company notes that its running shoes segment has seen a significant uptick over the last few years. The growth runway here, driven not by hardcore athletes but by the everyday consumer, is as big or bigger than the organic growth of the athletic shoe and apparel segment.
Finally, shoes continue to be a retail item that consumers want to touch and try on before purchasing. Clearly there is an e-commerce business that competes with Foot Locker, and the company itself is rapidly expanding its own e-commerce presence. However, the consumer choice with regards to shoes would appear to continue to be one where purchasing it in the store after trying it on outweighs the potential cost savings and hassle free option of having the purchase delivered to the front door. I again digress to the example of kids, who unless their parents are schooled in the art of foot measuring, need to be taken to a shoe store each time they purchase a new pair of shoes in order to determine what size they have grown into. It is nearly a bullet proof business model when it comes to kids.
Valuation / Investment Outlook
Here are a few simple valuation metrics that are relevant to the discussion around the upside for Foot Locker shares:
Forward PE - 12.1x ($2.86 consensus EPS estimate for the current year)
Forward EBITDA - Est $815M ($740M adjusted in FY2013 after adding back $20M stock based comp)
Forward EBITDA/Price Multiple - 6.4x
EV/EBITDA - 5.2x ($5.2B market cap + $.1B debt - $1.1M cash / $815M EBITDA)
I would point out that the company pegs the PV of its operating leases at just over $2.2B at the end of FY2013. The company also incurred over $500M in operating lease expense in FY2013. For those who would choose to look at EV/EBITDA inclusive of the PV of operating leases and then adding back the lease expense, the valuation metric improves over the 5.2x shown above.
A fair EV/EBITDA multiple would be closer to 6x using industry averages, which are quite frankly not even good comparisons as Foot Locker is growing its operating profitability at a clip greater than almost all others in the industry. To quantify the 25% upside, I am assuming that the company generates no additional cash in the current fiscal year due to the dividend, acquisition, and share repurchases. If the company shows only 5% growth in EBITDA for the following fiscal year, its EV/EBITDA multiple will drop to 4.8x. I use that target to gauge the upside of at least 25% over the next 12 months.
I would also specifically point out that acquisitions in the apparel and shoe retail space are as common as a fly on the wall. They happen all the time, with Bloomberg documenting over 100 during the last decade. Collective Brands was acquired for over 15x EBITDA just over a year ago. The average EBITDA multiple paid for the companies acquired in the Bloomberg report noted above was 7.8x. Foot Locker trades at 6.4x its estimated current year EBITDA. Upside of 25% is based purely on the valuation attributed to the company as a going concern. In an acquisition scenario, Foot Locker could command an even higher price. With a significant cash balance, healthy dividend, and ample free cash flow to fund growth initiatives and share repurchases, Foot Locker is one of the most compelling opportunities in retail today.
Note: Nike (NYSE:NKE) reported earnings on 6/27 which could present selling pressure for Foot Locker based on the weak outlook Nike gave. This should present a great buying opportunity, as the Nike outlook owes mainly to concerns over China where Foot Locker has no presence.
Disclosure: I have no positions in any stocks mentioned, and no plans to initiate any positions within the next 72 hours. I wrote this article myself, and it expresses my own opinions. I am not receiving compensation for it (other than from Seeking Alpha). I have no business relationship with any company whose stock is mentioned in this article.