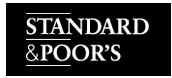 Stress tests reveal that major Canadian banks have sufficient capital to withstand losses in the likeliest economic outlook, according to Standard & Poor's. Furthermore, most but not all Canadian banks are in a position to withstand even higher losses, S&P adds. "In fact, as a group, Canadian financial institutions perform better under our stress tests than do those we rate in the U.S. under similar tests," says S&P in "Stress-Test Results For Canadian Banks Point To Adequate Capital Even Under Worsening Conditions."
"Our stress test of Canadian financial institutions is in line with Standard & Poor's revised credit loss assumptions. The financial institutions in the stress test include the five large Canadian banks– Bank of Montreal, Bank of Nova Scotia, Canadian Imperial Bank of Commerce, Royal Bank of Canada, and Toronto Dominion Bank Financial Group–which represent the lion's share of loans and deposits in Canada. We also included National Bank of Canada, Laurentian Bank, and the Desjardins Group with operations in Quebec, as well as the British Columbia Credit Union System and HSBC Canada."
We also estimated losses under a more-severe stress case, which we currently believe is only a remote possibility and which we have not built into our ratings. Under that scenario, a few Canadian financial institutions would require a modest amount of additional capital.
"Our ongoing review of the Canadian financial institutions industry has led us to revise our expectations for credit losses and earnings. Apart from identifying credit and earnings risks from our new loss expectations, we seek to determine whether loan losses can erode common equity capital to the point that a capital infusion would become necessary relative to the rating level. The results of our base-case stress test–which is also our expected case–indicate that the sector exceeds our minimum capital thresholds," said Standard & Poor's credit analyst Lidia Parfeniuk.
Canadian banks have so far not needed extraordinary government support, but we believe such support would be forthcoming for the highly systemically important banks if needed. "We consider only a few smaller financial institutions to be of moderate systemic importance, and see those banks as benefiting from government support more likely through a market solution, such as a purchase by a stronger bank, rather than outright government support in the form of capital," Ms. Parfeniuk added.