Oil has been nothing if not strong. We have been trying to highlight the strength in oil as many commodities have been under fire over the last week or so. With prices this strong, we should see a follow through on the equities side, but we do not want to buy those companies simply at or near 52-week lows (see below) because they are there for a reason.
It appears that oil is becoming the new gold and capital is finding its way into the oil complex. The spread between Brent and WTI has continued to narrow, and depending on how you look at it the data either shows a strong US economy versus a weakening world economy or US fund managers rotating out of precious metals and into WTI. Regardless, it is safe to say that oil is benefiting at the precious metals' expense.
Also of note this morning, and we will have more on it come Monday, is that Molycorp (MCP) appears to have been cleared of all charges by the SEC (see company press release here).
Chart of the Day: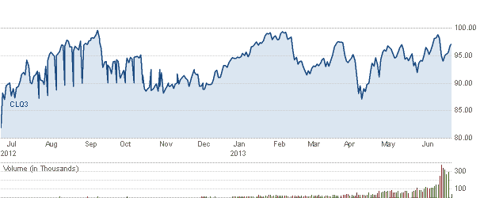 Source: CNBC
Commodity prices this morning are as follows:
Gold: $1202.70/ounce, down by $8.90/ounce
Silver: $18.79/ounce, up by $0.257/ounce
Oil: $97.26/barrel, up by $0.21/barrel
RBOB Gas: $2.7317/gallon, down by $0.0109/gallon
Natural Gas: $3.608/MMbtu, up by $0.026/MMbtu
Copper: $3.067/pound, up by $0.0145/pound
Platinum: $1325.60/ounce, up by $0.40/ounce
Manufacturing
Both Caterpillar (NYSE:CAT) and Deere (NYSE:DE) play important parts in helping us decide which way the commodities market is headed long-term. Deere, contrary to the cautious tone management keeps marching to, has for some time now indicated that agricultural commodities would at the very least hold steady. Keeping the kind of sales numbers that they have and expecting a drop in prices of any significant amount simply does not compute.
Deere has been the outperformer here, but with Caterpillar near its yearly lows once again, what does this say about the future of commodities and whether the supercycle is over?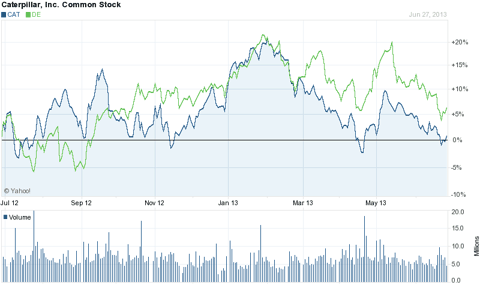 Source: Yahoo Finance
More troubling however has been Caterpillar, which has less direct exposure to the actual production of commodities than other names but dominates on the back-end where the end products produced by mined commodities are used to build plants, office buildings, apartments and single family neighborhoods. Usually one can look at one end of the cycle, usually Caterpillar's, and see a pickup which indicates that we are about to see a pickup in economic activity. With China appearing to have trouble and India's economy already seeming to have stalled we are forced to look to other areas like Brazil and Russia for the missing growth but they too seem to have stalled. The one bright spot right now is America, the question investors need to be asking themselves is whether this is enough to spark another worldwide construction boom. Right now it does not appear so, but with Japan rising again and the possibility of China turning on a dime, as has been the case in the past, anything can happen.
Oil & Natural Gas
When it comes to the mid-majors in the E&P space Anadarko Petroleum (NYSE:APC) has been one of the few undisputed winners over the past year. Their transition into the oil and liquid shale plays has gone very well with the company reporting strong results in their exploration efforts. It helps too that they are in some of the most exciting plays out there right now.
One of the big winners this year among the mid-majors. We actually expect Anadarko to become a consolidator in some of their plays.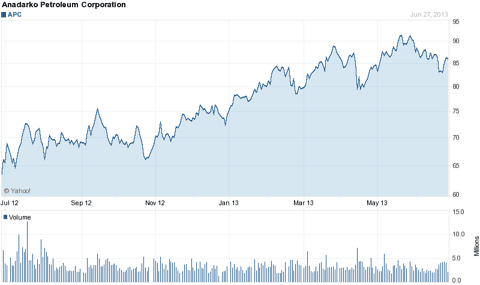 Source: Yahoo Finance.
But when it comes to other names, such as Devon Energy (NYSE:DVN) and Apache (NYSE:APA) it has been a tale of two cities. Yes Apache has done better as of late and actually is one of the best performers over the past few months, but before that they were on the ropes hitting fresh new 52-week lows. What changed? Well they announced the sale of non-core properties and moved to reinvest the proceeds in the business, returning capital to shareholders and retiring debt. So when Devon announced a plan, and then decided to go through with it, many were surprised that the shares reacted so poorly to the news.
The tail end of this chart tells one everything they need to know. Devon back at yearly lows is not a good thing, that is for sure.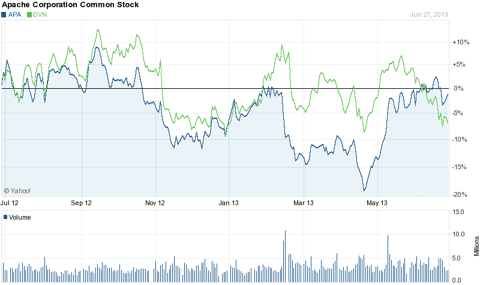 Source: Yahoo Finance
Taking a step back and looking at the situation, Devon really is not increasing production or looking to develop an asset further, but simply doing some financial engineering. That is fine, and deserves some credit, however we want to be buyers of those companies that have wet production and exploration targets and are experiencing success in developing those properties. Devon has been on a bit of a losing streak lately in some of their bets and this has somewhat clouded the water. A reader asked us if we were buyers of Devon yet, and the answer is a resounding no. We want companies growing production in terms of oil and wet gases with momentum behind them, not those names which are just squeaking out marginal gains and facing investor headwinds.
There are plenty of great names out there for those wanting to do a little work and find those companies with great properties who are developing them responsibly and timely. Yes you do have to look at some of the smaller names, but there are properties owned by billion dollar companies which have been derisked.
Disclosure: I have no positions in any stocks mentioned, and no plans to initiate any positions within the next 72 hours. I wrote this article myself, and it expresses my own opinions. I am not receiving compensation for it (other than from Seeking Alpha). I have no business relationship with any company whose stock is mentioned in this article.