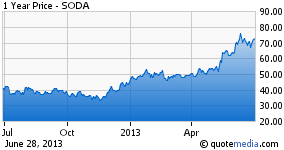 The purpose of this article is to introduce would-be investors to the SodaStream (NASDAQ:SODA) story. Many investors remain on the sidelines because they don't have enough information to draw upon regarding the company's operations and what the company's performance has been over the last couple of years. We aim to offer a broad perspective for would-be investors with this article as it clarifies some lingering questions many may still have about the company.
SodaStream came public in the U.S. as an Israeli-headquartered company in November of 2010. The stock quickly gained momentum and surged to roughly $80 in July of 2011 before plummeting below $30 over the next few months as investors became spooked by vagaries in the reporting metrics from the company that they may not have fully understood. The reality behind the precipitous share price decline was more than likely the cause of over exuberant investors on one side of the spectrum and misinterpretation of reporting metrics on the other end of the spectrum. In any case, the share price decline gave investors a huge opportunity to invest in a company with a unique razor/razor blade business model coupled with strong barriers to entry in the particular market segment for which it operates, the at-home carbonated soft drink market or at-home CSD market for short.
SodaStream began its market expansion efforts in 2007 in Europe and further expanded from that point to the Asia Pacific and North America. The company's biggest land grab came in 2010 when it entered the U.S. market through Williams-Sonoma (NYSE:WSM) and Bed Bath and Beyond (NASDAQ:BBBY). The entrance into the largest consumer market in the world supplanted SodaStream as much more than a European fad company that would be here today and gone tomorrow.
When discussing SodaStream's expansion effort we tend to discuss them using the term "door growth". In other words, how many additional doors or retail stores has the company added year-over-year? From 2011-present, the company has added more than 35,000 retail doors to its long list of retailers around the world. In 2013, the company now boasts over 61,500 retail doors in 46 countries with many more to come. A few expansionary countries investors are eagerly anticipating are India, Mexico and China. SodaStream is on the verge of announcing its entrance into India as it has been able to establish its core team and market manager in the region since February of 2013. Doorva Bahuguna was named SodaStream's market manager for India in February and has since been developing the Indian market by signing up retailers in the region. Doorva is a great leader for SodaStream as she offers the company, through her work history with Wal-Mart India, a great number of relationships in the region. Based on our extensive experience with regards to tracking SodaStream's market development and its chronological events, Capital Ladder Advisory Group believes that SodaStream will announce it has commenced sales in India in the near term. Mexico will likely be announced as well, before the year ends. More than likely, China will be an expansion effort that takes hold for SodaStream in 2014.
Already in the U.S. this year, SodaStream has managed to grow its doors by roughly 10% with the additions of retailers such as Office Depot (NYSE:ODP), Kroger (NYSE:KR) Alco (NASDAQ:ALCS) and H-E-B. We anticipate the company will continue to add doors in North America this year through a possible 4th quarter expansion into Duane Reed, Menards and Belk just to name a few retailers. Outside of the U.S., SodaStream has most recently expanded into Sainsbury in the United Kingdom. Sainsbury has over 1,000 stores between its supermarket chain stores and its convenience stores. In Ireland, SodaStream has expanded into Homestore + More with 13 additional doors. Also this year, SodaStream has expanded in Poland through Makro, Saturn, Avans and Carrefours retail stores. In the second half of 2013, SodaStream will be adding roughly 1,000 doors in Japan. SodaStream initially expanded into the region in Q4 of 2011. With so many countries selling SodaStream we simply can't mention them all here, but these expansion efforts are the most relevant year-to-date by our tracking methodology.
In the past two years and a half, SodaStream has managed to beat analysts' expectations each and every quarter. Additionally, the company has raised guidance upon releasing Q1, Q2 and Q3 2012 results before issuing full year guidance alongside releasing Q4 2012 results. Q4 2012 results managed to beat SodaStream's raised guidance for the full year as well. After beating Q1 2013 expectations, SodaStream again raised full year guidance. Investors are now waiting to see how the company fared in Q2 2013. SodaStream will release Q2 2013 results this August.
Now let's discuss products and why the barriers to entry in this market segment are so strong. SodaStream launched the Jet, Dynamo, Crystal, Genesis and Penguin soda makers in the U.S. in 2010 and 2011 alongside some 10 different syrup flavors, bottles and caps. In 2011 the company added to this product line with the Fizz soda maker and another 25 syrup flavors. In 2012, SodaStream added the Source and Revolution soda makers to the product line-up with additional flavors including flavors licensed by Kraft Foods (KRFT) such as Country Time Lemonade, Crystal Light Iced Tea, Strawberry Energry Drink, Kool-Aid flavors and several others. With only 10 flavor syrups in 2010 the company now boasts over 65 flavors and has signed additional licensing deals to include Campbell (NYSE:CPB) V8 Splash and V8 Fusion flavors as well as Ocean Spray and Eboost flavors which will be available in 2013. SodaStream expects to have at least 100 flavors available in North America by year's end.
SodaStream's unique formula of flavored syrups makes it a very competitive product to mainstream CSD producers such as Coca-Cola (NYSE:KO) and PepsiCo (NYSE:PEP). SodaStream's flavored syrups are not made with high-fructose corn syrup, but rather cane sugar and they contain less calories, less sugars and less sodium per serving. Additionally, SodaStream's diet flavors are not made with aspartame which seems to inhibit the healthier alternative craze that other beverage providers can't seem to capitalize upon the way they desire. SodaStream most recently launched its Stevia sweetened syrup flavors in several markets around the world including Australia, United Kingdom, Sweden, and here in North America. For all the aforementioned syrup calculations, this product line adds to SodaStream's competitive moat.
Moreover, what makes SodaStream's system so hard to duplicate is its extensive distribution network of CO2 exchanges. In 2011, SodaStream's CO2 distribution network consisted of only a few thousand retailers. In 2013, SodaStream boasts tens of thousands of CO2 exchange partners globally. One of the main reasons SodaStream had failed to capitulate globally in the 70s or 80s was because the company couldn't market its gas exchange profitably as retailers found the logistics of the process cumbersome and/or unnatural to the retail operational model. In short, those who bought a soda maker found it hard to replenish their CO2 and never used the machine again. But that isn't the case anymore as retailers across the globe are clamoring to adopt the CO2 exchange process which invites repeat shoppers. In the U.S just this year, SodaStream has already added roughly 2,000 CO2 exchange locations through Best Buy (NYSE:BBY), Kohl's (NYSE:KSS) and Kroger. Now the retailers are accepting the SodaStream exchange process because of its established user base and brand recognition; the likelihood of retailers adding a competitors CO2 exchange is not only limited, it is unlikely as it has proven problematic to execute two separate company gas exchange programs in the past. But with that said, it seems like the retailers won't have to adopt a competitor's exchange process as most small appliance manufacturers are finding it easier and more applicable to partner with SodaStream for the use of SodaStream's CO2 in their competing soda makers. In 2012, Breville Party LTD signed a licensing deal with SodaStream to co-develop a soda maker that would be powered by SodaStream's CO2. In 2013, both Kitchenaid and Hamilton Beach decided to partner with SodaStream in a similar fashion whereby both company's soda makers would be powered by SodaStream's CO2. Capital Ladder expects all soda makers to be available later this year and likely ahead of the holiday shopping season.
Of course we can't forget about the newest product on the market which is powered by SodaStream. That product is the 4-door refrigerator manufactured by Samsung which has a built-into-the-door soda making apparatus powered by SodaStream's CO2. This new and innovative product expands upon the at-home CSD market, making it that much more applicable to satisfy consumers' on-demand needs and enhances the lure behind the SodaStream brand as an innovative product company. Capital Ladder suggests that the existing partnerships are just the beginning for SodaStream as many more companies will seek out the Israeli company in hopes of latching onto the at-home CSD market expansion which has many years of growth ahead.
The future for SodaStream will be revealed with new products such as SodaCaps, AquaBar and the expansion beyond the at-home CSD market through SodaStream Professional which is looking to add some 1,500 points of use this year. SodaStream Professional is the commercial division of SodaStream, largely enhanced through its acquisition of C.E.M. Industry in 2011. This division of SodaStream recently launched a hiring and marketing effort in the northeastern United States to add restaurants to its commercial division. Shareholders of record might see more meaningful contribution from the professional division in 2014 as SodaStream aims to build out its distribution of commercially used products for the hospitality industry.
Naturally, with all the growth in markets and products SodaStream has to advance its production and manufacturing capabilities. In 2012, SodaStream began breaking ground on its new manufacturing facility which is expected to measure greater than a million square feet and provide the company with the ability to condense operations from seven working sites in Israel down to three if necessary. Demand has outstripped manufacturing capacity as of Q4 2012 and this has served to contract margins this year, but with the onset of new manufacturing capabilities in 2014 once most of the plant build-out has been completed, gross margins should once again begin to expand. Even with recent gross margin contraction, SodaStream still boasts gross margins of greater than 53%. Contrast that with a similar business model from Green Mountain Coffee Roasters (NASDAQ:GMCR) which has a gross margin in the high 30% range over the last 12 months.
Shares of SODA are up roughly 53% year-to-date. The average analyst rating on SODA is a Buy with a median price target of $80 a share. Analysts expect the company to earn $.57 a share on roughly $130 million in revenues during the quarter ending June 30, 2013. Capital Ladder Advisory Group maintains a buy rating on shares of SODA and is currently measuring an adjustment to our FY projections based on developments surrounding key markets and enhanced point of sale distribution for gas exchange coupled with an expectation of strong sell-in revenues for Q4 2013 over Q4 2012. Our next article will add color to our FY projections and the reasoning behind these adjustments.
Disclosure: I am long SODA. I wrote this article myself, and it expresses my own opinions. I am not receiving compensation for it (other than from Seeking Alpha). I have no business relationship with any company whose stock is mentioned in this article.