Rare earth metals and minerals have always been an interesting investment consideration. Many regular investors however, have never considered them. Rare earth metals and minerals are used as vital components in industry, and as the global economy recovers and grows, demand for these finite resources should also grow. Some rare earth metals include yttrium, cerium and scandium. A complete list of the 17 rare earth metals and minerals, along with examples of their various applications, can be found here. Figure one displays the elements considered rare earths on the periodic table. The demand for these metals is rising exponentially as they are used for smart phones and TV's, technologies which are just entering the emerging world. In today's technological society, there are more than seven screens per household in western nations. While demand has been growing, prices of these metals have sold off for the last few years, which have hurt stocks in the sector.
Figure 1. Periodic Table of Elements, Showing the 17 Rare Earth Elements.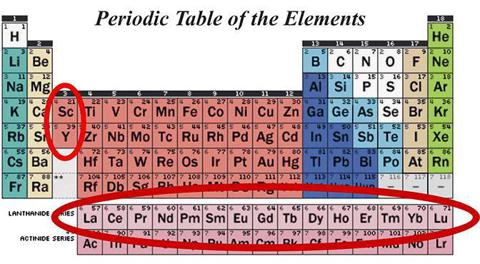 A few of the larger rare-earth companies had solid performances over the past year, but many were pressured by low prices for rare-earth elements. RTI International Metals (NYSE:RTI), up 27% in a year, but down 15% from its highs this March, recently posted its Q1 results, which showed revenue was up 21% from the comparable 2012 quarter and more importantly, a backlog of orders near record-high levels. Management pointed to lower rare earth prices and a moderate demand environment which kept a lid on revenues and earnings, but expected things to pick up in the second half of the year. One of the most popular rare earth companies didn't do as well last year, but rising demand globally could be a spark it needs. Molycorp (MCP) has plunged more than 73% in a year, even while surging a bit recently after topping expectations for its recent quarter and sees rising demand for rare-earth elements. MCP owns the largest rare earth deposit outside of China and cites that sales are increasing and demand is picking up, which is a positive for shareholders.
Both RTI and MCP are integral components of the Market Vectors Rare Earths Strategic ETF (NYSEARCA:REMX). The REMX tracks a rules based, modified capitalization weighted, float adjusted index intended to give investors a means of tracking the overall performance of publicly traded companies primarily engaged in a variety of activities that are related to the mining, refining and manufacturing of rare earth/strategic metals. On average, the fund consists of 23 holdings. Many of the fund's holdings have depreciated in value in the last two years, and as such, Market Vectors announced on June 21, 2013 it will execute a reverse share split of REMX. With the exception of this past two weeks of trading, the broader bull market has powered ahead, taking nearly all sectors higher, except for metals and mining. This reverse split in REMX highlights the problems the stocks in the rare earth metals and mining space have had, and Market Vectors believes that its post-split investment prices will be more attractive for buyers. The purpose of this article is to discuss specifically what this split means, how it affects REMX holders and what it means for the sector as a whole, including shareholders of individual stocks in the sector.
Describing The REMX Split
First, it is important to note that no other rare earth company or mining index will be affected by this split but some of Market Vectors' other products will be adjusted as well. The reverse split will be conducted at a ratio of 1 for 4 and will apply to shareholders of record at the close of the markets on June 28, 2013, and will begin trading at the adjusted price July 1, 2013. The ticker symbol for the fund will not change. The reverse split will increase the price per share of the fund with a proportionate decrease in the number of shares outstanding. In a 1 for 4 reverse split, every four pre-split shares held by a shareholder will result in the receipt of one post-split share, which will be priced four times higher than the value of the pre-split share. The following example best illustrates what to expect. Let's say you hold 1000 shares of REMX priced at $10.00 each. Given the split is 1 for 4, after the reverse split you will hold 250 shares valued at $40.00 each. As you can see, the reverse split does not change the value of a shareholder's investment, it still remains $10,000.
The Split Could Create Fractional Shares
Shareholders who have quantities of shares that are not a whole number with an exact multiple of the reverse split ratio will be left with what is known as a fractional share. A fractional share will be created and affect any shareholder who does not hold a number of shares that is a multiple of four. After the reverse split occurs, fractional shares will be redeemed for cash and sent to your broker of record, generally within two to three weeks post-split. One issue to consider in this event is that redemption of fractional shares forces shareholders to realize either very tiny gains or losses, which could result in a taxable event in addition to having a potential loss on investment if prices are below where they were purchased. Given that the rare earth markets are at near lows and the miners are still searching for a base, a loss is a strong possibility with REMX. To avoid this scenario, investors can purchase more shares to round out their holdings to a multiple of four, or sell an appropriate number of shares to round out the holdings.
Options Holders
This reverse split has an effect on options contracts. Traders who may be holding options on REMX should realize that this split will affect your contract(s), albeit minimally. Once Market Vectors conducts the reverse split, the contract undergoes an adjustment referred to as "being made whole." When contracts are adjusted to be "made whole", it simply means that the option contract is modified accordingly so that options holders are neither negatively nor positively affected by the split. While we know the reverse split will adjust the price of the underlying shares of the REMX options, the options will be adjusted so that the changes in price due to the split do not affect the value of the options. The options clearing corporation will automatically adjust the price of all existing contracts to maintain the option market.
For those who want an estimate of what their current REMX option will be worth, the calculation is simple. Each REMX option contract is (usually) in control of 100 shares of REMX at some predetermined strike price. To find the new share coverage of the option after the split, all you do is simply take the split ratio and multiply by the old share coverage (normally 100 shares). To find the new strike price, take the old strike price and divide by the split ratio. Let's look at an example of a call option contract for 100 shares of REMX at a strike of $10.00.
Since the split is 1 for 4 we divide $10.00 by 1/4, generating a new strike price of $40.00. The option will now cover 25 shares because we multiply 100 by 1/4. Thus, your new call option contract which still expires on the same day as originally scheduled will be good for a purchase of 25 shares of REMX for $1000. On your brokerage account, the contract may be adjusted to read "REMX1" or similar and still state it is worth 100 shares at the original price, but for redemption purposes, the contract would be redeemed for 25 shares at the post-split price.
Implications For The Broader Sector
Many shareholders have experienced great pain in the rare earths in the last few years. Since the recent peak of these stocks in April 2011, each day we have been seeing most of the rare earth miners struggle to find a bottom, but they really cannot do that until the rare earth metals find a bottom. The revenues and earnings are just too linked to the underlying commodities, and not amount of cost savings initiatives will be enough to prevent the pressure on margins caused y lower prices. However, demand for these metals is indeed rising. Smart phones, televisions, vehicles and other technology rely on these metals, and more of these products are sold each year. While it has been painful, holders of these equities and REMX in particular should realize that this reverse split is a symptom of the struggles the mining stocks due to the rampant negativity surrounding the mining sector of late. Fundamentally, if rare earth prices continue to decline moving ahead, most companies will not be able to afford to stay in business. This could lead to supply issues down the road, if production is cutoff. Though pain may continue, for now, I would not capitulate and sell this far down.
I Think The ETF Is a Buy Pre-Split
While the value of an investment doesn't change during splits, as explained above, a low share price is often a psychological barrier to owning the stock. Frequently, unless a sector is completely out of favor, a reverse split tends to attract more investors. Here, we have the advantage of considering an investment pre-split in a sector that is seeing rising demand and harder to find supply. Additionally, the sector is on sale after declining for two years straight. Those who have been on the sidelines waiting to get in could consider establishing a position in REMX, or for those with more risk appetite, MCP or RTI. I would purchase REMX as it diversifies you among the competing companies in the space, which prevents individual company woes from lowering the value of the investment. Those with a higher risk appetite for the sector could start to establish long term positions by pyramiding down into a full position (that is, buying in larger increments in 5-10% declines in the names of interest). However, you will miss the opportunity to buy pre-split doing this.
REMX is down 27% in just six months, currently trading at $9.50 a share. I personally believe this sell-off is a buying opportunity for long-term investors. In the short-term, there will likely be more pain and volatility ahead until there is a real global turnaround. To bring the product to an investment price that Market Vectors believes is more attractive, it is conducting this reverse split. The reverse split of shares only really negatively impacts investors who own common shares at a total that is not a multiple of four, as they will be forced to sell fractional shares at a tiny loss, or a potential gain. Owners of options contracts will not be affected besides being faced with owning a new contract at a different strike price for a different number of shares. The total value of the contract will, however, remain the same. Depsite the value of an investment not changing from a reverse split, such moves often attract investment dollars due to the higher share price. In the case or rare earths, we have an oversold sector with a dimininshing supply and increasing demand.
Additional disclosure: I have traded Molycorp several times in the last year.
Disclosure: I have no positions in any stocks mentioned, and no plans to initiate any positions within the next 72 hours. I wrote this article myself, and it expresses my own opinions. I am not receiving compensation for it (other than from Seeking Alpha). I have no business relationship with any company whose stock is mentioned in this article.