In 2011, stock prices of precious metals miners peaked. Later, the severe bear market in the whole sector started. For example, GDX (exchange - traded fund giving an exposure to precious metals miners), has lost about 60% of its value since 2011.
What's more, after reading the news, articles and expert opinions a very gloomy picture of the whole sector is emerging. Simply put, the prevailing sentiment is very pessimistic - there is nearly nobody perceiving any value in these stocks. So the question is - is there really no value in precious metals sector ?
In this short analysis, I am trying to prove that things don't look so bad. Quite contrary, it seems that after many years of overvaluation at last there is value in that sector.
Valuation
There are many methods of stock prices valuations, but in this article, I want to use the mining property as a value driver.
Let's take an example of one of the biggest world miners, Kinross Gold Corporation (NYSE:KGC). Kinross operates gold and silver mines in four core regions of the world: United States, South America (Brazil and Chile), West Africa (Mauritania and Ghana) and Asia (Russia). At the end of 2012, total estimated proven and probable gold mineral reserves were approximately 59,6 million ounces. In case of silver the number was 68,2 million ounces.
The book value of Kinross's mining properties at the end of the first quarter 2013 was $9.082 million. But due to prevailing pessimism concerning metals and miners, the market value of Kinross's mining properties is much lower than that on the firm's books.
How is it possible?
Methodology
To begin with, the company's market capitalization has to be calculated. Today, Kinross has 1.141.664 thousand shares outstanding, so the company's market capitalization is $5.503 million (taking $4.82 as the last share price).
Then, the enterprise value, which is the sum of Kinross's liabilities and its market capitalization, is calculated - that makes $9.934 million.
Having enterprise value, one can calculate the market value of company's mining properties. To make it simple, I assumed that all the book values, except mining property, are the same as market ones (for example, if there is a debt of $2.088 million, that is also the market value of it). The only variable different from the book value is the market value of the mining property. Therefore, after extracting all assets' book values (except mining property) from the enterprise value, one can calculate the market value of Kinross's mining property.
Kinross's mining property market value
Taking into account the last price of Kinross shares the market value of company's mining property is $4,573 million. So the market value of the mining property constitutes only 50.35% of its book value. Is it much or less?
Well, I have analyzed these values since the beginning of the bull market in gold and silver. The results are visible on the chart below: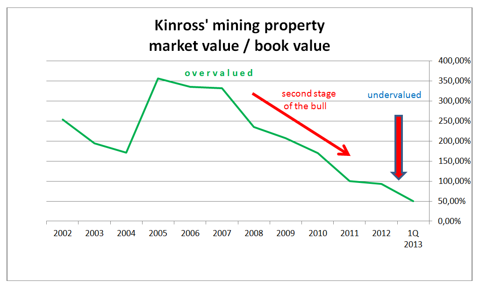 As you can see, since the beginning of the gold bull, the market was pricing the Kinross's core business (mining property) much higher than its book value. In that first stage of the bull, lasting since 2001 till 2008, the Gold and Silver Index (XAU) went up nearly five times. During the second stage of the bull, since the end of 2008 till the beginning of 2011, that index went up only three times. At that second stage, one can see very clearly that market value of Kinross's mining property against its book value was going rapidly down.
In a broader sense, it is my guess that well informed investors (or, better to say, those reading the annual and quarterly reports) were quite confused about PM miners. Rapidly rising production costs, lower grades of gold and silver ores, lack of new big discoveries were probably the main factors wiping out the value of the miners.
Going further, starting in 2012, the market value of Kinross's mining property got very close to its book value. And today, after the last severe PM sector sell-off, market value of Kinross's mining property is 50% below its book value.
What does it mean? Shortly speaking, there is an intrinsic value in the shares of that miner. Buying the shares of Kinross at today's valuation means buying all its gold and silver reserves together with all needed equipment and installations at a discount of 50% to their book value. This way, investor purchasing Kinross shares is radically increasing chances of his success. Why?
Let's look at the financial measure called Internal Rate of Return (IRR). Simply put, IRR measures the rate of return of any investment through discounting the cash flows generated by that investment. In our case, the presumption is that investor buys the whole company, i.e. 100% of shares outstanding; apart from that the investor pays off all company's debt. It means the investor has 100% stake in Kinross. Then, assuming the following parameters:
Mine life - 24 years (existing mineral reserves divided by yearly production)
Ounces of gold produced and sold - 2.454.732 a year
All-in sustaining cash cost per gold ounce - $1038
Kinross doesn't develop its business (keeps and maintains the same mines it owns today)
One can calculate IRR depending on the average long-term price of gold sold by the mine.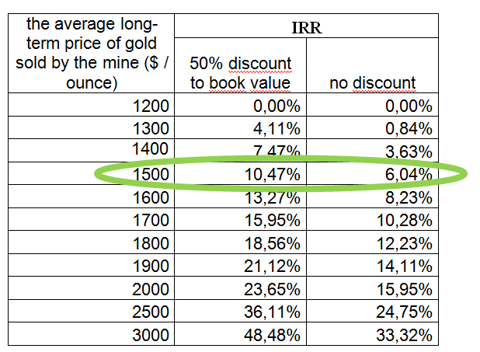 How to interpret these calculations? Let's assume, for example, that in the long term, the average price of gold is $1500. In that case, investor who bought today the enterprise of Kinross, during the whole life of the mine will record 10.47% rate of return every year. So, after 10 years, each $1 invested in Kinross will turn into $2,71. On the other hand, the investor buying Kinross with no discount will record only 6.04% rate of return every year which, after 10 years, will turn into $1,80, i.e. 33.6% less than investor buying at a discount.
That is the way the value is created when buying a mining property at a discount.
The downside risk - if the average long-term price of gold is beneath $1200, the investment will record the loss.
Conclusion
Focusing on Kinross Gold, I am convinced that at today's prices that company, as well as many other PM miners, seems to reveal its intrinsic value. After severe drop in PM share prices, but still in its twelfth year of the gold and silver bull run, these mines are listed at various discounts to their book values.
Since the beginning of the PM bull market, this is the first time such a situation occurs.
Therefore, investors betting on the continuation of the bull market in PM sector have today one of the best opportunities to get an exposure to PM miners.
P.S. Similar conclusions can be addressed to many other miners such as Hecla Mining (NYSE:HL), Coeur Mining (NYSE:CDE), Barrick Gold (NYSE:ABX), Newmont Mining (NYSE:NEM). All of them are listed with discounts described above.
Disclosure: I have no positions in any stocks mentioned, and no plans to initiate any positions within the next 72 hours. I wrote this article myself, and it expresses my own opinions. I am not receiving compensation for it (other than from Seeking Alpha). I have no business relationship with any company whose stock is mentioned in this article.