Overview
DaVita (NYSE:DVA) is the owner of nearly 2,000 kidney dialysis centers nationwide, and serves over 150,000 patients. DaVita offers kidney dialysis services to patients with chronic kidney disease, otherwise known as end stage renal disease.
The last study conducted by the CDC discovered that 44% of patients with CKD had the disease as a result of diabetes. The growth in diabetes cases underway in the US is fairly well known, but continues to expand relentlessly. From 2000 to 2011, the number of persons with diagnosed diabetes increased from 12 million to 20.9 million, a CAGR of 4.73%. Considering the number of diabetes cases is expected to rise steadily through 2050, DaVita has a strong, underlying trend without even considering the growth in Kidney issues stemming from hypertension and other causes.
As a result of this healthcare trend, intelligent acquisitions, and an aggressive organic growth strategy successfully implemented by management, DaVita has grown both its top and bottom lines at an unusually large rate for the last several years. Several growth catalysts remain, and with the shares trading at a discount to a weaker positioned competitor, DaVita is priced for market-beating gains over the long haul.
The Kidney Dialysis Business
DaVita's main business is providing its patients with kidney dialysis treatments. In short, kidney dialysis eliminates waste and unwanted water out of a patient's blood, which is a process normally performed by our kidneys. Without regular dialysis treatments, patients with CKD would eventually die.
At year-end 2012, DaVita operated 1,954 dialysis centers in the US, and offered dialysis treatments in an additional 970 hospitals. In 2012, patient growth increased 8% as a result of both clinic growth and an increase in CKD diagnoses.
86% of DVA's 2012 revenues were generated from the dialysis and "lab-related" businesses, and 80% of those revenues were derived solely from outpatient hemodialysis treatments.
DaVita's late 2012 acquisition of healthcare delivery company HealthCare Partners meaningfully diversifies the consolidated company's revenue stream. I will discuss HCP later, but DVA is currently projecting that HCP will compose $400-$450 million of DaVita's $1.85 billion in estimated operating income.
Payment Structure
Nearly three-fifths of DaVita's revenues come from Medicare, while 34% are derived from commercial payments. The ACA (Affordable Care Act) significantly altered the healthcare industry, and has had profound impacts on the outlook for Medicare Advantage programs.
In a recent article of mine regarding Humana (NYSE:HUM), I discussed the overly negative sentiment in regard to Medicare Advantage programs and the outlook for government payment rates. While it is quite clear that the current administration's intent is to gradually shift seniors back into original Medicare, MA programs have continued to see strong enrollment growth as premiums have actually decreased while patient outcomes have improved. Furthermore, the government is actually increasing funding to MA programs in 2014 after initially guiding for cuts. Shares of DVA spiked on this news back in April, reflecting the underlying investor concerns with respect to government funding.
Seniors are by far the most likely demographic to suffer from CKD (from the CDC):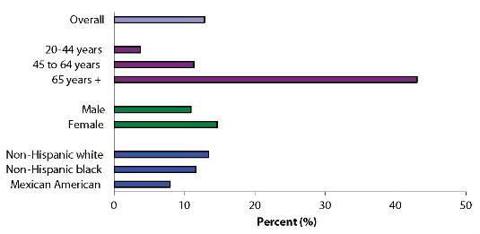 Consequently, the dynamics of the Medicare system are critical to DaVita's business. With funding to MA programs set to rise in 2014, revenue per treatment should remain steady or even increase modestly next year.
Revenue per dialysis treatment was $332, $330, and $337 in 2012, 2011, and 2010 respectively. The $7 hit that DVA took in 2011 was a result of the transition to the new "single bundled payment system," whereas the former structure was a "case-mix" system in which payments depended on procedural specifics. The new system makes all payments the same while potentially reducing administrative costs. Further reading materials in regard to the new payment system can be accessed here.
DaVita loses money on every single treatment it provides to patients covered with Medicare, as Medicare fails to fully reimburse for dialysis treatments. As a result, DVA relies on payments from private insurers for the majority of its income.
That's not quite as terrible as it sounds. DaVita is able to pass on about 10% of costs to MA providers, and management is confident that it can offset potentially another 50% via "benefit designs." Moreover, DaVita may close some of the few unprofitable centers that it operates to cut costs.
Lastly, as has been the case with many firms that do a large portion of business with Medicare Advantage and original Medicare, reduced funding is strongly offset by both the diversification of revenue streams and organic patient growth, in this case driven by the strong tailwind of rapidly growing CKD cases.
HCP Acquisition Fuels Another Cycle Of Growth
DaVita closed its $4.42 billion ($3.66 billion and 9.38 million common shares) purchase of HealthCare Partners on November 1, 2012.
HealthCare Partners is an operator of physician groups and serves nearly 750,000 patients. This acquisition was highly logical for DaVita, and is reflective of a general trend towards integration for the sake of efficiencies and diversification within the healthcare sector.
The acquisition of HCP rapidly expands the DaVita brand in California, Nevada, and Florida, while generating a major new source of income, all paid for via cash on the balance sheet, ultra-low financing, and minor share dilution. Considering HCP is expected to do $425 million (midpoint guidance) this year, that $4.42 billion price tag is starting to look like a bargain. The deal looks even sweeter once we take a look at HCP's own growth numbers: In Q1 '13, YOY member months were up 20.3%, and 5.8% sequentially.
HCP's business continues to expand via organic growth and bolt-on acquisitions. When the merger was first announced, HCP was generating about $510 million in operating cash flow and DVA noted that the business only required $20 million annually in maintenance CapEx as a result of the miniscule fixed cost structure. Though DaVita doesn't break-out HCP's cash flows, it's plausible that HCP is now generating close to $500 million in FCF annually.
Finally, DaVita's acquisition of HCP is a rather clever way to offset unfavorable trends stemming from the ACA. The new legislation rewards healthcare providers for superior patient outcomes with better funding and cash rewards. HCP has a two-decade track record, strong growth trends, superior scale, and was one of the first medical groups to work with the government on this new incentive structure. In other words, in addition to the incremental income that HCP provides DaVita, it also offsets the weaker funding in the dialysis business.
DaVita has solidified its foundation as a major integrated care company, which is a necessity today given the direction that healthcare in this country is headed. The players that have the scale and balance sheets to keep acquiring outcomes-based medical groups will share lower costs, better economies, and favorable government treatment.
Competition
Roughly, two-thirds of the dialysis treatment market is owned by two players: DaVita and Fresenius Medical Care (NYSE:FMS). ~33% of FMS's shares are held by Fresenius SE, which is a broader healthcare company. The rest of this market is essentially non-profits and regional names. As an investment, FMS lacks the diversification to offset negative trends - I generally like industry "pure-plays," but definitely not in this case.
Overall Growth Outlook
Given the uncertainty of how exactly the situation will play out in the dialysis business (future "mix" of commercial vs. government-sponsored plans, funding growth/declines for Medicare reimbursements etc.), I think it's reasonable to modestly discount future income growth for this business. I emphasize caution with respect to projecting severe weakness because while it's not an exciting business, the reality is that diabetes remains a national and worsening epidemic, with a 2010 CDC study projecting that between 1/3 and 1/5 Americans will have diabetes in 2050 (compared to 1/10 presently). As I explained above, diabetes is the leading cause of CKD.
The figures don't have to be precise; judging by aging demographics and persistent health trends, it's likely that diabetes diagnoses will continue to grow at or slightly below the aforementioned 4.73% annual rate for an extended period of time. With more than one-third of the dialysis market (and growing), DaVita is certain to continue benefiting from this unfortunate theme. Most importantly (as far as DVA is concerned), private insurance isn't going away anytime soon; DaVita's dialysis clinics will continue to rake in profits on commercial payers for the foreseeable future.
Though not often discussed, DaVita has been somewhat aggressive recently in its international growth plans. DVA now operates more than 15 centers internationally, and in January alone the company opened four centers in Taiwan through a JV, five in Portugal, and four in Poland.
In 2011, DVA acquired a German dialysis company, and later purchased controlling-interests in an Indian kidney firm and a Saudi Arabian clinic operator. DVA also entered into a JV with 3SBio, a Chinese biopharm producer. Management believes that these international markets are highly "fragmented" and underserved. While the international initiatives are likely several years from paying off, there is an interesting case to be made that since many kidney specialists train or learn in the US, the DaVita brand is well-known internationally.
Berkshire Hathaway Stake
Buffett's two new investment managers, Ted Weschler and Todd Combs, have individually built up a total stake of about 14% for Berkshire (NYSE:BRK.A) (NYSE:BRK.B) in DaVita. In May, Berkshire signed an agreement with DaVita, vowing not to purchase more than 25% of the outstanding shares.
Given this agreement, it follows that if Berkshire really is going to purchase DaVita in its entirety, it will be via a privately negotiated offer. Of course, Berkshire doesn't have a history of public, hostile takeovers anyway, but I think this contract raises the likelihood of a bid from Berkshire.
Given its massive exposure to the insurance industry, I think Berkshire's strong interest in the company bodes well for DaVita regardless of whether or not it gets a bid.
Valuation
For 2013, the consolidated DaVita HealthCare Partners company is expected to earn $7.52 per share on $11.55 billion in revenue. This compares to $6.25 in EPS on $8.19 billion in sales for 2012.
This tremendous growth is driven somewhat by the accretive benefit of the HCP acquisition, but 2012 revenues were up 34.2% from 2009, good for a CAGR of 10.32%. EPS grew at a CAGR of 15.47% from 2009-2012.
Analyst estimates are calling for $7.95 in FY14 EPS, implying 5.7% growth on this year's earnings. Based on guidance for about $1.45 billion in 2013 OCF and my expectations for around $500 million in CapEx (higher than annual rate based of Q1 CapEx of $116 million, and close to 2012 CapEx of $550 million), DVA produces nearly $1 billion in annual FCF. This high free cash flow conversion is aided by HCP's negligible capital requirements.
Shares of DVA are trading at 16.2x 2013 EPS, and 15.3x 2014 EPS, in-line with broader market (S&P 500) multiples. On my estimate for FCF ($900-$1 billion to be conservative), DVA trades at 12.9-14.3x this year's free cash flow.
By comparison on earnings, Fresenius trades at 17.5x 2014 EPS despite its lack of diversified revenue streams and consequential over-exposure to the dialysis treatment business. Moreover, Fresenius's earnings growth has stalled out over the past several years as the company has invested solely in growing the dialysis clinics and dialysis products businesses, whereas DVA has succeeded in this rather difficult regulatory environment and was more strategic in its acquisitions.
I see no reason why shares of DVA shouldn't trade closer to Fresenius's 17.5x multiple, which would imply a share price of $140, or 16.7% upside from here.
However, I believe the market is mistakenly overlooking DVA's exceptional free cash flow generation, which values the shares at about 13.5x on this year's FCF, and the strong chance that DaVita continues to grow at or close to its multi-year average of 12-15% annual EPS growth.
As a result of double-digit member growth within HCP, continued (and nearly certain) dialysis treatment growth, and the increase in funding to MA providers, I think it's quite likely that 2014 EPS growth surprises strongly to the upside and delivers 10-12% (which is still below-trend), resulting in a 2014 EPS of ~$8.35 vs. estimates for $7.95.
Given a 17.5x "normalized" multiple, the shares have about 20% one-year upside, and very limited downside given the exceptional FCF generation. While 20% upside is strong in an aging bull market, I expect DVA to deliver market-beating returns for the next several years with the potential positive tail of success in the international dialysis market, where payment structures are far more profitable. DVA is an excellent long-term investment.
Disclosure: I am long DVA. I wrote this article myself, and it expresses my own opinions. I am not receiving compensation for it (other than from Seeking Alpha). I have no business relationship with any company whose stock is mentioned in this article.