The month of June has opened up several opportunities for our Team Alpha Retirement Portfolio. Several stocks have given us some compelling share prices to either open a position, or add to an existing one.
Today, I will be adding Intel (NASDAQ:INTC) to expand exposure within the technology sector. As I stated in this article, I believe that as we move through economic and market cycles, we should have more exposure in sectors that could outperform during the current market cycle we are in.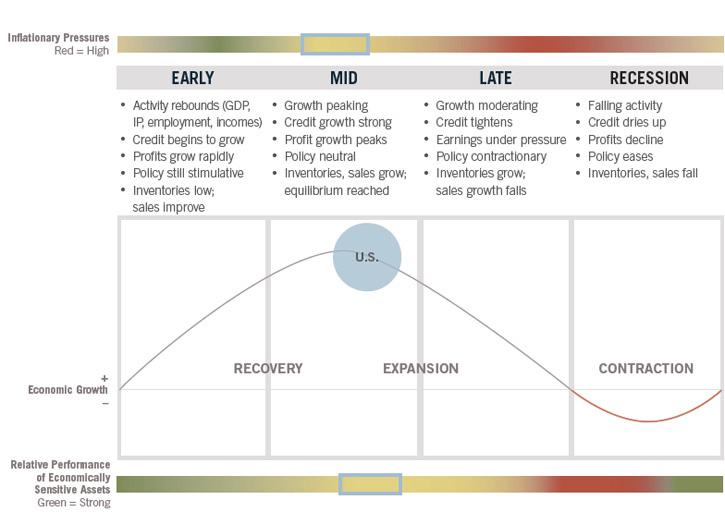 The stage of our economic and market cycle appears to be situated in the middle, and the one sector that historically has outperformed during this period is technology.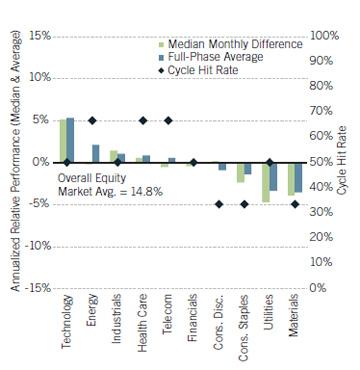 Of course as a dividend income investor, the stock needs to have a solid dividend yield, and INTC fits squarely within our strategy.
As noted in my prior article:
With the oft talked about demise of the PC and the fact that INTC has been behind the eight ball in the mobile device market, Intel has seen its share price decline and stagnate over the last 10 years. The bright spot is that the company pays a very sweet dividend yield of 3.70%, and also has plenty of cash to move in a direction that can regain some of the growth it has enjoyed in its long and successful history. Keep in mind that the business that the company already does has not fallen into oblivion, and like MSFT, INTC has legacy products that produce consistent revenue and profits.

An enterprise value of more than $120 billion places INTC into the elite class of mega cap blue chip companies.
A forward PE ratio of 12.54 is well below the S&P 500 average.
Solid operating margins of over 25% puts them ahead of their competition.
While both quarterly revenue and earnings have declined yoy, the company has $17 billion in cash which exceeds debts by 50% roughly.
A dividend payout ratio of just 44% is just what dividend seeking investors like to see. I believe it is not only sustainable, but increases are likely.
New products (Haswell, for example) could move the company forward within the PC market and further expansion into mobile smart devices could give the company capital appreciation.
The good news is that INTC is even cheaper today ($24.05/share) and the current dividend yield now sits at an inviting 3.80%.
We will be opening our position with 200 shares as of today.
The other purchase we will be making today is that of a beaten down mREIT that we already have a position in. Annaly Capital (NYSE:NLY) now offers a very compelling share price ($12.71/share) and a current yield of roughly 13%.
We have the bare minimum allocation of 2% in this risk stock, but by adding to our position to move to the top of our risk allocation (4%), we will be taking advantage of a lower share price than when we first purchased the shares, and will tweak our overall yield on cost of the entire portfolio.
My reasoning for liking the stock now can be found in this recent article. I believe the share price has overshot to the downside, and with the compelling yield as of now, offers dividend investors a hefty dividend "opportunity". The Fed has not changed its QE policies, and as I noted in the above article, the status quo remains no matter what the chatter has been:
With all of the chatter about the impending unwinding of QE, or the tapering of the Fed policies, the fact of the matter is that absolutely nothing has changed with the policies.

ZIRP remains intact.
Asset purchases have not changed one penny.
The target goals of the Fed (see the first section here) have not changed.

If these fundamental policies and facts have remained the same, then it is my belief that fear and panic have been the driving force behind both of these stocks share price decline, more than anything else.
If anything, the economy looks as though it might need even more help from the Fed!
I will be adding 200 shares of NLY to our existing position, as of today.
This will reduce our average original purchase price to roughly $13.00/share, and tweak of overall yield on cost of the entire portfolio from the current 4.98% to the "next level" of an overall YOC of 5.01%.
How Has The Portfolio Held Up During The "June Swoon"?
June has been a volatile month. The wide swings can be directly related to the Federal Reserve commentary, not even its actual actions. The S&P 500 dipped by 2.5% to 1613 as of today, and we could see some more volatility created by interest rate concerns.
That being said, as dividend income investors, we only saw our income stream remain current and strong. I see that trend continuing, as it has for the life our Team Alpha Portfolio thus far.
Stock
#Shares
6/28/2013
TotValue
Orig. Price
XOM
100
90/shr
9000
75
JNJ
100
87/shr
8700
62
T
100
36/shr
3600
27
GE
500
23/shr
11500
15
BKCC
600
10/shr
6000
10
AAPL
20
394/shr
7880
436
PG
100
78/shr
7800
61
KO
100
40/shr
4000
34
NEM
200
28/shr
5600
33
WFC
100
42/shr
4200
37
O
200
42/shr
8400
32
KFN
600
11/shr
6600
10
NLY
200
13/shr
2600
14
CSCO
400
25/shr
10000
18
CVX
50
119/shr
5950
116
BMY
100
46/shr
4600
32
MCD
100
99/shr
9900
86
CSX
200
24shr
4800
19
F
300
16/shr
4800
13
Cash Rsvs
x
x
15717
Tot Value
x
x
141647
As of our last update, our portfolio dipped by roughly 3.6% in total value. Over the life of the portfolio it has grown by about 41.6% while the S%P 500 has increased by roughly 39.8%. While our portfolio has continued to outperform overall, the most important aspect is that our dividend yield has increased well beyond the S&P 500 dividend averages of just about 2%.
With the 10 year Treasury rates fluctuating between 2.25% to 2.50%, we are easily doubling the fixed income markets as well.
The Bottom Line
I am quite pleased that we are accomplishing our goals: Increased portfolio value, and increased dividend income stream. The portfolio began back in late November of 2011.
While we have achieved this level of actual returns, we also have maintained a well balanced, and well allocated mix of core stocks that make up the entire portfolio. (click here for our most recent review of this)
The Team Alpha portfolio consists of Ford (NYSE:F) Chevron (NYSE:CVX) Apple (NASDAQ:AAPL), McDonald's (NYSE:MCD), Exxon Mobil (NYSE:XOM), Johnson & Johnson (NYSE:JNJ), AT&T (NYSE:T), General Electric (NYSE:GE), BlackRock Kelso Capital (NASDAQ:BKCC), KKR Financial (KFN), Procter & Gamble (NYSE:PG), CSX Corp. (NYSE:CSX), Realty Income (NYSE:O), Coca-Cola (NYSE:KO), Annaly Capital (NLY), Cisco (NASDAQ:CSCO), Bristol-Myers Squibb (NYSE:BMY), Newmont Mining (NYSE:NEM), and Wells Fargo (NYSE:WFC).
As of today, we will re-open a new name to the portfolio, INTC, and add to our existing position in NLY, as I have explained above. I also believe that as we move through the Fed action uncertainty, the markets will continue to be volatile and we should continue to keep our eyes open for more "bargains" to further enhance our portfolio and grow our income.
July could be an interesting month!
Disclosure: I am long AAPL, BKCC, BMY, CSCO, CSX, CVX, F, GE, JNJ, KO, MCD, NEM, NLY, O, T, WFC, XOM. I wrote this article myself, and it expresses my own opinions. I am not receiving compensation for it (other than from Seeking Alpha). I have no business relationship with any company whose stock is mentioned in this article.
Additional disclosure: We will be adding INTC as of today 6/28/2013