The last time I disregarded short interest data was during the housing bubble. Even though I have learned to respect short sellers and always try to find where my logic is wrong when I disagree with them, there was an instance where I did not follow my own advice and paid for it.
The company in question was called Technical Olympic. On the face of it, the company was dirt cheap. Literally, it really didn't get any better. Citigroup, Deutsche Bank and a whole host of leading investment bankers had a target price of $30 or better on the stock, when it was trading at around $20 a share.
I said to myself, the sell side analysts must have it right this time. The stock looks dirt cheap, analysts seem bullish and when something looks cheap, it usually is. And while the housing sector had a host of problems and issues at the time, this company seemed to be shielded from these problems.
Well it turned out that there were many issues with the company and everything that could possibly go wrong, went wrong. Not only that, but every single analyst covering the stock turned out to be wrong (especially Citigroup that stood up for the company almost until the bitter end). Without getting into to details, there were a bunch of issues that were not apparent to anyone, expect of course to those very few that were shorting all the paper they can find.
To make a long story short, the company has since gone bankrupt and shareholders have lost everything. And the funny thing is, even as the stock was crashing, even then I still didn't dare short the stock, thinking that the market is overreacting.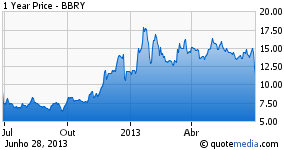 Well I went against my own advice once more in the case of BlackBerry (BBRY). In the back of my head I was always worried that short sellers might be right, but I chose to disregard short interest data once again. One of the reasons was that a host of very bullish sell side analysts calmed my fears, because I mostly think these guys know more than me.
BlackBerry as you know reported a very bad quarter, in terms of market expectations. Not only did EPS come in at a loss, but the company missed on revenue estimates also. Surprisingly, everyone was wrong, even the bears got it wrong, because even they didn't forecast a loss. In fact most bearish estimates that I saw thought revenue might be much higher.
Of course modeling BlackBerry is not that easy, because the company just rolled out its new line of phones and it will take time for it to get back on its feet. Nevertheless, any way one dices and slices it, the numbers were not what the market expected. I honestly thought management had given conservative guidance in order blow away forecasts, but that turned out not to be the case.
But while the numbers were not what the market wanted, they were an improvement, both y-o-y and q-o-q. For starters, the balance sheet remains intact and is in perfect health. Book value is $9.4 billion and current assets alone are about $7.1 billion. The real negative surprise was in gross margins, which came in at 33% vs. 40% the previous quarter.
Is the fall of the stock justified?
Absolutely not. Even if the numbers were not what the street wanted, I cannot find any reason (not one) for BlackBerry's current valuation -- about $5.5 billion. BlackBerry will conservatively do $13-$14 billion in sales this year. That means it is trading at almost 1/3 times sales. I am sorry, but even with the loss and the miss in revenue, I cannot think of any reason this stock should be trading at current levels. And while the market is always right, I cannot figure this market out, when it gives such a low valuation to BlackBerry, but gives stratospheric valuations to stocks like Workday (NYSE:WDAY) and Salesforce (NYSE:CRM).
Final note. This is the last time I will disregard short interest data to such an extent. The next time I see increasing short sales and I am bullish on a stock, I will not ask what are these guys smoking and shorting the stock like crazy, but instead, where is my logic wrong and why.
For the time being at least, BlackBerry short sellers, I salute you.
Disclosure: I have no positions in any stocks mentioned, and no plans to initiate any positions within the next 72 hours. I wrote this article myself, and it expresses my own opinions. I am not receiving compensation for it (other than from Seeking Alpha). I have no business relationship with any company whose stock is mentioned in this article.