The much anticipated new guidance on cost accounting for gold mining companies was finally released today by the World Gold Council, the market development organisation for the gold industry.
For the few investors still left following the precious metal mining space this release represents big news. Work on this framework document had been initiated last September in response to growing concerns and criticism by investors with regards to the cash costs traditionally reported by gold miners. For many commentators, these reported cash costs painted only an incomplete picture of the true costs involved in mining gold. Mining companies themselves had grown uneasy with their cash cost reporting since it signaled much higher margins than were actually achievable to governments and regulative bodies always keen to find arguments to take a bigger slice from perceived profits. As put quite succinctly by Goldcorp (NYSE:GG) CEO Chuck Jeanne: "The traditional measure of cash costs is not a realistic view." (See this article for more details.)
The fact that the publication of the WGC guidance took considerable time indicates that differences of opinion had to be overcome. Application of the guidance will reveal how well practical accounting issues have been anticipated and ambiguities have been avoided.
Speaking for the WGC Mr Terry Heymann commented:
"The new metrics try to focus more how much it costs to fund existing operations and the costs of mining over the life cycle of the mine. In the past, there has been some criticism of the industry of how much miners spending to sustain a certain level of production."
The heart of the newly published document is shown below. The calculated cost metrics are non-GAAP and reconciliation to the company's GAAP reporting is encouraged. The list of cost items is comprehensive compared to previous cost guidance documents. Depending on the specifics of individual companies not all line items need to be disclosed.
The document can be split into three levels:
Adjusted Operating Costs. These are costs that correlate to the traditionally reported cash costs. The WGC says that reporting these costs "may be helpful for certain companies in providing reconciliation to historical metrics". Although not mentioned specifically, we assume that gains from third-party milling also falls into this level. Disclosure at this level is not necessarily expected from companies complying with the new guidance and Adjusted Operating Costs may not be comparable across companies.
All-in Sustaining Costs. This cost measure includes all costs that are incurred in order to sustain gold production at a given established level. It not only includes direct mining costs, but also accounts for reclamation and remediation costs, and near-mine exploration costs to guarantee reserve maintenance. This cost metric can be viewed as mine-specific, as well as across the board of several mines operated by a company. Companies using the new guidance are encouraged to disclose costs at this level.
All-in Costs. At this level various costs not related to specific operating mines are added. These include costs and expenditure to develop new or expand existing mines, or costs related to manage closed or non-producing mines. This is a company-wide measure and gives an impression of the profitability of a company or business unit with one or more mines as a whole. Companies using the new guidance are encouraged to disclose costs at this level.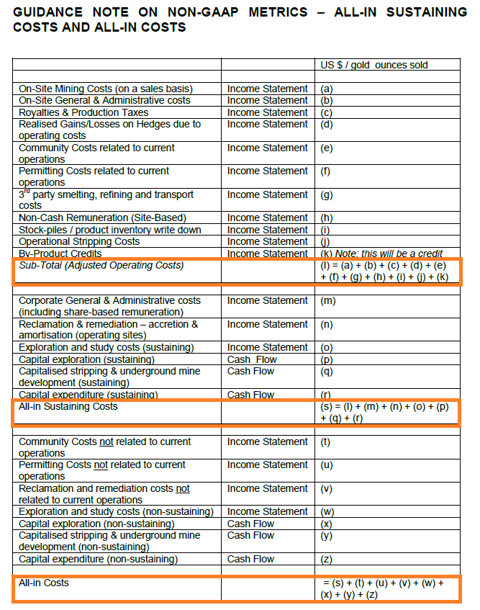 There are a number of costs that are not included in the new guidance. These costs include income tax, costs or gains from financing activities and costs related to acquisitions or sales of assets. Although not mentioned specifically, we assume that currency exchange costs or gains also fall into this category. Also noteworthy is the omission of one time charges such as impairments. All these omissions are quite deliberate and enable cost comparison between companies and jurisdictions.
Companies using the guidance are required to specifically disclose non-sustaining capital projects. This will lead to a clear distinction between costs necessary to sustain production, and growth-related projects providing very useful information for investors.
How does the new metric compare to All-In costs already experimented with by various companies such as Barrick Gold (NYSE:ABX), Goldcorp or Agnico Eagle (NYSE:AEM) in the last annual reports? The All-In-Sustaining-Costs defined in the WGC document differ only in some details; for example, Agnico Eagle excluded share-based remuneration from the G&A costs whereas this has now been explicitly included by. Overall, we suspect that only minor adaptations will be necessary for the companies that have reported All-In-Sustaining-Costs in the past. The All-In Cost is a metric not reported by these companies previously to the knowledge of your humble scribe. It will have to be included in future reports and provide some valuable insights.
Our opinion after a first read and a think? We believe this is a significant step forward. We believe that companies providing All-In Sustaining Costs and All-In Costs will deliver a valuable service for investors. The two metrics paint a clear and understandable picture. We like it.
Disclosure: I am long AEM. I wrote this article myself, and it expresses my own opinions. I am not receiving compensation for it (other than from Seeking Alpha). I have no business relationship with any company whose stock is mentioned in this article.