High tire inventories in the machinery and mining industries is biting the tire manufacturers. Titan International Inc. (NYSE:TWI) recently announced it would lower 2013 guidance as a result. This Zacks Rank No. 5 (Strong Sell) is expected to see earnings decline by over 12% in 2013.
Titan International supplies wheels, tires and assemblies for off-highway equipment used in agriculture and earthmoving/construction.
When agriculture and mining was booming, tire sales were too. In 2011, the farmers took home record income and Titan's earnings jumped 253%.
Warns on 2013
But the agriculture sector and the commodities industry has cooled. On June 7, in a press release, CEO Maurice Taylor provided commentary regarding the first five months of 2013 and discussed the build-up in tire inventories.
He emphasized that there is no tire shortage. On the contrary, millions of dollars in tires have been dropped in the aftermarket from the OEMs in the farm and construction industries. Those tires have now been released.
Titan sees this a a bump in the road for a few months until things get back to normal.
The selling price of Titan's tires is also going down because its material cost has been dropping.
Titan will be adjusting its December 2012 full-year guidance, but it wanted to gather further information from the mining companies and their inventories before doing so.
Estimates Cut
The analysts know what this means. Obviously, the guidance will be cut so the estimates must be cut as well.
The 2013 Zacks Consensus plunged to $1.69 from $2.15 just 30 days before, as three estimates were cut. That is an earnings decline of 12.6% from 2012.
The 2014 Zacks Consensus was also swiftly cut to $2.16 from $2.74.
Titan is scheduled to report earnings on July 24, so there will certainly be an update on business at that time.
The 5-year earnings surprise chart tells the tale, however. There have been two big misses in the last two quarters.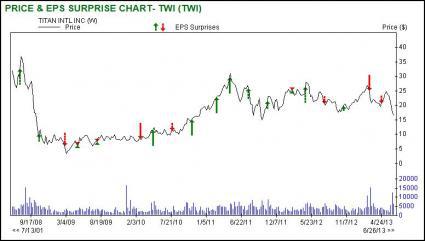 Over the short term, Titan may not be the place for investors to be. However, the company does sport a cheap valuation with a forward P/E of just 9.7.
If you want to play the agriculture sector, both CNH Global (NYSE:CNH) and Deere (NYSE:DE), which make the actual machinery, are higher ranked Zacks Rank No. 3 (Hold) stocks.
Want More of Our Best Recommendations?
Zacks' Executive VP, Steve Reitmeister, knows when key trades are about to be triggered and which of our experts has the hottest hand. Then each week he hand-selects the most compelling trades and serves them up to you in a new program called Zacks Confidential.
(email registration required to view the reports below)

CNH GLOBAL NV (CNH): Free Stock Analysis Report

DEERE & CO (DE): Free Stock Analysis Report

TITAN INTL INC (TWI): Free Stock Analysis Report