Many folks who follow my writings know that I'm pretty bearish on Apple's (NASDAQ:AAPL) stock, but a pretty big fan of the company. As a market participant, my job is to find ways to make money; if it were just about how well a company is managed, I'd probably be long Apple. However, there is a notion among BlackBerry (NASDAQ:BBRY) bulls that BlackBerry 10 and the few devices built around that platform will suddenly cause a lot of pain for Apple's iPhone or the myriad devices built around Google's (NASDAQ:GOOG) Android platform. I think that following the most recent earnings report, it's pretty clear that BlackBerry isn't causing any pain for anybody but its own shareholders.
Can you profit from this disaster? I think so, but only if you can put away the notion that BlackBerry is a "long-term investment."
That Short Interest
Take a look at the recent short interest data for BlackBerry: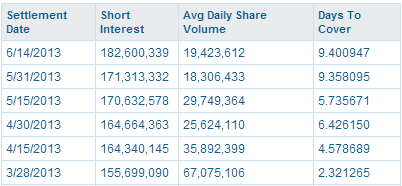 The shorts built up a gigantic position ahead of the earnings report, quite possibly in anticipation of a terrible quarter. I mean, it's not surprising considering that the Z10 is likely a flop (and I said so here), and that the firm's best hope for recovery - the sales of the Q10 - is an event scheduled for next quarter. Further, it's unreasonable to expect that BlackBerry could actually guide to any meaningful improvements in sales/margins given that the Q10 is completely unproven. It could surprise to the upside, or it could be an even bigger disaster than the Z10 - who knows?
However, the "good" news is that the short sellers are now up pretty huge on the short positions that they entered into, which means that there could be enough short profit taking to drive a "dead cat bounce." Further, given that BlackBerry trades at essentially 1x tangible book, any drop below, say, the $10 level may represent a very good risk/reward profile as traders/investors alike recognize this and start buying.
Longs Can't Wait Forever, Though...
The most recent quarter was pretty much a disaster for long-term investors, and not just traders (although quite frankly, most BlackBerry shareholders seem to be day/swing traders). BlackBerry isn't gaining the traction that the die-hards have hoped for, and it's clear that with Google's Android taking over the world and causing headaches for even the mighty Apple, BlackBerry isn't exactly in a position to turn the tables on these giants. BlackBerry's entire investment thesis depends on putting out an unequivocally superior product that will, hopefully, gain enough momentum to be a major player in the smartphone space again.
That's clearly not happening, and I imagine that the sentiments expressed here are becoming a lot more widespread. Many are simply throwing in the towel as the opportunity cost to tying up capital in this name that's going nowhere is absolutely gigantic in light of the opportunities currently available on the market.
Conclusion - This Is A Trading Vehicle, Not An Investment
At the end of the day, this is a trading vehicle, not an investment. There's nothing wrong with this, and I think that more active traders with a good "feel" for how certain pieces of news will be interpreted by the market. BlackBerry isn't profitable, its core businesses are heading south, and now the firm's fortunes rely almost entirely on the success of the Q10 phone. Well, either that or a buyout, but it's unclear who would be interested in spending the cash to acquire the company when Android is free and BlackBerry's brand isn't exactly synonymous with "cool" or "modern" these days.
Disclosure: I have no positions in any stocks mentioned, and no plans to initiate any positions within the next 72 hours. I wrote this article myself, and it expresses my own opinions. I am not receiving compensation for it (other than from Seeking Alpha). I have no business relationship with any company whose stock is mentioned in this article.