Most investors have heard the "Groupon (NASDAQ:GRPN) story." It was a much-hyped Internet "daily deal" website that grew really large, really fast. But just as that sales growth put it on the map, and the road to an IPO, other analysts (at Forrester Research) said that the business model was untenable. Then after the large IPO in 2011, the stock slid steadily downward from $31 with investors possibly knowing that something was up. Then a few months after that IPO, with the price by then near $16, the company stated that it had identified "material weakness" in its financial controls and revised its 4Q 2011 revenue numbers. That's never something you want to hear. As you could expect, the stock kept heading down until it reached $2.60 per share this past November. Class action lawsuits ensued, and on March 1st of this year, CEO Andrew Mason was fired. At that point, the stock had actually bottomed and was near $5 a share, still a huge markdown from its IPO price. It is from that point onwards that the stock has really rallied. Now the question is how long will it take for the temporary CEO Eric Leftkofsky, and management, to implement better operational efficiencies. The company held its Q1 2013 earnings call last month, and that is a good place to start.
Quarterly Report and Conference Call
As the CEO mentioned in his first few statements from the conference call, he has been a part of Groupon since the beginning, having even provided seed money to Andrew Mason. But CEO Leftkofsky is different than Mason because he has experience running other tech companies, and that has been part of the reason for the stock price increase since March.
The other reason for the stock price increase is the implementation of the new and improved business model. This new business model moves away from their previous "email model," and shifts to a version that requires less marketing because the customer can search for what they want. The new model also focuses more on mobile, with revenue from that now accounting for 45% of total business, versus only 20% in 2011. This can be seen in the downloads of the Groupon app -- 7 million downloads last quarter alone, and 40 million total.
The company's new Deal Bank Inventory system allows it to offer ongoing deals instead of just one-time deals. This was a large change, but merchants have embraced it. It allows Groupon to offer many more deals on a day-to-day basis, and spend less money and virtual shelf space doing so. This also ties in nicely with its search engine, because now customers can more efficiently search for certain type of deals, like specials on Ethiopian restaurants -- the type of deals that previously may have only been available every so often, but that are now available consistently through the Deal Bank Inventory.
The project to build a single operating platform -- project One Playbook -- is on track to finish by the end of the year, and that should also improve operational efficiencies. As part of this project, Groupon is developing: a customer personalization algorithm; a merchant return-on-investment calculator; and a lead management system to help manage efficient merchant contacts. These should help internal efficiencies and make Groupon more attractive for merchants. This should all help improve margins and add to the bottom line.
The past quarter shows domestic growth that was partially offset by declines in international markets. This is partially due to Groupon's recent focus on shoring up its domestic infrastructures more than international infrastructures, and partially due to the weakness in international economies.
All told, gross billings increased 4% to $1.4 billion. Revenue increased 8% to $601 million. Operating income was $51 million, a decline of $16 million YoY, but $37 million more than last quarter. EPS was .03 per share, and GAAP EPS was -.01 per share.
Stock Metrics
Groupon is still quite a ways from being healthy, but it appears to have turned the corner on its way to a stronger business model.
The company currently has a forward P/E ratio of 29.23, but when a company is undergoing the business model changes that Groupon is, earnings can fluctuate significantly. Analysts are now expecting almost 25% yearly EPS growth over the next 5 years, so they expect the new business model to start paying off.
Additionally, the company has zero debt, and over $1.1 billion dollars in cash, so it has room to either save the cash for a few more quarters of struggles or make a strategic acquisition.
The stock price seems to have be overextended due to the recent run, but maybe its current price is fair value. Deutsche Bank recently raised its price target to $10 on the stock. And Morgan Stanley recently raised their fair value on the stock to $9, citing a solid domestic business and its new business model that gets away from email deals.
Risks
The risks that Groupon faces are multiple. While it is excellent that it has a customer base of over 40 million people, it is easy to create a "daily deal" website. This is why it is important that it switch to the new business plan and focus on mobile.
Also, competitors like Living Social (which is backed by Amazon (NASDAQ:AMZN)), Google (NASDAQ:GOOG), and Facebook (NASDAQ:FB) all have huge war chests and will provide stiff competition going forward. The risk here is that Groupon can't distinguish itself from these behemoth competitors.
Chart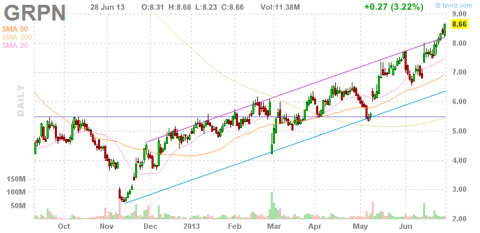 You can see in the chart above that the stock price broke out above the top of the channel. This is a bullish move and could signal even stronger buying. This is the type of pattern that could portend a quick run higher before possibly taking a breather and selling off a little.
The Play
It seems that investors have awakened to the fact that the new business model may help provide the promise that this company exhibited prior to its IPO. Smart investors that get in for a good price should reap the benefits. However, it remains to be seen if the stock has come too far, too fast.
Because of the recent chart action, I think that there may be a period of stock price increases and I think that for shorter-term traders, there may be a chance to ride the wave while keeping a tight stop.
For longer-term investors, I would be less inclined to buy at this point. If I "had" to because I wasn't sure that we would get back to sub-$8, I would consider buying a fraction of my normal position size. So for example, instead of buying $5000 worth of stock, maybe look to buy $2500 now and the rest on a pullback. If there is no pullback, you would at least have a position on to catch the move upwards.
Another method is to lower your cost basis by selling calls (and even puts) against the position. This can have the effect of tremendously lowering your initial cost in the long run. If you aren't familiar with this strategy, check this out.
Another option would be to imply buy some July $9 calls for .20 ($20) each. There was a 34% chance of that option expiring in the money at the time of this writing, so that is a spec play and should warrant a much smaller position size. However, if the breakout above the channel does signal a period of rapid price increases, these calls could provide a significant return. The key is to realize this trade could end worthless or triple the investment, so its best to limit its size.
Disclaimer: We do not know your personal financial situation, so the information contained in this article represents an opinion, and should not be construed as personalized investment advice. Past performance is no guarantee of future results. Do your own research on individual issues.
Disclosure: I have no positions in any stocks mentioned, and no plans to initiate any positions within the next 72 hours. I wrote this article myself, and it expresses my own opinions. I am not receiving compensation for it (other than from Seeking Alpha). I have no business relationship with any company whose stock is mentioned in this article.