What a difference a day makes. After publishing an article recommending Accenture (NYSE:ACN) as a buy the day before earnings, earnings are released with poor guidance that decimates the share price. At the time of this writing, shares have fallen to $71.00, down from over $80 when I published.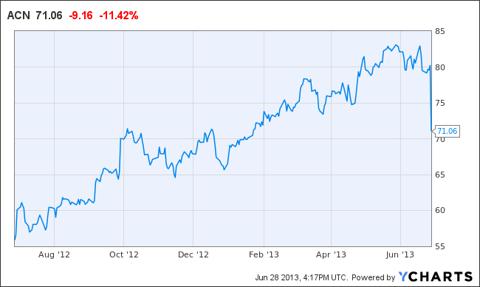 This is not my first humbling experience and it surely won't be my last. Of course, it would be preferable to have these sorts of experiences in private among a few colleagues, but that is a necessary trade-off of publishing publicly. What is done is done. The question is where to go from here?
A Review of the Earnings Call
The main culprit of this sell-off is the lowered guidance going forward. From Seeking Alpha's Market Currents:
FQ4 guidance is for revenue of $6.7B-$7B, below a $7.36B consensus. FY13 EPS expected to be in range of $4.18-$4.22, below prior guidance of $4.24-$4.32 and consensus of $4.28. FY13 bookings guidance maintained. FQ3 consulting revenue -2% Y/Y to $3.9B (-1% in FQ2), below expectations. Outsourcing revenue +4% to $3.3B (+9% in FQ2). New bookings of $8.3B ($3.9B consulting, $4.4B outsourcing) vs. $9.1B in FQ2. Americas revenue +7%, EMEA -4%, Asia-Pac -5%. Tech/Media and Resources revenue -5%, Health/Public Service +9%, Financial Services +5%.
Revenues missed expectations due to flat consulting growth, but despite the miss on the top line, ACN delivered record operating income and operating margin. From CEO Pierre Nanterme:
While outsourcing growth was 7%, consulting growth was flat, resulting in total revenues slightly below our guided range.

We delivered record operating income and operating margin, with operating margin expansion of approximately 40 basis points.
Outgoing CFO Pamela Craig highlighted two factors with regards to consulting revenues missing expectations.
The first factor:
First, consulting bookings were almost $400 million lower than we expected in March, including a decline in smaller contracts that convert to revenue more quickly. This was the primary factor that negatively impacted our revenue growth this quarter.
The second factor:
A second factor relates to the continuing trend of how our bookings are converting to revenue. Our outlook for Q3 assumed a continuation of the slower conversion we had discussed in recent previous quarters. However, we saw an unexpected uptick in the average duration of our new bookings. In addition, more than we expected, our clients are slowing the pace and level of spending per the arrangements they have with us.
In terms of the sectors in which consulting revenues were down, Craig cited resources and products. This likely ties into the ending of the commodity boom, as large resource companies will be re-evaluating their business models and seeking to lower operational costs in the face of lower prices for their products.
Regionally, Brazil and Europe were cited as areas of weak growth, and from the Seeking Alpha Market Currents, Asia-Pacific was also weak. This was driven by slower growth in Australia, which will also be tied to the commodity boom.
Therefore, two of the broader macro trends, the fall in commodity prices and slowdown in the Asia-Pacific region, are behind the consulting revenue miss at Accenture.
Accenture Is Nimble To Adjust To Changes in the Economic Environment
One of the advantages to owning a business like ACN is that it can quickly adjust to the change in the economic environment. I was talking with an employee of ACN after publishing my last article (not the same employee I stayed with), who stated the following:
One strength of a company like ACN is that during times of recession or weak economies, we are so diverse in all industries that they can quickly shift employees to new clients. For example in 2009 when we lost a lot of projects they staffed a lot of people at government clients. Their reach is large so they can be quiet nimble even for a big company.
CEO Pierre Nanterme recognizes this shift in the world and addressed it during the earnings report. Given that the challenges facing resource companies appear to be in their infancy, ACN is focusing on serving different market segments. In particular, ACN is focusing on digital:
As I meet with CEOs around the world, it's striking to see how digital is now a part of every conversation. Digital is fundamentally disrupting business models and requiring companies to rethink how they operate, from how they interact with customers and employees to how they manage their supply chains and collaborate with business partners. I believe that Accenture is very well-positioned to help clients transform their businesses to compete in this new digital world.
Therefore, although consulting revenues were lower due to macroeconomic trends, I believe this setback will be short lived. As the employee of ACN noted, ACN is one of the most nimble big companies on the market. It is positioning itself for the future, and I suspect it will be successful in executing its strategy.
In addition, it was noted in the earnings call that ACN is experiencing double digit growth in China, India and the U.S. These are the markets where the action is and will be, and ACN's success in them bodes well for future earnings.
An Updated Valuation
Below is a 10 year chart with ACN's stock price and the following valuation metrics updated to the latest earnings report:
P/E Ratio
Price to Book Ratio
Price to Sales Ratio
Price to Cash Flow Ratio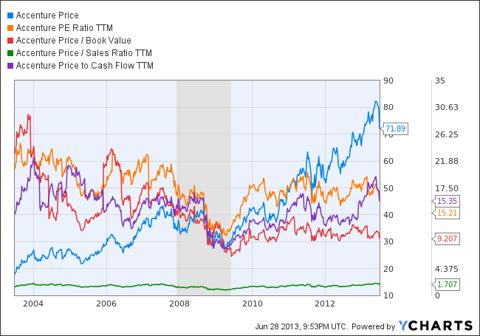 These ratios do an excellent job of highlighting the recent price move. The P/E ratio and Price/Book Value are at historic support levels, indicating a floor in price action. The Price/Sales Ratio and Price to Cash Flows do not look as cheaply valued, though.
Given that the Price/Sales Ratio and Price to Cash Flows do not look as encouraging, below is a chart using two more valuation metrics involving cash flows over the life of ACN's public trading.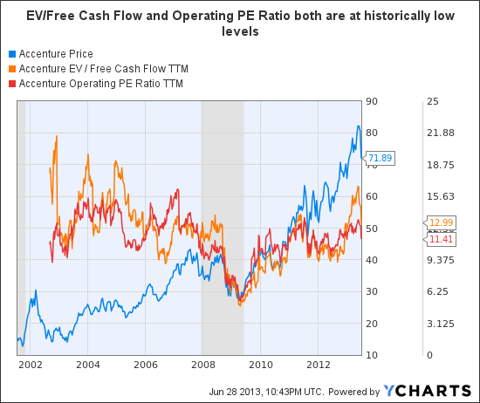 EV/Free Cash Flows takes a hypothetical value of a company based on market cap, debt and cash and divides it by free cash flows. Although this measure is still at recent highs, it is at the lower range of the pre-2008 great recession. Therefore, as equity markets continue to recover, ACN has plenty of upside.
The second metric, Operating P/E Ratio, divides the market capitalization by operating earnings. Operating earnings, much like cash flows, focus on what the company is generating before the accountants step in. Another way to think about it is the price an investor pays for one dollar of pre-tax operating earnings. Much like the EV/Free Cash Flows, this is also at close to recent highs post 2008, but lows pre-2008, indicating further upside in an improving equity environment.
When these 6 metrics are considered in totality, I consider them to indicate ACN is trading at a great price.
Moving from ratios to the nominal results, Wall Street's cause for concern becomes more apparent.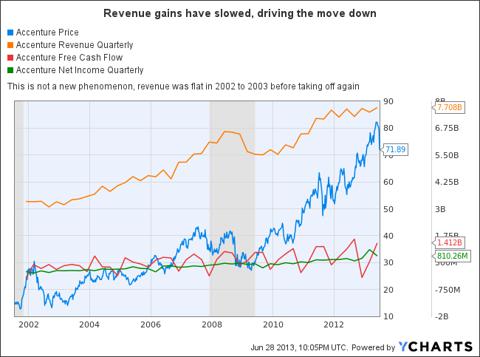 Revenues appear to be forming a top, and Wall Street punishes companies that are not growing. But I believe Wall Street has got it wrong. Accenture had flat revenues in 2002 to 2003, but has since gone on to more than double revenues. In 2002, shares prices were punished for this lack of growth as well, falling from $30 per share to $15 per share. Even if you bought at the peak back then, you still would have more than doubled your money.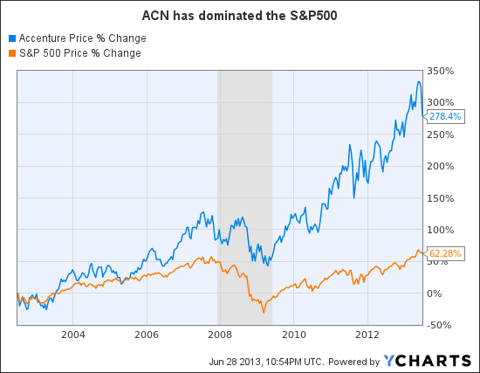 This ties back into ACN's anti-fragile nature that the ACN employee was referring to. Back in 2002, the macroeconomic environment went through a shift post the 2001 dotcom crash. ACN did a lot of consulting for dotcom companies and had to reinvent its business model to accommodate this shift in the state of the world, offering more options for resource based companies.
Fast forward to 2013, and we are in the midst of another shift, this time out of commodities. As was pointed out in the earnings call, resource companies were one of the companies that cut back on consulting. ACN is once again shifting its business model to better service its clients that are in growing market segments.
In terms of ACN's operations, they continue to be solid. Return on Assets, Return on Equity and Operating Margins all increased.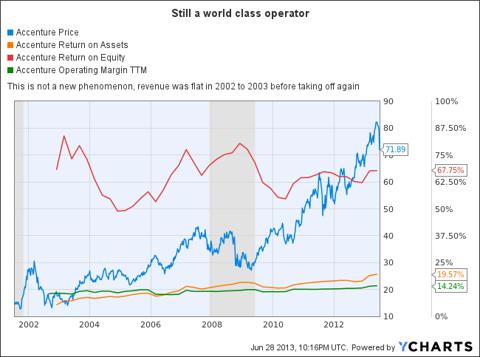 This is especially encouraging as it shows it is not cutting into margins in order to gain business, even with the challenges it is facing in its consulting business. A great friend and CPGA Golf Pro Scott Keenlyside once told me:
If you pay with peanuts, you will work with monkeys.
Clients are prepared to pay to work with ACN because they know they are working with the best.
My Next Move
Fortunately, I was still in the midst of evaluating adding ACN to a client's portfolio and therefore missed the post earnings fallout. Taking the latest price action and earnings call into consideration, it is now simply a matter of position sizing, as I will definitely be looking to pick up ACN at these levels. I strongly encourage my readers to consider a position as well.
Disclosure: I have no positions in any stocks mentioned, but may initiate a long position in ACN over the next 72 hours. I wrote this article myself, and it expresses my own opinions. I am not receiving compensation for it (other than from Seeking Alpha). I have no business relationship with any company whose stock is mentioned in this article.