It has been an extremely tough time for gold and silver investors, with the metals dropping far from their 2011 highs. Year-to-date they are the worst commodity performers, and over the last few months, the drop has accelerated even as stock markets hit new highs.
We have repeatedly emphasized that the fundamentals for precious metals are still very strong. Silver production all-in costs are significantly higher than the current spot price, physical demand is surging, the Bank of India has now pushed the population into silver, and inflation looms in the future as the Federal Reserve desires a little more inflation.
So long-term investors know that the future is very bright for precious metals, but in the short-term the carnage continues. Investors know this cannot continue forever, but how far can the precious metals fall before they hit their bottom? In this analysis we will take a look at the 2008 silver bottom, which was a correction very similar to our current drop in both its size and ferocity.
The 2008 Silver Bottom
We have been invested in this precious metals bull market for most of the last decade, and thus have been through a number of these major declines. Other investors who have also seen this market through these declines have been, for lack of a better word, "battle-hardened" and are holding tight to their positions because the fundamentals remain strong. But for people who have not seen any major declines in this bull market and have bought over the last two years, this drop has led to despair and panic.
That's why it is important for these investors to understand what a bottom looks like and that their bearishness is a sign that a bottom is close at hand. By analyzing a similar bottom, investors can put themselves vicariously in the position of past investors, which should show them that even though declines can be vicious at the bottom it is also the best time to buy.
In 2008, the silver market dropped from a high of close to $21 per ounce to a low of $9 per ounce, which is around a 60% drop in the span of 8 months. As you can imagine, investors at the time were panicking and kicking themselves for their horrible investment choice that lost them 50% in under a year - probably similar to what people today are feeling who bought silver over $40 an ounce in 2011.

As you can see, the 2008 peak-to-trough was truly a painful experience that culminated in a close to 60% drop for those who bought at the peak. After that drop though, investors started recouping their losses in large chunks with those buying at the March 2008 peak fully making back their losses 30 months later. Six months later those same investors experienced a 128% rise that culminated in the 2011 April peak - which probably made them forget all the tough times that they had seen. But they had to have the courage and the fortitude to hold through the tough times - many investors probably abandoned ship and never saw these incredible gains.
That is what we believe will also happen today. Our peak-to-trough is around 60% from the April 2011 highs (at the time of this writing), and though further declines are very possible, we believe that the bottom is close at hand.
Analyzing the 2008 Silver Bottom
For fundamental investors, bottom analysis is interesting but should not affect their investment decisions. Whether we are at the bottom now or will be there in a week, six months, or a year; these investors are buying because the fundamentals are good and don't mind accumulating over the whole bottom.
But for investors who bought at much higher levels, this analysis provides a way to analyze the past to understand the future. It also gives them a boost to their spirits because by living vicariously through past bottoms, they can realize that the darkest part of the night is truly right before the dawn.
So let us now take a look at that 2008 bottom. In this analysis we will use SLV as a proxy for the silver price because the data on SLV is very comprehensive and it shows price performance for investors during US trading hours. This means that the prices given will not be the exact silver prices in dollar terms, but they will be fairly accurate in representing the change in silver price. Finally, we prefer to use a table view of the silver price (rather than a graph) because it allows investors a much easier way to picture the day-to-day behavior of the price.
We do emphasize that history never repeats itself exactly, but as Mark Twain says, it does rhyme. Though the numbers change, the emotions behind those numbers do not. So the best things to takeaway here are to understand the emotions behind the numbers - when investors just throw in the towel and the only ones left in the market are the strongest hands. That is when there are no more sellers left and only buyers left - thus you have the foundation for sharp price increases and the next leg up.
So now let us look at the silver double-bottom.
The First 2008 Bottom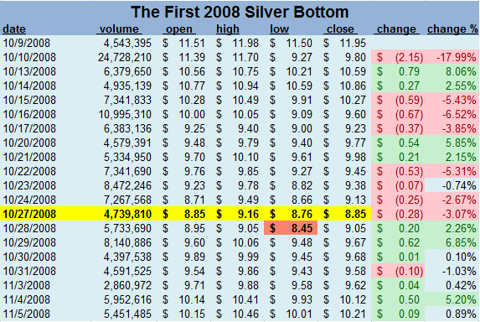 As investors can see, the first silver bottom happened on 10/27/2008 and was the culmination of almost a 30% drop in the price over just three weeks. The day itself did not standout amongst the rest of the days, with volume being fairly average and the price decline not particularly large (in 2008 a 3% decline was fairly average). In fact it would have been almost impossible to point this day out as a bottom except when you look back. This is actually the same thing we will see with the second silver bottom - they do not particularly standout at the time.
Interestingly enough, the following day (10/27/2008) had silver opening slightly up and then plummeting 40 cents (almost 5%) to an intraday low of $8.45 that was also the cyclical low for the downturn. It then proceeded to recover this entire drop and end the day up over 2% - a very wild day with only above average volume. At that point silver moved fast and two weeks later it was up 15% from its closing low.
The Second 2008 Bottom
The second silver bottom was only about a month after the first bottom and occurred on 11/20/2008. As you can see, this was another day that was not particularly interesting with silver dropping a little over 2% and volume on the average side. This time the intraday low did come on the same day as the bottom, and it was also at the same level as the previous intraday low of $8.45.
What is interesting is that following both bottoms we experienced rather large, higher-volume days with significant price gains. It seems that as we get in on the lows, many investors who are either short or waiting on the sidelines start piling into silver during the positive days and increasing the size of these upswings.
The Last Few Weeks of Silver Price Movements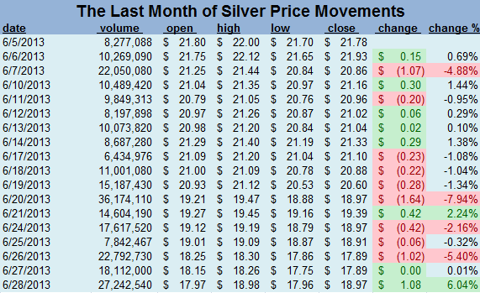 I will leave the commentary out for this table and let individual investors think and draw their own conclusions.
Takeaways for Investors
There are a couple of takeaways that investors can use from the analysis of the 2008 bottom.
First, bottoms tend not to look like bottoms at the time. Both 2008 bottoms were not particularly exciting days in terms of price action or volume. This is a far cry from the classic image we get of a "blood-running-in-the-streets" bottom where there is a complete collapse in the price. So investors looking for a current bottom to the silver price decline should not be expecting some momentous drop - it will probably seem like any other down day.
Second, there seems to be a significant intraday price turnaround around the bottom. Both bottoms experienced significant intraday movements on or just following the bottom. This may be a psychological sign that investors have thrown in the towel and all of a sudden buyers find few sellers and prices start to be bid up.
Finally, we tend to see some major high-volume upside moves immediately after the bottom. Both bottoms saw significant jumps in the silver price almost immediately afterwards. There are other takeaways from these numbers and I encourage people to post in the comments section any other observations they may have.
Conclusion
The first thing I want to emphasize that history does not repeat itself exactly and there is no guarantee that a future bottom would match exactly or be similar. But since we are dealing with human psychology, patterns do emerge and can help benefit investors.
The most important thing for physical and silver ETF investors (SLV, PSLV, and CEF) to know is that even though the downturn may be vicious, the worst of it comes at the end. This is precisely not the time to sell. In fact, holding through these bottoms gives investors the best gains during bull markets. Also, the worse the downturn the more violent the upswing when it reverses.
Finally, even though psychology is very important, outside factors can play a huge role in completely disregarding the technical factors. External events like supply shortages or large shifts in demand, can make any technical analysis moot - after all we are dealing in a commodity here not just a ticker symbol.
We continue to recommend that long-term investors keep on accumulating silver and the silver ETFs (SLV, PSLV, and CEF) because of its strong fundamentals and the fact that there is a good chance that the bottom will not appear as a bottom. For those looking for more exposure, we recommend buying high-quality silver miners like First Majestic (NYSE:AG) and Pan-American Silver (NASDAQ:PAAS) that give investors tremendous exposure to a turnaround in the silver price.
Finally for traders, based on the 2008 bottoms, they should be looking for a day with a large intraday swing in the price on relatively average volume. Strong up-moves after these days may be a sign that a bottom is in, though that may mean losing out on significant gains.
Disclosure: I am long SIVR, PSLV, AG, PAAS. I wrote this article myself, and it expresses my own opinions. I am not receiving compensation for it (other than from Seeking Alpha). I have no business relationship with any company whose stock is mentioned in this article.