by Georg Vrba
Nearly 2 years ago, at the end of August 2011, the BVR model signaled the beginning of a down market for bonds. Since then, long bond funds have returned a total of about 6% and short bond funds about 2%, while SPY, the exchange traded fund tracking the S&P 500, gained almost 40%. Recently bonds lost a lot of value, but fund manager Grundlach feels that the worst is over, and "with the markets settling, there are deals to be had". However, the BVR model is signaling continued weakness for the bond market.
The model's message is loud and clear: Avoid long bonds and intermediate duration bonds as well until the BVR moves below the lower offset limit line and turns upward from there. The timeframe for this is uncertain; it could be months or years.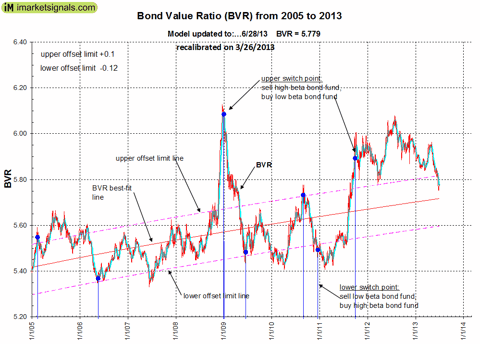 Note: Advisor Perspectives welcomes guest contributions. The views presented here do not necessarily represent those of Advisor Perspectives.