Los Angeles, California based KB Home (NYSE:KBH) has been building homes for over 50 years. Catering mainly to first time home buyers, the company also generates a portion of sales from repeat buyers and active adult communities. Like many competitors, KB Home over expanded during the housing boom and suffered the consequences of its actions. Having learned from its mistakes, the company has come back in much better financial shape and now offers investors an attractive way to play the housing rebound.
Although KB Home is also building in fast growing regions like Texas and Florida, the California market appears to offer tremendous growth potential over the next few years. With over half of the company's revenue generated from the West Coast division (California), and over 70% of inventory purchases in this region during the last few years, it is worth spending some time reviewing this geographic region. Many analysts argue that California is experiencing one of the strongest housing rebounds in the country and this is further confirmed on a monthly basis by the S&P/Case Shiller Home Price Index. The recently released results show the fastest growing cities in the index are all located in KB Home's primary market. San Francisco, the fastest growing city in the 20 city index, posted gains of 23.9% year over year and 4.9% from March to April. Other key markets were Los Angeles (18.8% year over year and 3.4% March to April) and San Diego (14.7% year over year and 3.7% March to April). Below is the actual index values for each of the three markets I mentioned, you can that 2009-2011 were stagnant, but the index is clearly beginning to trend higher.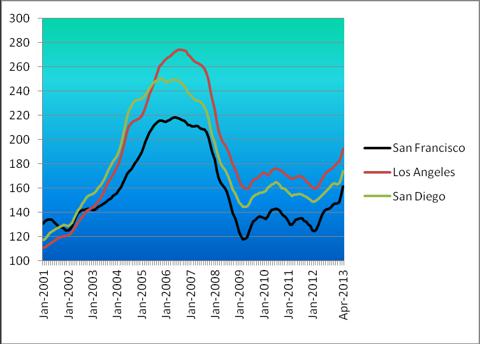 Source: S&P/Case Shiller 20-City Home Price Index
Rising Rates
Before I spend more time reviewing KB Home's financial statements, I think it is worthwhile to address one of the top concerns from investors regarding homebuilder stocks. The recent spike in interest rates has caused shareholders to heavily sell homebuilder stocks in anticipation of higher mortgage rates crippling demand for new homes. While this is a legitimate concern, how likely is it that a 50-100 basis point increase in rates will cause would-be buyers to put off their decision? Looking at the last 12+ years of data (see chart below) it suggests there is no strong cause and effect relationship between rising home prices and interest rates.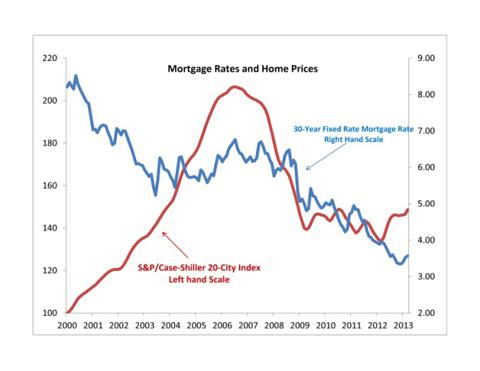 Source: Standard & Poor's
My personal opinion is that mortgage rates will remain at reasonable levels for the foreseeable future and not detour potential home buyers from making a purchase. Central banks around the globe continue to be accommodative to financial markets and we have not seen them pull back quite yet. Given the combination of pent up demand for home purchases, escalating rental rates, historically low housing inventory levels and population growth in the US, it appears rising rates are just a small step back in the housing recovery. Lennar Corporation (NYSE:LEN) CEO Stuart Miller described the environment on his company's recent earnings call, "As we have discussed on prior calls, conflicting macroeconomic data and interest rates reverting to normal levels can create headline risk to an otherwise straight-line recovery. However, the fundamentals of the homebuilding industry continue to be primarily driven by high affordability levels, favorable monthly payment comparisons to rentals, and overall supply shortages." I would still recommend investors keep a close eye on the backlog of the publicly traded homebuilders each quarter to see if demand remains strong.
KB Home Backlog
In my opinion, one of most important metrics to evaluate with any homebuilder is the backlog. This will provide a good idea of how to project revenue for the remainder of the year. As of Q2, KB Home currently has 3,128 homes in backlog with an approximate value of $826 million. As you can see in the chart below, both the backlog value and number of homes in backlog have been steadily rising. Keep in mind that most homebuilding is done during warmer months causing seasonality amongst quarters.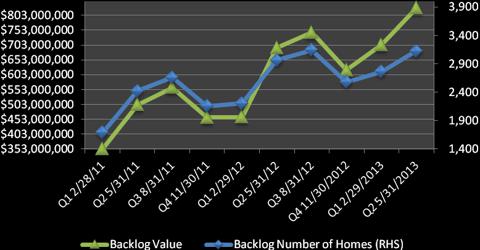 Source: KB Home SEC Filings
As demand continues to drive up home prices, KB Home is not hesitating to raise their prices as well (fortunately this is not an issue with customers). One of the most attractive features of the homebuilder industry is their ability in the current environment to sell a highly demanded product, raise the price, and not be met with resistance from customers. Economists often refer to this type of product as a "Giffen Good". Below is a table displaying the average selling price per home for each division at KB Home. The company is currently forecasting a combined average selling price of $285,000-$290,000 for fiscal year 2013, a 15-17% increase year over year.
| | | | | |
| --- | --- | --- | --- | --- |
| | 2013 Q2 | 2012 | 2011 | 2010 |
| West Coast | $460,400 | $388,300 | $355,500 | $346,300 |
| Southwest | $223,900 | $193,900 | $165,800 | $158,200 |
| Central | $188,900 | $170,100 | $171,500 | $163,700 |
| Southeast | $227,500 | $206,200 | $195,500 | $170,200 |
Source: KB Home SEC Filings
Inventory
In this historically low interest rate environment KB Home is adding a significant amount of debt to their balance sheet in order to fund inventory purchases. As I mentioned above, the company plans on allocating a large majority of these purchases to the West Coast division. During the current fiscal year the company expects to invest in excess of $1.2 billion in land acquisition and land development. Given demand expectations and the general consensus from homebuilding CEO's that we are in the "early innings" of a homebuilding recovery, taking on additional debt to make land purchases appears to be a well timed bet. If home prices continue to grow, we are likely to see gross margin expansion due to well timed land purchases.
KB Home has done a good job spacing out debt maturity over the next few years. As you can see in the table below there is not a single year where a large portion of debt is coming due. Keep in mind that the company has a line of credit open and has filed shelf registration papers to issue additional debt or stock if they need funds in the future. Given the share price increase over the past year the company has taken advantage of its current position and issued convertible notes. This has a dilutitive effect to current shareholders and may be something to keep your eye on.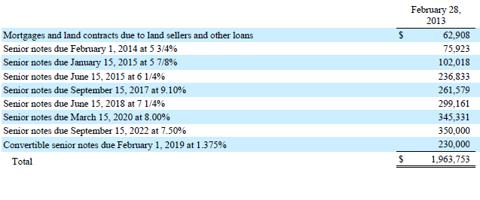 Source: KB Home SEC Filings
Not all inventory is created equal. Accounting rules allow homebuilders to capitalize a portion of interest payments as inventory. These will eventually be expensed as an amortization cost, but can temporarily inflate assets on the balance sheet. I prefer to exclude capitalized interest and arrive at an adjusted inventory balance for the company. This provides a clearer picture of tangible inventory. All three inventory classifications (homes under construction, land under development, and land held for future development) are expected to increase at the end of the fiscal year due to the $1.2 billion of acquisition and development spending.
| | | | |
| --- | --- | --- | --- |
| | 2011 | 2012 | 2013 Q1 |
| Homes Under Construction | $417,304,000 | $454,108,000 | $519,746,000 |
| Land Under Development | $572,660,000 | $567,470,000 | $764,479,000 |
| Land held for future development | $741,665,000 | $684,993,000 | $653,549,000 |
| Total Balance Sheet Inventory | $1,731,629,000 | $1,706,571,000 | $1,937,774,000 |
| Capitalized Interest @ end of period | $233,461,000 | $249,966,000 | $217,161,000 |
| Adjusted Inventory | $1,498,168,000 | $1,456,605,000 | $1,720,613,000 |
Source: KB Home SEC Filings and my adjustments (note Q2 data will be available when the company files their 10-q)
Risks
For a list of all risks which KB Homes faces please review the recent 10-k filing. While reviewing the company's financial statements I observed a few risks which may warrant further attention. The company is subject to numerous lawsuits, however most are not material to financial statements. However a pending lawsuit involving the subsidiary KB Home Nevada Inc is worth keeping track of. KB Home allegedly breached a development agreement in 2007. The trial has been pushed back from September 2012 to January 2013, and now to October 15, 2013. While there is no guarantee of the outcome, KB Home stated in the recent 10-Q filings, "we believe it is reasonably possible that the loss in this matter could range from zero to the amount of the Claimed Damages." The plaintiffs are seeking $95 million in damages, an amount which would be material to KB Homes financial statements.
Another possible risk is how the company accounts for impairment charges. While I believe it is safe to assume that most inventory from the housing boom has been drastically impaired, there is no guarantee the current inventory balance accurately reflects current market prices. KB Home reminds investors that, "Due to the judgment and assumptions applied in the estimation process…inventory assets and the realization of our inventory balances, it is possible that actual results could differ substantially from those estimated." While most corporations use language similar to this, as KB Home balloons its balance sheet with inventory, keeping track of their assumptions for impairment charges will be critical.
Conclusion
Volatility is likely to be present in KB Home over the next few years. There are many skeptics who think the housing recovery is a scheme only propped up by the Federal Reserve. Couple this with fear of rising mortgage rates and you are going to have heightened levels of volatility in this industry. I believe that savvy investors who are not afraid to buy on pullbacks will be rewarded in the future. Given the potential demand over the next few years in addition to rising home prices makes KB Home an attractive investment for certain portfolios.
Another attractive feature which I did not spend time reviewing is the deferred tax assets and valuation allowances. As of February 28, 2013 the company had approximately $879 million of net deferred tax assets that could be used to potentially offset approximately $2.2 billion of future taxable income. Investors looking to initiate a position today have a strong likelihood of higher earnings and higher cash flow due to a lower or non-existent tax liability.
Consider your investment goals and objectives before initiating a position in KB Home and remember that the value of investments in equity securities, like KBH, will fluctuate in response to general economic conditions and to changes in the prospects of particular companies and/or sectors in the economy. In my opinion, long term investors have a very compelling case for investing in KB Home.
Note: All data reported and graphed is pulled directly from KB Home SEC Filings, Investor Presentations, and Press Releases.
Disclosure: I have no positions in any stocks mentioned, and no plans to initiate any positions within the next 72 hours. I wrote this article myself, and it expresses my own opinions. I am not receiving compensation for it (other than from Seeking Alpha). I have no business relationship with any company whose stock is mentioned in this article.