Merck KgaA (OTCPK:MKGAY) is a German pharmaceutical, chemical, and life sciences company, which has the leadership position in the liquid crystals field. This is where the company's growth prospects are brighter over the long term, and its leading position in this field bodes well for Merck's growth prospects for the foreseeable future. It should be noted that its American division Merck & Co (NYSE:MRK) was expropriated in 1917, being independent ever since. Therefore, in the U.S. Merck operates under the name EMD since 2001 to avoid confusion with the U.S.- based company Merck & Co. The company has a market capitalization of about $33 billion and is traded in the U.S. in the over-the-counter market. Around 30% of the company's total capital is publicly traded, while the Merck family owns an interest of about 70%.
Company Overview
Merck operates its business within four divisions: Merck Serono (prescription medicines), Consumer Health (over-the-counter pharmaceuticals), Performance Materials (high-tech chemicals), and Merck Millipore (products for pharmaceutical research and biotechnology). In 2012, Merck had almost $14 billion in sales representing an increase of 8.4% from the previous year. Its largest division is Merck Serono accounting for 56% of Merck's sales, followed by Merck Millipore (24% of sales), Performance Materials (16%), and Consumer Health (4%). By geography, 36% of its sales are generated in Europe, 35% in Emerging Markets, 20% in North America, and 9% in the rest of the world. The company's profitability is quite good, achieving an EBITDA margin above 27% and that was relatively stable over the past three years.
In the first quarter of 2013, Merck continued to post growth with organic sales increasing 4% from the first quarter of 2012. Emerging markets were mainly responsible for this performance, increasing its sales by 11%. Europe remained the company's biggest market and sales were stable despite the sluggish macroeconomic environment. By division, Performance Materials continued to be the highest-growth business increasing its sales by 9%.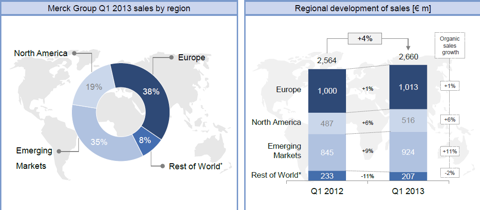 Liquid Crystals
Merck's liquid crystals business comprises technology for displays, organic light-emitting diode (OLED) materials for displays, and lighting and phosphors for light-emitting diodes (LED). This is mainly applied in consumer electronics, through devices like TVs, desktop monitors, laptops, smartphones, and others. The industry is rapidly evolving making intellectual property critical for the business's long-term sustainability. The company invests significantly into research and development activities, reaching more than 100 new liquid crystal patents each year. Its annual investments in R&D have been around 10% of its sales over more than a decade. To understand how important it is to continuously invest in new technology, one just have to know that around 75% of Merck's 2012 liquid crystals sales were generated with products that were launched within the past 3 years.
Merck is the unquestionable market leader in this industry, with a market share above 60% in 2012. The market is very concentrated with only two competitors and enjoys significant barriers to entry. This enables the company to achieve high business margins, given that competitors lack scale and proven technology to compete with the company. Its know-how will certainly help Merck to maintain its leadership position as a supplier of materials solutions to the flat panel display industry for many years to come. The company expects that consumer demand will continue robust in the coming years in a global market that is expected to triple to more than $300 billion by 2030.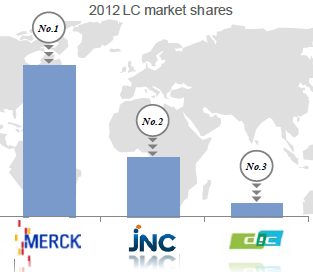 TV displays dominate the liquid crystals market by area and are its most prominent growth driver. As TVs are getting bigger and replacement times shorter, this will increase demand for liquid crystals. Moreover, over the past few years, liquid crystals growth has also been driven by the creation of new distinct device classes using this technology for displays, such as tablets, 3D TV, or eBook readers. These new products will continue to drive growth as well as old products that consumers replace, like their older TV sets for instance. Additionally, the tablet market is expected to achieve high-growth rates over the coming years, being supportive for Merck's liquid crystals sales but maybe at the expense of desktop monitors and laptops.
Merck does not report separate financial information on the liquid crystals business, instead it is within the Performance Materials division. Nevertheless, liquid crystals is the largest part and key driver for this division. In 2012, this division had about $2.2 billion in sales, with liquid crystals responsible for more than 70% of these sales. The division reported an average annual sales growth of more than 7% over the past three years. Liquid crystals stand apart from typical players in the chemical industry, achieving much higher business margins than its peers focused on bulk or specialty chemicals. Liquid crystals are essential for the good performance of a display but make up only 2-3% of panel costs, also helping to explain why this industry runs on high-profit margins. In 2012, Performance Materials achieved an EBITDA margin around 44% and is expected to be between 41-45% for the next couple of years, significantly higher than the group's average.
Its mains customers are mainly panel and set makers based in Asia. These include consumer electronic companies like Samsung (OTC:SSNLF), LG Electronics, or Sharp (OTCPK:SHCAY). Merck's production facilities are located in Germany but also in Taiwan, China, Korea, and Japan for costumer proximity.
Conclusion
Merck is a stable company focused on businesses relatively independent from the economic cycle. Its liquid crystals business has a lot of room to grow over the long term and is the company's most profitable unit. Even though its weight within the group is not high, it should increase over the years as it grows faster than other units, making Merck a company with solid long-term growth prospects.
Disclosure: I have no positions in any stocks mentioned, and no plans to initiate any positions within the next 72 hours. I wrote this article myself, and it expresses my own opinions. I am not receiving compensation for it (other than from Seeking Alpha). I have no business relationship with any company whose stock is mentioned in this article.