The first article of the series has introduced the Carbonate Triangle of the renowned Canadian oil sands. The region is the world's third largest oil reserve with its rich carbonate-hosted bitumen deposit located in the northern Alberta's deep underground. Precisely, the Carbonate Triangle is situated between three major bitumen areas, Athabasca, Cold Lake and Peace River.
In today's investment guide on the Carbonate Triangle, I will briefly recap the main characteristics of the Cold Lake region to have a better assessment of its potential. Then, I will introduce an oil producer owning a few assets in that specific play.
So far, I examined the following producers involved in the Carbonate Triangle. The first area analyzed was Peace River. The producers were:
The current area, Cold Lake, has been reviewed in a past article as well as the following oil producer:
Notably, an analysis of the current operations of the company will be examined with the objective to give the most complete information available to the potential investors before deciding to seize the opportunity that the 54,132 square miles of the Carbonate Triangle has to offer. Let's start by reviewing briefly Cold Lake, the second larger oil sands deposit of the Carbonate Triangle.
The Cold Lake Region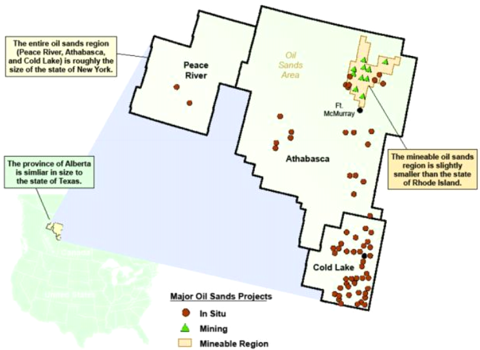 Source: ERCB
Historically, the majority of the primary bitumen has been produced from the Cold Lake oil sands area using vertical wells and progressive cavity pumps that tolerate the large volumes of sand produced with the bitumen. More recently, with improvements in horizontal and multilateral drilling technology, primary bitumen is being produced from the Athabasca and Peace River oil sands areas.
The Cold Lake oil sands lie within a package of stacked incised valleys that rest encased within more regional deltaic, shoreface sands and marine mud. These overlie the fluvial and estuarine sands of the Clearwater formation. This formation is overlain by regional deltaic, progradational barrier complexes and incised valley-fills of the Lower and Upper Grand Rapids formation, which extends to the top of Mannville group.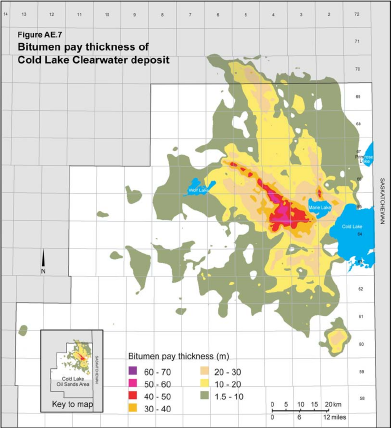 Source: ERCB
The entire Cold Lake area is estimated to contain 201 billion barrels of initial in-place volumes, within a total oil sands reserve estimated at 1.8 trillion barrels for the entire Carbonate Triangle. Approximately 8% of the 201 billion barrels would be accessible given the available technologies, which would represent 16.08 billion of recoverable barrels for Cold Lake.
Devon Energy (NYSE:DVN)
Devon Energy, headquartered in Oklahoma City, is a leading independent oil and natural gas exploration and production company founded in 1971. It became a public company, listing on the stock exchange since 1988. Devon's operations are focused onshore in the U.S. and Canada. It also owns natural gas pipelines and treatment facilities in many of its producing areas, making the producer one of North America's larger processors of natural gas liquids.
In 2009, the company's management decided to strategically reposition its production onshore-only in North America and started selling its offshore and international assets, a process that would be completed in 2011.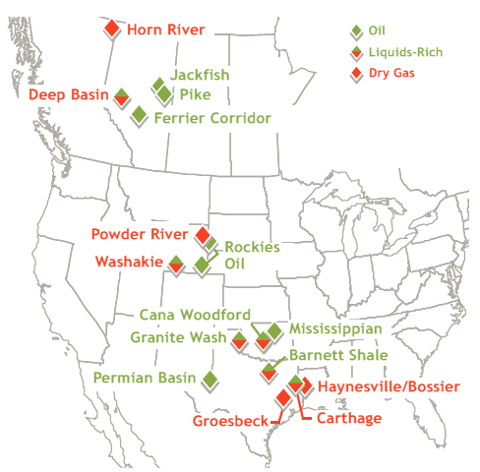 Source: Devon's June 2013 Investor Meeting
The company's portfolio of oil and gas properties provides stable, environmentally responsible production and a platform for future growth. According to the company, its production mix is about two-thirds natural gas and one-third oil and natural gas liquids, such as propane, butane and ethane. Devon produces about 2.6Bcf/d (billion cubic feet of natural gas per day), more than 3% of all the gas consumed in North America.
However, I won't discuss much further on its natural gas production but instead, I will focus into its oil properties in the Carbonate Triangle, assessing its assets in this portion of its energy production as well as its future outlook. The picture below illustrates this industry's oil plays in the Carbonate Triangle with each delimited region.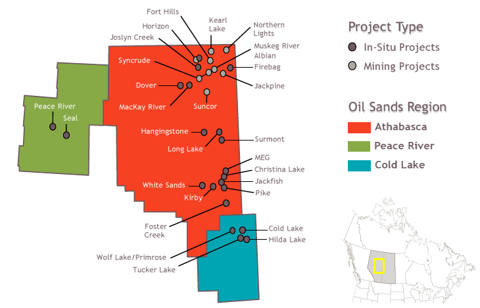 Source: Devon's June 2013 Investor Meeting
The company is well-positioned in Canada's most important energy-producing areas, including the Athabasca oil sands and emerging oil and liquids-rich plays in the Ferrier Corridor and Greater Wapiti areas. Devon's Canadian oil and natural gas fields account for 28% of the company's total production. Exploration and development activities in Canada stretch from northeastern British Columbia across the Foothills, Plains and northeastern Alberta through to southern Saskatchewan.
Devon's land holdings are among the largest in Canada, comprising about 7 million net undeveloped acres. Devon was the first U.S.-based independent energy company to develop and operate an oil sands project in Canada. Current production, which is almost evenly split between liquids and natural gas, comes from conventional and shale gas resources in addition to cold-flow and thermal heavy oil resources.
Walleye Project In Cold Lake
Devon is proposing to develop a small scale commercial in-situ oil sands recovery project of about 1878 acres, using the proven SAGD technology in the expectations of recovering approximately 7,000 barrels of bitumen per day. During the winter of 2010-2011, the company conducted an exploration program to confirm the consistency of the reservoir rock within the proposed project area.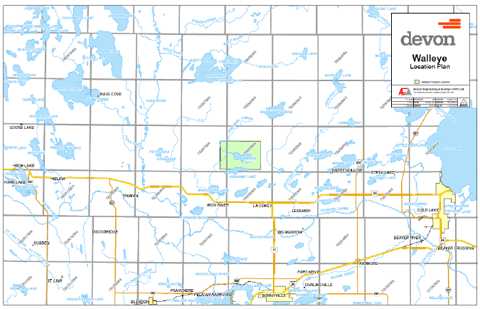 Source: Devon's Walleye Project LICA Presentation, November 2011
Main infrastructure will be designed to include a CPF (Central Processing Facility), six pad sites, above ground and below ground pipelines, access roads and power lines. Therefore, the initial phase of the project will include the CPF and two pads while subsequent pads will be drilled in order to maintain production through the CPF over the 12 to 15 years life of the project.
The facilities will be conceived to use saline water only and the company stated that it will meet or exceed water recycle requirements of the ERCB's directives, reporting and use for thermal in-situ oil sands schemes. Devon will also maintain a groundwater monitoring program that includes a network of monitoring wells.
The company committed to sampling water wells within 1.24 miles of the project to establish baseline conditions and has already completed this assessment.
Financials At A Glance
Devon continued to deliver strong oil production growth in Q1 of 2013. Total oil production averaged 162,000 barrels per day, a 14% increase compared to Q1 of 2012 and an 8% increase over Q4 of 2012. Driven by the Permian Basin, the most significant growth came from the company's U.S. operations where oil production increased 23% year-over-year. In the Carbonate Triangle, notably for its Jackfish and Pike operations, the company produced 54.3Mboe/d (thousand barrels of oil equivalent per day), about 8% out of its total production of 686.9Mboe/d for the quarter.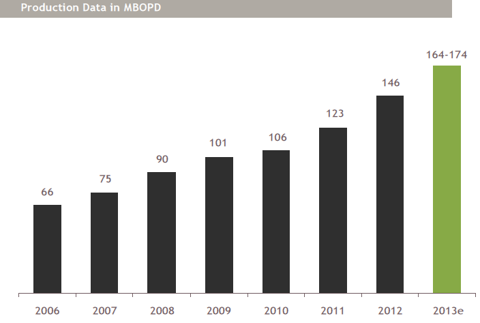 Source: Devon's June 2013 Investor Meeting
"Our continued focus on oil production growth is successfully transitioning Devon's production mix to a higher oil weighting, as evidenced by our first-quarter results. Oil and liquids production, our highest margin products, now account for 41% of our total production"
said John Richels, President and Chief Executive Officer on May 1st, 2013. Notably, net production from Devon's Jackfish 1 and Jackfish 2 oil sands projects in the Athabasca region averaged a record 54,000 barrels of oil per day in Q1 of 2013 compared to Q1 of 2012, representing an 18% increase in production. The chart below depicts the long-term production outlook from 2013 to 2020 depending on the CAGR growth over the years.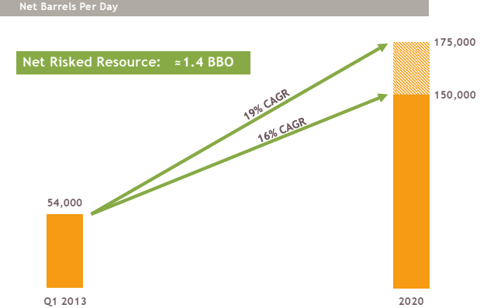 Source: Devon's June 2013 Investor Meeting
Furthermore, in aggregate, the company's pre-tax cash costs of $898 million, or $14.54 per Boe were lower than forecasted in the first quarter, according to its earnings release. Pre-tax cash costs per unit of production were 5% higher than Q1 of 2012 but 4% lower than Q4 of 2012. Devon's cost management efforts and efficient operations offset the impact of high activity levels in oil-focused basins.
Devon generated cash flow before balance sheet changes of $1.2 billion in Q1 of 2013. On March 31, 2013, the company's cash and short-term investments totaled $6.5 billion and its net debt to adjusted capital ratio was at 22%.
Midstream Operations Enhancing The Profitability
Devon has several Midstream operations contributing to its substantial increasing operational effectiveness. Devon estimated enhancement margins by 2$ per Boe and an estimated operating profit of approximately $450 million.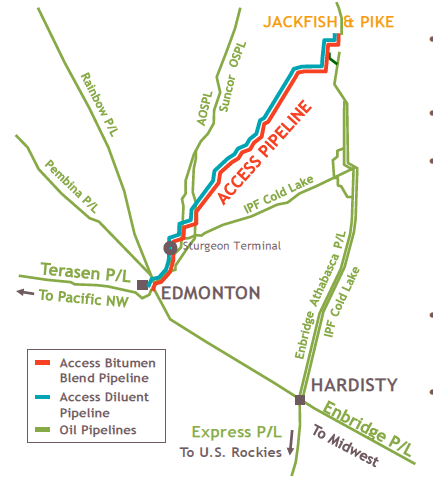 Source: Devon's June 2013 Investor Meeting
Notably, it has the ownership in 16,000 miles of pipeline with 6,500 in the U.S and 9,500 in Canada. Additionally, it owns 62 plants, 56 of which are in Canada.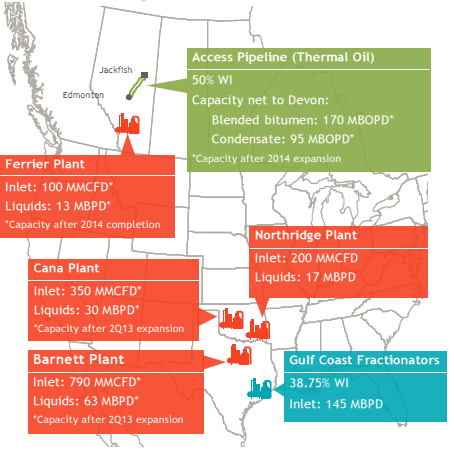 Source: Devon's June 2013 Investor Meeting
Furthermore, Devon announced on June 2013, the creation of a Midstream MLP that will initially own a minority interest in Devon's U.S. Midstream business. Devon will also initially own a majority of the
partnership units following the IPO.
Bottom Line
Devon has proved reserves of three billion barrels of oil equivalent, from which 47% are estimated to be liquids. By 2016, the producer expects oil and natural gas liquids to account for more than half of its total production. In that regard, all 2012 capital was allocated toward oil and liquids-rich projects. I believe that Devon represents a terrific investment opportunity because its shares are currently trading around the $52-$53 while Morningstar is assessing its stock's value at $99/share, a discount of more than 48% currently.
While its repositioning to rightsize an unmanageably large asset portfolio has lead to fast-track the value realization of its deepwater and international assets, this uncertainty has hurt the stock a little since then. However, the North American onshore portfolio will ultimately offer greater risk-adjusted returns. Devon was able to reduce its debt by undertaking down payments, and the company even initiated a $3.5 billion repurchasing program of its stock as a result.
Furthermore, several upsides remain very attractive for the company:
Reduced net debt by 20% since 2003
Reduced net share count by about 20% since 2004
Average annual increase of 24% since 2004
Disciplined focus on per share results
Deep inventory of development opportunities
Strong, highly-visible oil growth
Significant positions in emerging oil plays
Disclosure: I have no positions in any stocks mentioned, and no plans to initiate any positions within the next 72 hours. I wrote this article myself, and it expresses my own opinions. I am not receiving compensation for it (other than from Seeking Alpha). I have no business relationship with any company whose stock is mentioned in this article.