Companies want to build the sexiest, most cutting edge gadgets possible to compete in our "gotta have it now" technical world. To hit the market with the best product at exactly the right time can translate into billions of dollars in revenue. One of the biggest success stories is the development of the Apple (NASDAQ:AAPL) iPod which was first introduced to the public in October of 2001. Even though this invention was overlooked by investors, it was the seed to the iPhone and numerous other iDevices. Yet according to historical Apple share prices provided by Yahoo Finance, the price did not move for months:
Apple Stock Prices
| Date | Open | High | Low | Close | Avg Vol | Adj Close* |
| --- | --- | --- | --- | --- | --- | --- |
| Jun 3, 2002 | 23.39 | 23.45 | 15.98 | 17.72 | 115,000 | 8.67 |
| May 1, 2002 | 24.29 | 25.98 | 22.14 | 23.30 | 10,294,800 | 11.41 |
| Apr 1, 2002 | 23.38 | 26.17 | 23.00 | 24.27 | 10,882,700 | 11.88 |
| Mar 1, 2002 | 21.93 | 25.30 | 21.82 | 23.67 | 9,691,100 | 11.59 |
| Feb 1, 2002 | 24.34 | 25.98 | 20.94 | 21.70 | 15,590,900 | 10.62 |
| Jan 2, 2002 | 22.05 | 24.73 | 20.25 | 24.72 | 15,278,600 | 12.10 |
| Dec 3, 2001 | 21.06 | 24.03 | 20.09 | 21.90 | 8,513,600 | 10.72 |
| Nov 1, 2001 | 17.65 | 21.55 | 17.25 | 21.30 | 9,649,000 | 10.43 |
| Oct 1, 2001 | 15.49 | 19.42 | 14.83 | 17.56 | 12,139,700 | 8.60 |
Jump to 2013 and the shares have hit as high as $700 depending on the success of each new iDevice. But sometimes hindsight can be blind. As I mentioned in another article, Microsoft (NASDAQ:MSFT) has actually been beating Apple over the years. And it has surpassed all three of the major market indices since the 1990s:
The reason? Windows software. The latest most controversial version, Windows 8, has been under fire since it was first released last October. According to CNN Money, Windows 8 has been financially successful, and has launched 100 million licenses since its release. But there are complaints:
Some of the top complaints: The lack of the "Start" button that had been around since 1995, hidden menu items and multiple locations for settings. More than 2,400 different devices now run Windows 8, but many still lack touch capabilities that make the operating system really shine. The Windows 8 device lineup is also scant on smaller tablet options, including the seven-inch and eight-inch varieties popularized by the Apple iPad mini and Amazon Kindle Fire.
But at the recent Microsoft Build 2013 conference covered live by the Verge, all of those issues were addressed as the company introduced Windows 8.1. CEO Steve Ballmer now promises a new "rapid pace" at the company beginning with software changes. These include bringing back the "Start" button, and "boot to desktop" which brought cheers from the audience. There will also be the ability to control a Windows 8.1 device using hand gestures in different directions (i.e. different meanings). For instance the new Apps List, which can be sorted in various different ways, will be accessed by swiping down. And all of those apps will update automatically, saving users a lot of time and headaches. Also watch for new small tablets with Windows touch capabilities in the coming months.
The company also reminded the audience that Project Spark will be coming out for X-Box. It allows players to completely create their own game from scratch. According to Microsoft: "Experience an open-world digital canvas that enables anyone to build, play, and share whatever they can imagine".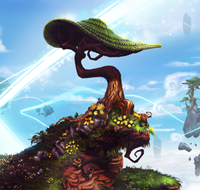 Another big change is the new 3D printer which will be supported on the Windows 8.1 platform. During the presentation, they printed a vase and threw it out into the audience. There will also be a new 8.1 Map App capable of 3D imagery. And Bing will play an important part as it is actually "integrated" into the Windows 8.1 software. Numerous other popular apps have also been added:
Company executives also highlighted new top apps coming to Windows, including Facebook, Flipboard and NFL - clear evidence of the steady app momentum for Windows, which is experiencing the fastest growth across any platform.
The new Windows 8.1 agenda also includes big changes to the Windows Phone 8. Ballmer was "showing off" the new Nokia (NYSE:NOK) Lumia 928 and Lumia 925 at the conference. He remarked:
"They have absolutely the finest camera technology in the market available today. The software, in my minds eye, is beautiful. It looks like the same software we have on Windows tablets, Windows PCs, Windows notebooks, and even on our Xbox system."
Another big announcement at the conference was that Sprint (NYSE:S) will now be offering a Windows Phone 8 via Samsung and HTC for the first time. It will offer unlimited 4G LTE beginning this summer. But the bigger news according to some analysts is that both of these handsets are brand new products that have never been seen before. This will be a major revenue generator for everyone involved including Microsoft.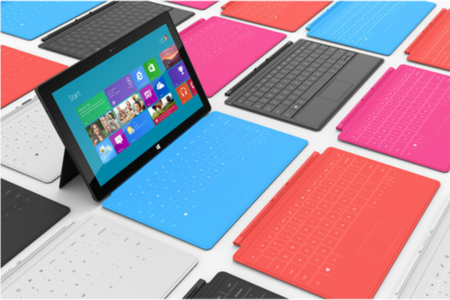 Microsoft was on a "roll" last year as it introduced the revolutionary new Surface tablet with the now infamous "snap-on" keyboard. We have all heard the "click-click" ads promoting it to a fault. The ads failed, partly because they did not show that the real strength of the tablet is its functionality in the work place, with a USB port, and "Office inside". According to PC World, this is much more important than Windows 8. With a new ad campaign, and slicker Windows software, the Surface may generate the revenue it was originally intended to make.
Conclusion
After each of these conferences, we are so exited about the new products coming out. But it is a "wait and see" as to how consumers will react when the gadgets hit the stores. I think that over the summer Microsoft will continue to keep Apple at bay. But as I mentioned at the beginning of the article, it all depends on each company's products. There will be a mini "Phone War" as the new improved Windows 8 phones come out in record numbers (with the addition of Sprint's phones) to battle the rumored iPhone 5S. Right now it is hard to determine what consumers will pick. But Sprint and Microsoft will definitely profit from the additional WP8s. This is newfound revenue for both companies, and I would consider buying both of them because of that. Nokia and Apple continue to be possible speculation buys in my opinion depending how the public reacts to their new products.
Disclosure: I have no positions in any stocks mentioned, and no plans to initiate any positions within the next 72 hours. I wrote this article myself, and it expresses my own opinions. I am not receiving compensation for it (other than from Seeking Alpha). I have no business relationship with any company whose stock is mentioned in this article.