Interest rates have recently risen substantially on the back of increased speculation that the Fed may scale back its Quantitative Easing later this year. (link) Bonds and other income-oriented securities have traded down, reflecting these higher interest rates and perhaps pricing in further increases in interest rates.
MLPs have been a very popular investment vehicle for income-oriented investors. They have provided relatively high, growing dividends, which are tax-advantaged (consult your tax advisor for specifics). As interest rates have fallen over the past three years, the Alerian index has risen to all-time highs.

MLPs that own pipeline and other energy-transportation assets have been particularly popular, sporting lower than average yields and generating exceptional price appreciation in the past few years.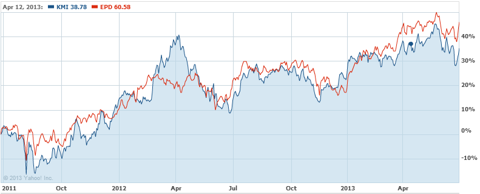 Ironically, these same MLPs are the most exposed to rising interest rates. Two factors drive this disproportionate exposure, one that is well known and one that does not yet appear to be a common investment consideration. This was a topic of discussion at the recent Louisiana Energy Conference, where I was honored to be included in a panel discussion on energy investing. The obvious factor is the lower than average yield - lower yield means a lower spread to interest rates, which means more potential for a widening spread as well as lower valuations as interest rates rise. For example, a 4% yielding security only has 50 bps (1/2 of 1%) spread to the 30 year rate, whereas a 10% yielding security already has a much wider spread. A 100 bps move in rates will disproportionately affect the valuation of the 4% yielding security, assuming that the spreads stay the same.
And there is an argument to be made that spreads for lower yielding securities will widen more than spreads for higher yielding securities in a rising interest rate environment. This is because of the price risk to the rising rates - the 4% yielding security is likely to trade down more than the 10% yielding security on a percentage basis, so there is more nominal price risk associated with it. With more nominal price risk, investors are likely to demand higher yield as compensation, driving increased spreads and lower prices for the previously 4% yielding security.
The less commonly observed problem with lower yielding pipeline MLPs in particular is that their business, not just the market demand for their dividend, is directly affected by interest rates. Typically investments in pipelines are levered - either such debt is fixed rate, in which case refinancing will have to be done at a higher cost, or it is variable rate and the impact of higher interest rates flows through more immediately. Also, underlying values of pipeline contracts are affected by higher interest rates - if an asset investment yields a set ROIC, let's say 10%, the NPV of that investment is obviously affected by the cost of capital assumptions factored in. This affects the sale value of the asset, and doesn't include the further impact of higher interest rates on lowering the actual NPV (due to higher interest costs lowering expected net cash flows from the investment).
The securities likely to be most affected among pipeline MLPs are the general partner units, as they typically trade at the lowest yields and their valuations are the most dependent on future acquisitions and expansion projects, and are most dependent on the yields of underlying limited partner units (and on low interest rates for the debt portion of the investments) for those projects to be accretive. The largest and lowest yielding general partner units include Kinder Morgan (KMI) and Enterprise Partners (EPD).
There are numerous reasons investors hold units in such pipeline MLPs, from a desire to get exposure to expanding US energy markets to seeking yield income. There are attractive alternatives, at least from an energy market exposure perspective. There are companies with fixed-rate exposure that may benefit from a higher interest environment, particularly if higher inflation accompanies such higher interest rates.
One such investment, which I have a position in and have discussed here is Gastar Exploration (GST). Gastar has almost no exposure to changes in interest rates, as over 60% of its current enterprise value is in fixed-rate debt (a $200 million recent bond issuance and a $100 million perpetual preferred security), and no debt is currently held that is variable-rate. So if interest rates rise, at least for the next 5 years, Gastar will be minimally affected. Gastar has substantial capital appreciation potential, as its position in the recently announced (link) Hunton play could drive multi-hundred-percent price appreciation. And with 19 out of 20 wells drilled so far in the Hunton successful, it seems like a good bet that the Hunton will work. Even if the Hunton didn't work, Gastar trades at a discount to its peers in the Marcellus, which could provide downside protection, as the stock is already "cheap" versus peers like Rex Energy (REXX) and Cabot (COG).
Also, while Gastar's assets would be negatively affected from a valuation perspective if interest rates rise, the affect would be muted compared to the affect on pipeline assets. The reason is that Gastar's returns on invested capital are substantially higher than that of typical pipeline projects. While typical pipeline projects generate ~10% ROICs, Gastar's wells in the Marcellus are generating ~40% IRRs and in the Hunton are generating almost 60% IRRs (link to GST Presentation). Thus a 100 bps move in interest rates is less impactful to a company like Gastar with high rates of return on invested capital than on a pipeline company with lower rates of return on invested capital.
Gastar does not pay a dividend, unlike the pipeline MLPs. But considering the substantial price risk to these MLPs in a rising interest rate environment, and considering the meaningful upside potential to Gastar from the Hunton and downside protection from the Marcellus valuation, Gastar could be an attractive alternative to those MLPs. And it could be a particularly attractive alternative for those investors looking for energy exposure and capital appreciation rather than yield.
Disclosure: I am long GST. I wrote this article myself, and it expresses my own opinions. I am not receiving compensation for it (other than from Seeking Alpha). I have no business relationship with any company whose stock is mentioned in this article.
Additional disclosure: I am long GST, and may buy or sell GST or any other position mentioned at any time with no further notice.