Select Comfort Corporation (SCSS) is a vertically integrated mattress company famous for its SLEEP NUMBER beds and bedding products. The company has evolved from a specialty, niche direct marketer founded in 1987 to a nationwide company with 410 stores and FY12 sales of $935M. We believe that SCSS offers a differentiated product in an industry in which its market share has the potential to increase significantly over the long term.
Strengths
There are only 2 ways to play the housing industry via mattresses after Tempur-Pedic, now Tempur Sealy International Inc. (NYSE:TPX) completed its purchase of Sealy in May. The other major manufacturers; Serta & Simmons are privately owned.
According to retailsails.com the Sleep Number store is the 6th most productive retailer (based on sales per sq/ft) behind Apple Stores, Tiffany & Co., lululemon atheltica, Coach and Michael Kors.
Weaknesses
On April 17th the company lowered its guidance for FY13 to $1.30-$1.45 per share from $1.65-$1.80 per share while missing EPS and revenue estimates for the quarter. There is a very good chance that the company will see minimal EPS growth as compared to FY12 as earnings were $1.43 per share last year.
According to the latest annual report Select Comfort's national unaided brand awareness was 21%. This is well below TPX even though media spending has increased to $6.2M in 2012 from $2.1M in 2010.
Opportunities
Furniture/Today, a furniture industry trade publication has SCSS market share of industry revenues at 4.7% and 1.5% of industry units, leaving plenty of room for market share growth. SCSS will grow its store count an estimated 7.5% in 2013 and has stated it will add between 5-8% more stores each year through 2015.
Multiple expansion on an EBIT/EV and EBITDA/EV basis is possible given the large variance between Select Comfort and Tempur Sealy. Should these valuation metrics normalize to reflect the recent past then SCSS could trade much higher than our target price.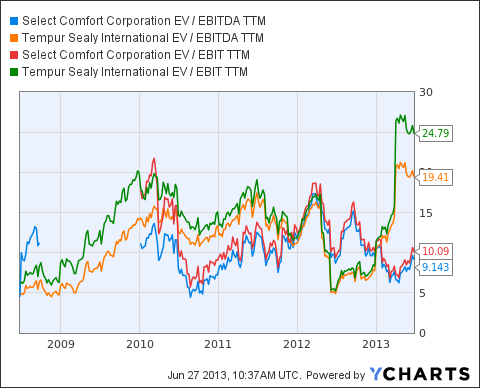 SCSS EV / EBITDA TTM data by YCharts
Threats
On January 28, 2013 TPX unveiled its airbed collection at the Las Vegas Market trade show. This is a direct competitor diving into SCSS core business. While this does have the potential to hurt SCSS margins it may ultimately help increase consumer awareness of airbeds overall and help sales for both companies.
Technical Analysis
Select Comfort's daily chart spent the beginning of last week trading above the 200-day moving average (MA), but broke back down as it corrected with the market during the latter half of the week. Monday's low kissed the trend line that was initiated after 2013Q1 results were released on April 17. SCSS is back trading right at the 200-day MA and will soon meet the probable support of the existing trend line or the rising 50-day MA that sits just slightly lower. Momentum is elevated, but the RSI has cooled from its recent overbought condition and should support any continued measured appreciation in price. The current trajectory of the moving averages sets up for a seemingly inevitable Golden Cross (a scenario which also exists in the weekly chart) and strengthens our moderately bullish outlook.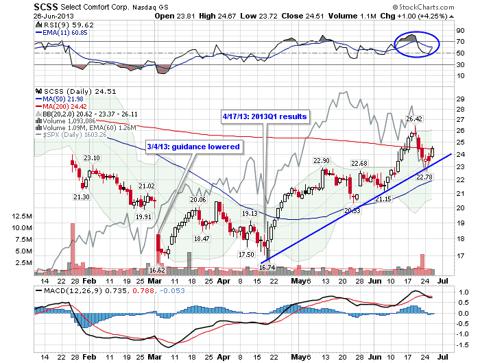 Valuation
Since January 1, 2010 SCSS has traded at a forward multiple between 10x-25x. While earnings guidance has been lowered for 2013 it makes us a bit more comfortable choosing the midpoint of 2013's previous guidance as an estimate for 2014. So at the current forward multiple of 17.5 and earnings in 2014 around $1.72 per share we think $30 per share for SCSS is more than reasonable. For a worst case scenario we chose minimal EPS expansion for 2014 with earnings at $1.45 and lowered the current forward multiple at the same rate we reduced projected earnings. This gives us a worst case scenario of $21.50 per share or about 12% lower than the Wednesday June 26th closing price of $24.51.
Disclosure: I have no positions in any stocks mentioned, but may initiate a long position in SCSS over the next 72 hours. I wrote this article myself, and it expresses my own opinions. I am not receiving compensation for it (other than from Seeking Alpha). I have no business relationship with any company whose stock is mentioned in this article.