When looking at a company such as OPKO Health (NYSEMKT:OPK) and attempting to make an assessment of what the share price should or could be in the future, many factors come into play. For instance, OPK does not function as a typical pharma company, but rather as a holding company similar to the likes of Berkshire Hathaway (NYSE:BRK.B). Just as billionaire Warren Buffet built Berkshire through acquiring other promising companies that were then managed under Berkshire's umbrella, so too is pharma billionaire Dr. Phillip Frost following this model (as he has done multiple times in the past). In assessing a valuation for OPK, I will address the company's pharmaceutical pipeline, diagnostics pipeline, strategic investments, and market factors to give a series of potential likely outcomes for OPK's future share price.
Pharma Pipeline
In looking at OPK's current pipeline, what is apparent is that all of the drugs except for Rolipitant have been acquired this year. This is significant due to the fact that prior to OPK's acquiring 87.5% of its pharma pipeline, the company encountered approximately 30,000,000 shares of its stock sold short due to investors feeling it was overvalued with only one drug candidate. As we can see below, there are now eight drug candidates:
Click to enlarge images.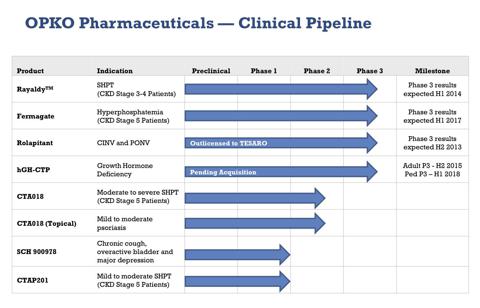 Rather than assessing the market value for OPK's entire eight-drug pipeline, I have chosen to solely assess the market valuations for the company's Phase III drugs due to them being closer to fruition. The following are OPK's current Phase III drug market valuation estimates:
| | |
| --- | --- |
| Drug | Market |
| Rayaldy | $12B (U.S. Market) $12B (Japan Market) |
| Fermagate | $800M-$1.5B (U.S. Market) |
| Rolipitant | $1.25B (U.S. Market) |
| HGH-CTP | $3.5B (Adult Market) |
| Total Estimate | $30B |
Due to OPK's subsidiaries in Spain, Brazil, Israel, Mexico, and Chile and business partners in Russia/Eastern Europe, my market valuations could be looked at as considerably lower than the actual market penetration capacity that OPK has access to.
Rayaldy
Being that Rayaldy is OPK's drug with the largest market potential, I felt that a more in-depth look at its application was warranted. Since OPK retained worldwide rights to market the entire Cytochroma pipeline it acquired in January 2013, I included Dr. Frost's estimate regarding the Vitamin D market in Japan along with the U.S. market value he discussed in an interview that can be found here. The slides below are a breakdown of the Rayaldy market size and drug advantages.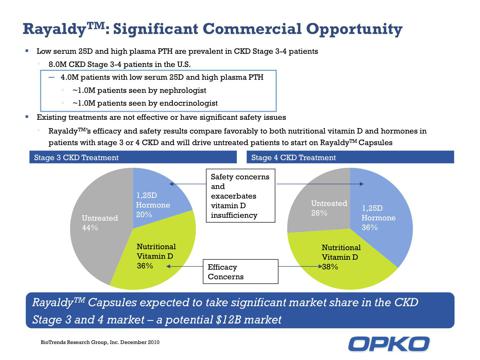 What is revealed by the data is that Rayaldy will have access to more than 35% of this entire market space equaling an estimated $4.2B immediate potential in the U.S. alone.
(100% Market - 65% penetrated = 35% untreated; 35% of 12B (U.S. Market) = $4.2B)
($4.2B U.S. Market + 4.2B Japan Market = $8.4B)
Global Vitamin D market not taken into account. Market share OPK will take from competitors was not estimated or included.
Diagnostics Pipeline
At the forefront of OPK's business ventures even more so than its large pharmaceutical pipeline is its diagnostics pipeline, which can be seen below: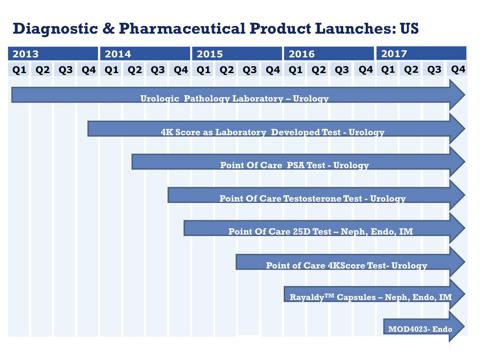 The first diagnostic test we will see launched in the U.S. this year is OPK's new prostate Cancer screening test called the 4K Score. The 4K Score, if accepted, could very well replace the current standard for prostate screening tests, which is the PSA test. Due to the current PSA tests' extremely poor accuracy and high rate of false positives, it is already being ridiculed as a disastrous way of screening for prostate cancer, which has resulted in patients undergoing a high amount of unnecessary and extremely invasive biopsy procedures. It is estimated that out of all the prostate biopsies done in the U.S. annually, 75% of these procedures are a result of false positives from the current PSA test, making them completely unnecessary. The 4K Score is shown to be far more accurate than the current standard and will be entering a worldwide market of 70,000,000 tests per year, 30,000,000 of which are in the U.S. With an accuracy level of 99.4%, I cannot see why urologists would not adopt this test immediately.
Per my research on the 4K Score, it appears as if the cost per test could likely be in the range of around $236-$275. I arrived at this estimate due to the test's current cost in the U.K., which starts at £180. With 30,000,000 PSA tests currently being administered in the U.S., my assessment for potential 4K Score annual revenue estimates are as follows at the test price of $256:
| | |
| --- | --- |
| % of U.S. Market Share: | Revenue: |
| 50% | $3,840,000,000 |
| 40% | $3,072,000,000 |
| 30% | $2,304,000,000 |
| 20% | $1,536,000,000 |
| 10% | $768,000,000 |
| 5% | $384,000,000 |
The 4K Score may achieve much greater than 50% of market share. OPK may charge a significantly higher fee for the 4K Score test (up to $1,600).
PSA Test Upgrade
Although OPK's 4K Score has shown to be drastically more accurate than the current PSA test being offered for prostate cancer, the company is also developing its own PSA test to enter the market and further accumulate market share in the urology space. As stated previously, the current PSA test market in the U.S. is approximately 30,000,000 tests per year. OPK's PSA test will be different than the current model being offered, as it will be rolled out on OPK's new tabletop diagnostic computer -- which it received as part of its acquisition of Claros Diagnostics.
This will allow patients to get their PSA test results in 10 minutes or less from a tiny finger prick of blood that is analyzed by OPK's diagnostics computer. If a person receives a slightly high or high PSA score, then instead of immediately needing a biopsy they can take the 4K Score test to further assess whether prostate cancer is present or not. At an average cost of $30 per PSA test, the U.S. market size is roughly $900M. I would assess that OPK could capture a large portion of the PSA market with its upgraded test. If the company captures 40% of the PSA market, the test will generate $360,000,000. OPK's new diagnostic platform can be viewed below: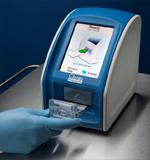 Vitamin D and Testosterone Tests
Two of OPK's near-term diagnostic tests soon to be launched are its new tests for Vitamin D and Testosterone. OPK's Vitamin D test, which is looking to be launched in 2014, will be entering a worldwide market of 100 million tests annually, 70 million of which are conducted in the U.S. The worldwide market size for this test is roughly $5 billion annually.
In terms of OPK's testosterone test, what is known is that the market for testosterone-related products in general is growing at an astounding rate. According to a past study conducted by the International Journal of Clinical Practice in 2006, around 13.8 million men in the U.S. have low testosterone. This number has likely increased significantly by this time. Likewise, the $2B market for testosterone replacement therapy is expected to reach $4-$5B by 2017 as it is increasing at a rate of 30% a year.
Perhaps more interesting than the basic hormone replacement therapies is actual human growth hormone (HGH), which is the focus of Prolor Biotech's (NYSEMKT:PBTH) near-term drug candidates. OPK has discussed that the company is looking to eventually pair their testosterone diagnostics test with their newly acquired HGH drugs received from the company's buyout of PBTH. While I do not have enough information to provide an estimate as to what the potential sales of OPK's Testosterone test will look like, I do see the test as being widely embraced per market demand.
Diagnostics Near-Term Valuations
| | |
| --- | --- |
| Test: | Market Size: |
| 4K Score™ | $7.68B (U.S.) |
| PSA | $900M (U.S.) |
| Vitamin D | $5B |
| Testosterone | $? |
| Total = | $13.5B |
Total Near-Term Markets for Select Countries
Pharma Pipeline = $30B
Diagnostic Pipeline = $13.5B
Total Markets= $43.5B
Strategic Investments
In evaluating OPK's investments in other businesses, we find nine biotech companies with which OPK has engaged in strategic investments. The most profitable thus far seems to be OPK's investment in Tesaro (NASDAQ:TSRO), which the company initially acquired 10% of in 2010. Since its initial stock market entrance price of $13.69, Tesaro soared this June to a staggering $51.95 until balancing out presently in the $30-$40 range. Needless to say, this has already turned into a huge win for both companies, but there could be a lot more excitement to come as TSRO and OPK's partnered drug Rolipitant is due for Phase III trial results in the third quarter of this year. Any positive Phase III results for Rolipitant could give a significant price boost to both companies.
One of OPK's newer strategic investments is the acquiring of 10% of the Russian biotech corporation, Pharmsynthez. This deal was initially solely looked at as OPK's strategy for getting their products quickly to market in Russia and Eastern Europe; however, it appears there could be much more beneath the surface. Pharmasynthez's closest drug to market Virexxa is a new drug for treating endometrial cancer for which there is currently no treatment. Virexxa was awarded orphan drug designation by the U.S. FDA through a unanimous vote in 2011 and may be eligible to enter the U.S. market in 2015.
While nothing is currently public, there is a strong possibility that OPK has already, or will retain the license to market Virexxa in the U.S. as well as Latin America as part of the "licensing arrangements" mentioned by Dr. Frost in OPK's initial Pharmasynthez press release. Last but certainly not least with regard to OPK's strategic investment in Pharmasynthez is the fact that OPK went into its investment alongside the 100% Kremlin owned RUSANO Corporation. This seems to speak volumes regarding the reach and potential market share that could be acquired through this alliance. Of course, I cannot guarantee that OPK has or will retain the license to market any of Pharmasynthez's products in any territory. Pharmasynthez is also developing drugs for multiple sclerosis, cystic fibrosis, and HIV as well as owns and operates a high-tech pharmaceutical manufacturing facility.
Conclusion
If we took the current valuation multiples being assigned to newly successful biotech companies such as Regeneron (NASDAQ:REGN), Gilead (NASDAQ:GILD), Celgene (NASDAQ:CELG), and Biogen (NASDAQ:BIIB), we would come up with an average P/E multiple of 31.92. Not surprisingly this is right in the 30 price-to-sales ratio number where OPK is currently valued. Seeing that the current near-term market size OPK is entering is an estimated $43.5B (solely in the territories estimated) and the company will have around 405M shares outstanding following the completion of its acquisition of Prolor Biotech, I see a high chance of the company breaking the $50 a share mark in a few years time and possibly much higher if all of the discussed products are on the market in the outer 2016-18 years. Since OPK is what investors refer to as a speculative stock, there is always a high degree of risk involved in making an investment. I have based my rationale for investing in OPK on the following:
A large and high-demand product pipeline.
A top-notch management team that has already built and sold two highly successful pharmaceutical companies to Teva (NYSE:TEVA) and Schering Plough.
Massive insider buying on a scale I have never personally seen before.
A gut instinct that this company has all the stars aligned to make it a huge success.
Disclosure: I am long OPK, PBTH. I wrote this article myself, and it expresses my own opinions. I am not receiving compensation for it (other than from Seeking Alpha). I have no business relationship with any company whose stock is mentioned in this article.
Disclaimer: Please do your own due diligence, research and revenue estimates on OPK prior to investing in OPK or any stock, for that matter. I cannot guarantee that I have not made any errors in my calculations or market estimates. I cannot guarantee that OPK's stock price will go higher, lower, sideways, or neutral.