Apollo Group (NASDAQ:APOL) reported third-quarter 2013 earnings on Wednesday, June 25, of $1.05 per share, excluding one-time items. Analysts had been looking for earnings of 86 cents per share; however, revenue missed estimates, coming in at $946.8 million vs. $964.6 million analysts had been calling for. This was driven by enrollment at the company's University of Phoenix subsidiary falling 17% year over year and new student sign ups dropping about 25%.
The company also gave revenue guidance for the full year of $3.65 to $3.7 billion, slightly below the $3.71 billion analysts had been estimating. The company continues to cut costs and re-engineering the business in the face of declining enrollment, and expects these efforts to generate $400 million of annual cost savings by the beginning of fiscal year 2014 over fiscal year 2012 costs. Enrollment declines were consistent across all degree types in the quarter, while costs related to discounts increased year over year.
One of Apollo's strengths is the over $1.2 billion in cash, restricted cash, and marketable securities the company has on its balance sheet. This is compared to limited debt, with long-term debt of less than $70 million. The company is focused on improving retention with a smaller student body going forward. Apollo has faced headwinds from increasing scrutiny of for-profit universities, declining enrollment, and increasing competition from traditional public and private non-profit universities. Additionally, I believe other education options, such as Coursera, will continue to put pressure on for-profit universities. Enrollment was strong as the Great Recession led people to seek additional education to find jobs. However, that trend has ended as the economy is improving, and the people wanting additional skills have gained them. I believe those additional skills have not benefited many people as much as they would have hoped.
Click to enlarge images.

Apollo's valuation appears cheap even compared to some of its peers. It has the lowest PEG ratio and forward P/E, but the company's revenues are also expected to fall the most over the next year. DeVry (NYSE:DV) has been the leader in this space throughout the year, and you can see it trades at a considerable premium to Apollo. I believe Apollo's leadership position in the market could make this a good investment if the industry stabilizes some and it closes the valuation gap with some of its peers. However, it will likely take until the fall of 2014 at the earliest to see a large-scale turnaround in this industry.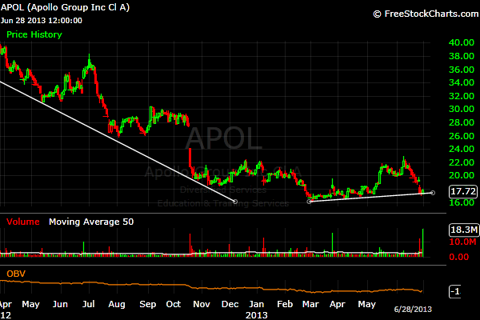 Looking at the chart of Apollo above, you can see the slide the stock has been in. However, over the past few months the stock has been stabilizing. Since March the stock has even been in a slight uptrend. I think it is possible shares are bottoming and could be set for a turnaround. Additionally, with about 20% of the stock sold short it could pop on any sign of Apollo Group's new incentives succeeding in the marketplace. I would consider easing into the stock over the next many months if you believe there is a long-term need for for-profit education.
Data sourced from company filings and Yahoo Finance.
Disclosure: I have no positions in any stocks mentioned, and no plans to initiate any positions within the next 72 hours. I wrote this article myself, and it expresses my own opinions. I am not receiving compensation for it (other than from Seeking Alpha). I have no business relationship with any company whose stock is mentioned in this article.