Upstream MLPs, that is, Master Limited Partnerships engaged in the production of oil and gas, are a potent tool in an income investor's bag. Many shy away from these companies because of their exposure to oil and gas prices, reliance on non-GAAP financials, and most of all their high levels of debt. Critics of the upstream MLP cite a continued need to acquire, and thus pile on ever-increasing debt, in order to offset their depleting stock of assets.
That's fair. All upstream energy companies are inherently depletive businesses. And upstream MLPs are indeed more leveraged than most blue-chip dividend payers as well as major energy corporations.
But here is what the critics are overlooking: These acquisitions are coming from a position of strength, not weakness. Upstream MLPs typically look for mature assets that require little additional exploration and can generate stable, predictable cash flow. Acreage that fits this criteria is flooding the market. And there's a lot more to come, too. It's actually a great time to be an acquirer. Good upstream MLPs are being picky, as they well should be. Upstream MLPs do indeed need to acquire assets to grow, but there is now an abundance, not scarcity, of this land available. And it's all thanks to the shale revolution.
The Great Rotation
To be sure, it's not the MLPs that are buying shale assets. Not at all. What they are doing is picking up the scraps. To fund their shale expansion, oil and gas companies are selling off their more mature, conventional acreage and the upstream MLPs are buying those.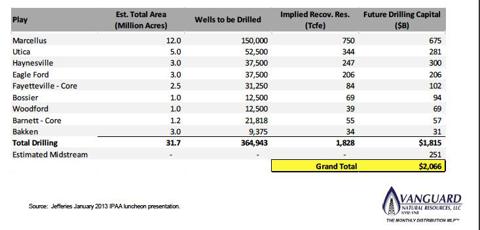 Chart from Vanguard NAPTP Presentation
According to the chart above, a lot more capital will need to be raised, over $2 trillion. The collapse of natural gas prices has hurt the prospects of many of these shale plays, so if this chart is too much to accept, then look at the next one.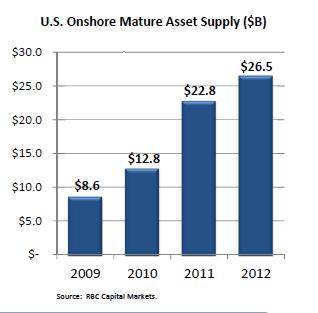 Chart from Credit Suisse MLP and Energy Logistics Conference
We see the supply of mature, onshore US assets for sale rising each year. Consider this: much of the Bakken is still undeveloped. The Eagle Ford has just gotten started. And the Marcellus' abundance of natural gas ensures that it can be drilled for decades even with low dry gas prices. All three of these shale plays will be the recipient of capital in years to come.
And if the Utica, Monterrey or Permian plays yield huge liquids discoveries, it would only increase the pressure on producers to sell off mature acreage and invest in the shale. If the supply of mature assets is connected to this shale revolution, and we have every reason to believe that it is, then we will have an abundant supply of available acreage for at least a decade. At least. Now is a great time to be an upstream MLP.
A Primer Of Acquisitive Upstream MLPs
One rule of thumb I follow is to avoid MLPs that are spin-offs of a parent company. They usually aren't nimble and flexible enough to get the good assets when they become available. This is because many are required to pick up the "dropped down" assets of their parent company.
Instead, look for companies that are selective, yet execute and get deals done. BreitBurn Energy (BBEP) has been both selective and prolific. In the last year, it has picked up multiple assets. It has mostly added bolt-ons in the Permian while building on an impressive asset base in the Niobrara. Its recent acquisition from Whiting Petroleum (NYSE:WLL) adds lots of oily acreage in Oklahoma and New Mexico. Its distribution yield is 10.4% and it has a market cap of $1.8 billion.
Mid-Con Energy Partners (NASDAQ:MCEP) has also honed in on conventional oil. So far this year it has added small but iconic acreage in Cushing and the Hugoton Basin. This small company has a market cap under half a billion and yields nearly 9%. Vanguard Natural Resources (NYSE:VNR) has taken the opposite strategy of Mid-Con's. Instead of going for costlier oil assets, it has scooped up gas acreage on the cheap in the Niobrara, Permian and "Arkoma," where it got a particularly good deal. Vanguard yields 8.8% and is $2.1 billion in size.
Linn Energy (LINE), the largest of all upstream MLPs at $7.8 billion, does acquisitions in a class of its own. Last year, it purchased great assets from BP (NYSE:BP) at fire sale prices over a series of transactions. This year it is buying out Berry Petroleum (BRY), whose oily assets in the Midway-Sunset field of California are among the best in that state. Linn used to trade at a premium to most upstream MLPs, but has since become a battleground stock with the short-sellers. It now yields 8.75%.
Higher Rates Could Slow The Process
Upstream MLPs need access to the capital markets in order to complete transactions smoothly. Rising interest rates could slow or even stop the acquisition process for some companies, especially the ones with less flexible balance sheets. While equity offerings are an alternative, it would be a moot point if higher rates knock down stock prices because management would not be able to get as much for the new stock they offer.
To quantify the interest risk, we can consider the spread between a partnership's Yield to Maturity on bonds and that of Distributable Cash Flow (NYSE:DCF). If the cost of new debt (Yield to Maturity) nears the yield on free cash flow that these companies can attain from acquisitions, it will no longer be profitable to acquire.
Many of the big players trade around 10 times DCF, giving us a yield on cash of around 10%. Breitburn's average Yield-To-Maturity is in the high 7s. Linn's is in the high 6s. So, a sort of Economic Value Added of both companies would be about 3 or 4 percentage points, respectively. Interest rates could therefore rise a couple percentage points before this becomes a problem. This is a topic I will further research and cover in a later article, but for now, capital markets should remain open to upstream MLPs until the 10-Year US Treasury note reaches a yield of 4% or higher.
Conclusion
Over the course of this decade, upstream MLPs will acquire mature oil and gas assets and convert them into stable, predictable, long-term sources of cash. This is what makes their story a compelling one. Unitholders in the best of these partnerships will enjoy very high, stable and rising distributions for a long time. It will be a lucrative ride.
Any of the above companies is a fine place to start your research. Generally avoid the "subsidiary" upstream MLPs, which are beholden to drop downs from their parent company. Most of them lack the flexibility to pounce on the best assets when they become available. Instead, opt for the partnerships that have flexible balance sheets and a history of getting great deals done. Then, choose the one whose story stands out most to you.
Disclosure: I am long LINE, BBEP. I wrote this article myself, and it expresses my own opinions. I am not receiving compensation for it (other than from Seeking Alpha). I have no business relationship with any company whose stock is mentioned in this article.