LDK Solar - Minus $639 Million In Negative Book Value Makes The Stock Value Zero
LDK Solar (NYSE:LDK) is surviving due to the benevolence of the Chinese government. The company has made monumental blunders in the past and has executed dreadfully on its strategy. The company used to be the world's biggest supplier of wafers and built a giant 15,000 ton polysilicon plant. However, the company faced massive time and cost overruns which created a massive $3 billion debt mountain. The plant now lies idle as it is unable to compete with other low cost polysilicon companies. The company's expansion into other parts of the solar supply chain has also failed. The company sold one of the world's largest solar cell factories for a pittance and the company's foreign downstream acquisitions have also shut down (Sunways). The company's market share has crashed along with its revenues. The company has already defaulted on its debt twice and the only chance of its survival rests on a new loan from the government owned Chinese Development Bank. Even if the loan comes through, the company has no way to service the more than $200 million in annual interest payments. The company currently has a large negative book value and why the company supports a ~$220 million market capitalization is a mystery to me. Investors can easily look to short this stock to zero with little risk.
LDK's 15,000 ton polysilicon plant lies idle
LDK's biggest failure was its inability to build a cost efficient polysilicon plant. The construction took too much time and money and never managed to reduce its costs to a competitive level. Despite building a plant with 15,000 tons of capacity making it one of the top polysilicon players, the company has never managed to ramp production to make decent profits. The current polysilicon price ranges between $15-20/kg while LDK's production costs are north of $25/kg. The company can only restart the plant if it upgrades it with a new "hydrochlorination" technology, but it has no money to do so. The management expects to start the plant in 2014, but I think that is too optimistic, given that the company has not even got money for working capital.
During the first quarter of 2013, our polysilicon production remained temporarily suspended due to the installation of hydrochlorination systems to achieve future low production cost…So I think the key issue here would be the funding. We are in a very final stage of getting the funding and it is very likely we prior get a funding, I think it's RMB440 million by the end of this month. If the funding coming in place, it will take may be somewhere about three, four months to complete the installation then we can start maybe engineering run by the end of this year and hopefully take a couple of months to get engineering as a turn down to commercial production, probably early next year.
Source - LDK Solar
LDK has a huge debt which it cannot repay
LDK has an insurmountable debt problem which cannot be resolved given the pathetic state of the company. Even if the solar industry quickly returns to a supply demand balance, LDK cannot generate enough operating profits to service its debt in my opinion. The only way for the company to ever return to the black is for its lenders to take huge haircuts. In that case the shareholders will be left with nothing.
LDK operations are quickly deteriorating
Most Chinese solar companies are increasing shipments despite making large losses. Most of these companies such as Jinko Solar (JKS) and Renesola (SOL) are showing an increasing margin trend and will return to profitability over the next year. However, LDK is quickly losing market share and its operations are deteriorating. Its margins are also suffering as it is operating at 30-40% utilization (compared to 100% for other Tier 1 producers). The company's module shipments crashed to 30 MW in the current quarter and I don't think any decent system installer or developer will buy LDK solar panels anymore.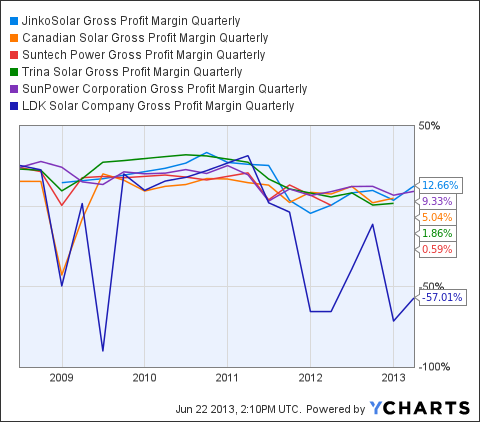 JKS Gross Profit Margin Quarterly data by YCharts
LDK has a negative book value
LDK recently reported results in which the balance sheet shows a negative book value of $639 million. The company reported $105 million in revenues with a negative net margin of more than 180%. The company has made hundreds of millions in losses in the last couple of years. I don't see a scenario how LDK can ever service ~$50 million in quarterly interest payments. The company has defaulted twice, but its major lenders have not taken it to bankruptcy court unlike Suntech (STP). Some of the banks and suppliers have sued LDK in the local court; however I don't expect them to win anything. The company is bankrupt and only running due to benevolence of the local government. LDK has sold off substantial equity stakes to state owned vehicle Heng Rui Xin Energy and Fulai investments.
Stock performance and valuation
LDK has an absurd stock valuation with a P/B of -0.3x as the company had a negative book value. The company's P/S ratio of 0.2x is comparable to that of other Chinese solar stocks like Jinko Solar, Renesola and Hanwha Solar One (HSOL). The current stock price of $1.37 gives LDK a market capitalization of $220 million which is too high in my view. I think that the stock should be trading at near 0. I think that investors are treating this bankrupt company like other Chinese solar stocks, not realizing that the company has little chance of giving any return to the shareholders.
Summary
I think that LDK Solar has almost no chance of ever becoming a normal profit making company given its current state. Its equipments are deteriorating with each quarter even as it fires thousands of workers. Its massive debt led to 50% of its revenues being diverted towards interest payments in the current quarter. There is only a very thin chance of the company's survival if the Chinese banks take a >80% haircut on LDK's debt. I think that the banks and the government will realize that they are pouring money into a black hole and will let this sick company die. I would look to short this company to zero.
Disclosure: I have no positions in any stocks mentioned, and no plans to initiate any positions within the next 72 hours. I wrote this article myself, and it expresses my own opinions. I am not receiving compensation for it (other than from Seeking Alpha). I have no business relationship with any company whose stock is mentioned in this article.
This article was written by
I am Sneha Shah, the Editor-in-chief of Greenworldinvestor. A Chartered Accountant by profession, with interest in Finance,Green Industry, Economics and the Indian Market.