India has been the world's largest consumer of gold (GLD), although they are now likely to be surpassed by China. Persistent inflation, with rates ranging from 3.67% to 13.24% over the past 15 years, has helped cultivate a gold-buying culture.
Imports of gold to India have been so outrageous that the government has taken drastic measures to redirect that investment back into the economy. In May, India's gold imports hit 162 tonnes, double the 2011 average - which was a record level that represents $7.2 billion at $1,400/oz.
In India, lending against gold has recently been restricted. Lending against gold ETFs is now being restricted. Gold importers now need to pay upfront for delivery of gold, which hurts the smaller jewelers who typically use financing. The import duty was also raised to 8% in May from 6%. Even rural regional banks were recently told by India's central bank that they could no longer provide loans against gold jewelry and coins weighing over 50 grams. Rural areas account for 60 percent of gold demand in India. These efforts by the Indian government are expected to reduce the trade deficit and help the struggling Indian rupee.
Reliance Capital has suspended sale of physical gold and all gold related investment products. The CEO said that Reliance Capital will "act in a responsible manner to minimize gold imports."
The All India Gems & Jewellery Trade Federation asked its member companies to stop selling gold coins and bars from July 1 to help reduce the current account deficit. The Federation chairman said "We have appealed to members not to sell coins and bars till our CAD situation resolves." According to the Federation, gold investment demand in 2012 ranged from 258t to 301t of gold. That represents roughly 9 million ounces of coin and bar demand, or $15 billion, at $1,650/oz.
The Federation in June said that they expect imports of gold will fall as much as 20% this year. India's Finance Minister, Chidambaram, said that gold imports have already slowed from $135 million/day to $36 million/day.
So, the efforts of the government seem to be having an effect, although the World Gold Council director in India said "the fundamental reasons for gold demand in India cannot be addressed through supply restrictions."
President of the Madras Jewellers and Diamond Merchants Association said that consumers will "get the promised quantity of gold, but may be in the form of jewelry of their choice." The problem is that jewelry carries much higher premiums for investment than coins and bars. The public had taken an enormous interest in the simplicity of gold coins and bars, investing $15 billion in 2012.
The government is focused on the trade deficit and has plans to redirect some of the gold investment into bonds and bank deposits. Inflation-linked bonds were sold by the Indian government in June for the first time in 15 years.
Some of that redirection will certainly happen. But, if inflation remains persistent, and investor psychology is ingrained, could pent-up demand for unfilled gold orders find its way into the silver (SLV) market? Recent silver import statistics suggest this is already happening:
According to industry estimates, silver imports during the January-March quarter stood at 760t. Imports shot up to 720t in April alone, and in May, they further swelled by 920t.
Another way of looking at India's silver imports in April and May - they nearly equaled combined annual production from Canada and the U.S.
In May 2013, India's gold imports were valued at $7.2 billion vs. silver imports of only $665 million. Silver is just 1/63 the cost of gold. Very little redirection of gold investment into silver is required to have a major impact.
Silver mining is a significant industry in India, and a rising price helps that industry, whereas rising gold imports and prices simply increase the trade deficit. In 2012, India was the 13th largest silver producing country with 12.7 million ounces (360t). So in the month of May, India's production and imports totaled about 950t, or nearly half of the world mine output.
5-year price chart of silver: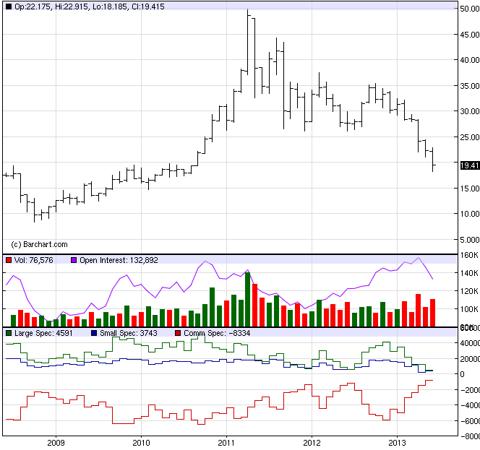 Note the commercial speculator buying patterns in the above chart (red line). Aggressive commercial buying has coincided with favorable entry points for silver in the past 5 years, and note that India's silver imports follow the pattern of COMEX commercial buyers:
India, silver imports 2008: 5,048t (record high)
According to GFMS, silver demand in India in 2008 was high due to low local silver prices with bullion demand growing exponentially. Bullion demand accounted for 53% of overall demand in the Indian silver market (in 2008), surpassing the combined demand from jewelry, silverware and industrial uses.
2009 silver imports: 1,285 t
Severe drought hit farmers' incomes in 2009, and left much less money for investment. Agriculture represents only 15% of India's $2 trillion economy, yet 600 million people depend on farming for a livelihood.
2010 silver imports: 3,029 t
Scrap silver supply exploded to 558t, up 2.8 times from the 2001 level of 200t, weighing on the need for imports.
2011 silver imports: 4,087 t
Imports through April were running 20 to 40% below 2010 levels while the price was elevated, but total imports finished the year 30% higher. So Indians stepped in as prices fell in the second half of 2011.
2012 silver imports: 1,900 t
Investment demand for silver declined in 2012. Possible factors included another drought year for farmers, and less volatile silver prices.
2013 silver imports: > 2,400t through May. Rainfall across the farming region has been above average in June. Imports exploding in April and May to total 1,640t in two months, confirming the pattern of aggressive dip buying. The pace of imports in the latest quarter could easily vault total imports above the record 2008 level of 5,048.02t.
The consistent message is that imports increase as the price drops, just as commercial hedgers accumulate COMEX futures. The dip in 2008 led to record imports of silver, and the decline in 2011 was met with rising imports, but the latest data points indicate possible record buying. It would be difficult to overstate how large of an impact 920t of silver imports can have on a world market where total mine production will likely average 2,070t per month in 2013.
Even before the latest price drop, there were signs of strain in the U.S. silver bullion market. The U.S. Mint already had to put American Eagle Silver Bullion coins on an allocation basis to dealers in April.
Conclusion
Demand in India for gold has been massive, and the government has stepped up efforts to redirect this investment to help the trade deficit and struggling rupee.
India's precious metal buying culture has displayed a tendency to accumulate silver on dips. The key future development is whether some of the frustrated gold investment demand will find its way to the silver market where coin and bar sales are not restricted, possibly to avoid hurting the substantial silver mining industry in India. India was the 13th largest silver producing country with 12.7 million ounces (360t), but only produced 2.2t of gold.
The developments in India are already impacting gold and silver imports. If gold imports are down as much as the finance minister is claiming, then there is $99 million a day of rupee investment demand that needs to find a home elsewhere.
If even a very small percentage of that finds its way into silver coin and bar investment demand that won't be met with available gold, then the silver market could easily be overwhelmed. Early reports already point in that direction. In May alone, silver imports were nearly half of 2012's level of 1,900t.
In a world where annual mine production was only 787 million ounces in 2012, and rising slowly, 20 to 30 million ounces a month of imports is a truly massive number.
Indian dealers are aggressively accumulating silver much like the pattern shown by COMEX commercial hedgers, likely due to the gold purchasing restrictions. It remains to be seen if the dealers are anticipating public demand correctly.
However, if the imports and inventory build continue, the silver market will tighten remarkably, and the price could rise very quickly. I am anticipating silver [SLV] to rise to $32/oz within 9 months based on the very extreme oversold conditions and sentiment combined with these recent developments in India.
I do not recommend a sale or short position in gold [GLD] based on these developments, as the reduction in gold volumes in India may be met by surging Chinese demand or Central Bank purchases.
Disclosure: I am long PSLV. I wrote this article myself, and it expresses my own opinions. I am not receiving compensation for it (other than from Seeking Alpha). I have no business relationship with any company whose stock is mentioned in this article.
Additional disclosure: Also long SLV calls.