Introduction
Coca-Cola (NYSE:KO) has significantly more volume than competitors and they have a world class distribution system to move it. They also have higher net profit margins than competitors despite their CCE acquisition which compressed margins in North America. Not having to rely on licensing agreements with other companies for distribution in the US, Coca-Cola is more independent than competitors.
PepsiCo (PEP) is a big competitor in the Americas but 51% of their net sales come from food. Dr Pepper Snapple Group (DPS) relies on licensing agreements with bigger companies like Coca-Cola and PepsiCo for distribution. Also, almost all the Dr Pepper operating profits are from the US and Canada. Nestlé (OTCPK:NSRGY) has a considerable amount of liquid refreshment beverage [LRB] volume in the US but they are not a big player in the carbonated soft drink [CSD] market. Also, most of Nestlé's sales come from products outside the LRB market. Cott (COT) is small in terms of market share and they are more of a manufacturing company. National Beverage Corp. (FIZZ) is also small in terms of market share. Monster Beverage Corporation (MNST) is small in terms of CSD market share and they rely on third party companies like Coca-Cola for distribution. Monster is more of an energy drink specialist.
Sources
US Market
Per my last Coca-Cola article that cites Beverage Digest, Coca-Cola is #1 in U.S. CSD volume with 42% followed by Pepsi with 28.1% and Dr. Pepper with 16.8%. Cott, National Beverage, Monster and others combine to form just 13.1%.
Beverage Digest shows that Nestlé is in the picture for liquid refreshment beverages.
2012 US Liquid Refreshment Volume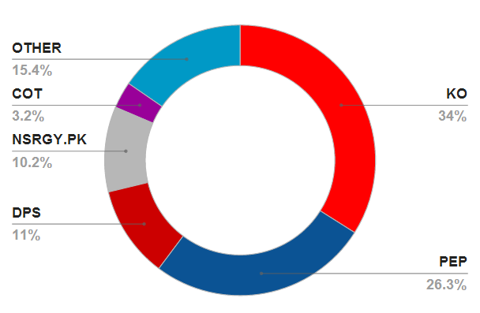 Note that Coca-Cola distributes some of the DPS, NSRGY.PK and other volume above. This graphic is important because it shows that companies like Monster, Cott and National Beverage are very small compared to Coca-Cola in the US. They are even smaller on a comparative basis outside the US.
*This LRB graphic includes CSDs and water but excludes Cliffstar which was acquired by Cott in 2010.
AB-InBev Comparison
Coca-Cola defines a unit case as 192 US ounces and they sold 27.7b unit cases in 2012. Beer companies show their volume in HL. The Beverage Digest Liquid Measurement Converter shows that 1 unit case [192 US fluid ounces] equals .05680 HL. This means Coca-Cola sold 1,573 HL in 2012. AB InBev, the biggest beer company in the world, sold 354.9 HL in 2012. Selling more than 4 times more volume than the biggest beer company in the world is noteworthy.
Distribution System
Coca-Cola discusses their vast beverage distribution system in the annual report:
We make our branded beverage products available to consumers throughout the world through our network of Company-owned or controlled bottling and distribution operations as well as independent bottling partners, distributors, wholesalers and retailers - the world's largest beverage distribution system. Of the approximately 57 billion beverage servings of all types consumed worldwide every day, beverages bearing trademarks owned by or licensed to us account for more than 1.8 billion servings.
The annual report talks about the fact that competitors like Dr Pepper, Monster and Nestlé rely on Coca-Cola for distribution:
In addition, pursuant to master distribution and coordination agreements with Monster Beverage Corporation ("Monster"), we distribute certain Monster brands, primarily Monster Energy beverages, in designated territories in the United States and Canada, and certain of our bottlers distribute such Monster brands in designated U.S. and international territories. Pursuant to license agreements with DPS, we distribute certain DPS brands in designated territories in the United States and Canada. Prior to and during 2012, we also distributed Nestea products in the United States under a sublicense from a subsidiary of Nestlé S.A. ("Nestlé"), and in various other markets worldwide through Beverage Partners Worldwide ("BPW"), the Company's joint venture with Nestlé. The Nestea trademark is owned by Société des Produits Nestlé S.A. The Company and Nestlé terminated the sublicense agreement for Nestea in the United States and phased out the BPW joint venture in all territories other than markets in Europe, Canada, Australia, Hong Kong, Macau and Taiwan by the end of 2012.
Volume By Region
Coca-Cola is a truly a global company.
2012 Coca-Cola Worldwide Volume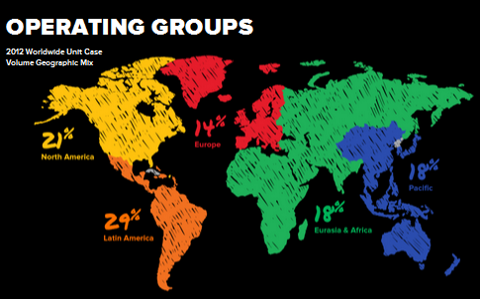 Source: Coca-Cola Annual Review
2011 World Population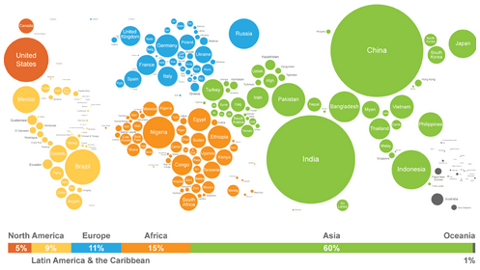 Source: Carrie On Adventures
Don't expect Coca-Cola volume to match the world population map perfectly. Some areas are more profitable than others and the company will continue to pursue market share harder in some areas than others.
Top 30 Countries By GDP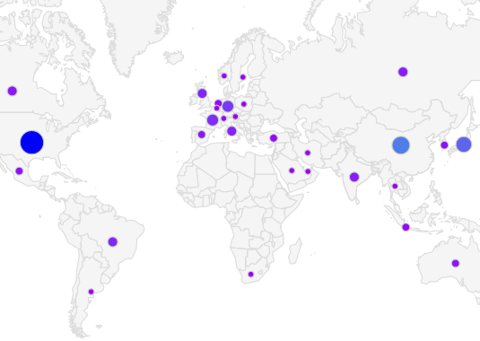 World GDP by country gives us an idea as to where the biggest markets are located. The above visual shows the top 30 countries in the UN 2011 list on wikipedia.org.
Gross Margin
KO: 60.3% = 28,964/48,017
DPS: 58.3% = 3,495/5,995
PEP: 52.2% = 34,201/65,492
MNST: 51.7% = 1,065.656/2,060.702
FIZZ: 33.9% = 213.257/628.886
COT: 12.9% = 289.5/2,251
*We excluded Nestlé because of all their sales outside of beverages.
Coca-Cola's annual report talks about the CCE acquisition lowering gross margins in 2011:
Our gross profit margin decreased to 60.9 percent in 2011 from 63.9 percent in 2010. The decrease was primarily due to the full year impact of consolidating CCE's former North America business as well as a significant increase in commodity costs.

The Company's acquisition of CCE's former North America business during the fourth quarter of 2010 resulted in a significant adjustment to our overall cost structure, especially in North America. Finished product operations typically have lower gross profit margins and greater exposure to fluctuations in the cost of raw materials when compared to concentrate operations. The following inputs represent a substantial portion of the Company's total cost of goods sold: (1) sweeteners, (2) metals, (3) juices and (4) PET. The majority of these costs are included in our North America and Bottling Investments operating segments. The cost to purchase these inputs increased significantly in 2011 when compared to 2010, and as a result the Company incurred incremental costs of $800 million related to these inputs during 2011.
Relatively speaking, Coca-Cola has a lower cost of goods sold. There is a huge gross margin percentage drop off after MNST. The relative cost of goods sold is very high for FIZZ and it is in a totally different ballpark with COT.
Operating Margin
MNST: 26.7% = 550.623/2,060.702
KO: 22.4% = 10,779/48,017 (SGA of -17,738 and other of -447)
DPS: 18.2% = 1,092/5,995 (SGA of -2,268, depreciation/amortization of -124 and other of -11)
PEP: 13.9% = 9,112/65,492 (SGA of -24,970 and amortization of -119)
FIZZ: 10.7% = 67.088/628.886 (SGA of -146.169)
COT: 4.9% = 109.7/2,251 (SGA of -178 and disposal of -1.8)
*We excluded Nestlé because of all their sales outside of beverages.
Coca-Cola's annual report talks about the fact that the CCE acquisition decreased operating margins in North America:
The acquisition of CCE's former North America business increased the Company's selling, general and administrative expenses, primarily due to delivery-related expenses. Selling, general and administrative expenses are typically higher, as a percentage of net operating revenues, for finished product operations compared to concentrate operations. Selling, general and administrative expenses were also negatively impacted by the amortization of definite-lived intangible assets acquired in the acquisition.
We see that the operating costs of MNST are relatively low such that they have a higher operating margin than KO. The SGA for PEP is high relative to competitors.
Net Margin
KO: 18.8% = 9,019/48,017 (interest income of 471, interest expense of -397, equity income of 819, other income of 137, tax of -2,723 and noncontrolling of -67)
MNST: 16.5% = 340.020/2,060.702 (other of -1.469 and tax of -209.134)
DPS: 10.5% = 629/5,995 (interest expense of -125, interest income of 2, other of 9 and tax of -349)
PEP: 9.4% = 6,178/65,492 (interest of -899, other of 91, tax of -2,090 and noncontrolling of -36)
FIZZ: 7.0% = 43.993/628.886 (interest of -.107, other of -.085 and tax of -22.903)
COT: 2.1% = 47.8/2,251 (earn-out adjustment of -.6, other of 2, interest of -54.2, tax of -4.6 and noncontrolling of -4.5)
*We excluded Nestlé because of all their sales outside of beverages.
Both PEP and COT have high interest payments relative to competitors. This hurts their net margins.
Coca-Cola has the highest net profit margin. Monster is the only other company that is close.
Margin Comparison
The top of each column is gross profit margin. The second line from the top is operating margin and the third line from the top is net profit margin.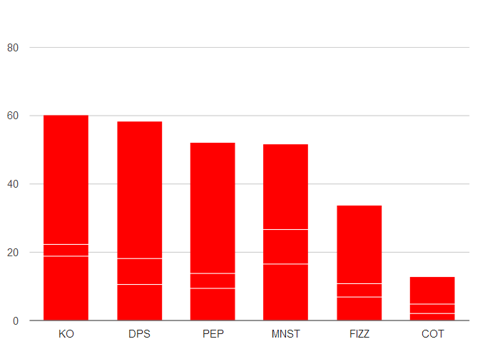 *We excluded Nestlé because of all their sales outside of beverages.
Monster has higher operating margins than Coca-Cola but it is an apples and oranges comparison for many reasons:
1. Monster relies on Coca-Cola for distribution.
2. Monster specializes in energy drinks.
3. Coca-Cola and Monster are in different leagues when it comes to CSD volume (Monster has just 1.4% of U.S. CSD volume).
PepsiCo
Only 20% of PepsiCo's operating profits come from outside the Americas. Food and beverages combine to form this 20%.
Dr Pepper Snapple Group
Almost all their operating profits come from the US and Canada. The company depends on Coca-Cola and PepsiCo for 2/3rds of their Dr Pepper distributions.
Dr Pepper Snapple Group seems to choose a fair peer group in their annual report. They choose a peer group made up of Coca-Cola Company ("Coca-Cola"), PepsiCo, Inc. ("PepsiCo"), Monster Beverage Corporation, The Cott Corporation and National Beverage Corporation.
Nestlé
Here is a breakdown of operating profits excluding 1,912 of unallocated items:
*In millions of CHF
Powdered and Liquid Beverages: 4,502 or 28.3%
Water: 636 or 4%
Milk products and Ice cream: 2,799 or 17.6%
Nutrition and HealthCare: 1,958 or 12.3%
Prepared dishes and cooking aids: 2,041 or 12.8%
Confectionery: 1,782 or 11.2%
PetCare: 2,206 or 13.9%
---------------------------------------------------------------------
Total excluding -1,912 in Unallocated items: 15,924
Cott
Cott has a different business model - they do manufacturing for other companies. Here is what their annual report says about this:
We sell the majority of our beverages under retailer brands to customers who own the trademarks associated with those products.
We can see that Cott sees itself as more of a manufacturing and bottling company by looking at the peer group they have chosen in their annual report. Rather than comparing themselves to KO and DPS, they use a peer group made up of the following:
Coca-Cola Enterprises Inc.
Coca-Cola Bottling Co. Consolidated
National Beverage Corp.
Pepsi Bottling Group Inc.
PepsiAmericas Inc.
About 3/4ths of Cott's operating income comes from North America and about 1/4th comes from the UK.
Cliffstar was acquired for a little over 500m in 2010.
For the most part they manufacture value brands as opposed to heavily promoted brands like Coca-Cola. Ingredient and packaging costs are a big factor for Cott. They rely on commodities like aluminum, pet, corn, sugar and fruit. They are not able to raise prices very much in relation to costs because they don't end up with heavily promoted brands. As such, their gross profit margins are in a different universe.
National Beverage
The company is primarily in North America. Their Shasta brand is not as heavily promoted as Coca-Cola, PepsiCo and Dr Pepper Snapple Group brands. Their peer group is made up of Coca-Cola Bottling Company Consolidated and Cott.
Monster
Monster Energy brand drinks represented over 92% of 2012 sales so it is safe to say that the company focuses on energy drinks.
The company does not directly manufacture products. The manufacturing process is outsourced to third party bottlers and contract packers. They rely on the TCCC North American Bottlers, AB Distributors, New CCE and Coca-Cola Hellenic for distribution. Only 22% of sales are outside the US.
Here are the Net Sales by Product Line:
Energy drinks: 1,906.236
Non-carbonated (primarily juice based beverages): 110.217
Carbonated (primarily soda beverages): 31.044
Other: 13.205
------------------------------------------------------------
Total: 2,060.702
Closing Thoughts
Many times analysts focus on US data when comparing these companies. Looking beyond the Americas, it is obvious that Coca-Cola is in a class by itself when it comes to sparkling beverages.
Disclosure: I am long KO, PEP. I wrote this article myself, and it expresses my own opinions. I am not receiving compensation for it (other than from Seeking Alpha). I have no business relationship with any company whose stock is mentioned in this article.
Additional disclosure: Any material in this article should not be relied on as a formal investment recommendation.