When it comes to investing in biotech and genetic research companies, many investors quickly turn to the speculative companies. They think that this is where they can make meaningful return on their investment. A closer look at the sector reveals that the more established names are where one should invest. In this article, let's take a closer look at one of the best names in the business.
Illumina Inc. (NASDAQ:ILMN) specializes in a niche area of genetic research and analysis support - the development of analytical systems, instruments, assays and tools for genetic research, gene sequencing and gene and protein analysis. The company develops, manufactures and markets a portfolio of instruments, assays, consumables and analysis tools. Its customers include prominent genomic and clinical research centers, academic institutions, government laboratories and genomic companies. Illumina was founded in 1998 and went public in July 2000.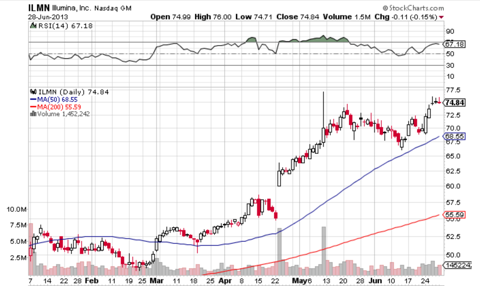 Dividends - None
The company has not distributed dividends to date.
$142.5 million Share Buyback Program
In Q1 2013, Illumina spent $25 million to buyback outstanding shares. The Board also authorized an additional $142.5 million for stock repurchases through 2013. Shares closed at $73.66 on June 25, 2013, (with a 52-week range of $38.33 to $77.11) with a market capitalization of $8.5 billion.
Company
Illumina was founded in California in 1998 by Larry Bock, Mark Chee, Anthony Czarnik, John Stuelpnagel and David Walt. The company bought its first exclusive license - for BeadArray technology - from Tufts University in 2002 and developed it into one of the company's main products. Thereafter, the company launched multiple assays, arrays and technologies and grew organically and through acquisitions.
Illumina acquired BlueGnome Ltd in September 2012 for $95.5 million and Verinata Health Inc. in February 2013 for $401.1 million. With these acquisitions, the company added to its reproductive and non-invasive prenatal health diagnostics, genetic abnormalities diagnostics and solutions portfolios for developmental delays, cancer research and infertility evaluation.
The company derives its revenues from customers in life sciences research, molecular diagnostics and consumer genomics research - to whom the company sells DNA Sequencing Technology, Bead-Array technology, Eco Real-Time PCR technology and related platforms and services for in-depth research in gene and protein analysis. In fiscal 2012, the company derived 30% of its revenues from customers that focused on commercially-viable clinical, consumer and agriculture research and were not dependent on government funding. Less than a third of its revenues were from customers directly or indirectly funded by the U.S. National Institutes of Health (NIH).
May 2013 Patent Infringement Ruling
In May 2013, jurors ruled against Illumina in a three-year long lawsuit filed by Syntrix Biosystems for infringement of patents on DNA synthetic matrix and array technology. This technology is integrated into Illumina's DNA and RNA Array Matrix and BeadChip products. Illumina was asked to pay $96 million to Syntrix but the company plans to appeal the verdict. Including legal expenses, the company faces a price-tag of $106 million over this lawsuit. Shares have not been impacted by the ruling and, in fact, rallied to their 52-week high after the ruling but have settled a little lower since.
Recent News
On May 16, 2013, Illumina launched BaseSpace, a cloud computing and storage platform through which customers can access and purchase Illumina and third party bioinformatics applications, thereby increasing Illumina's customer reach across the globe. On May 20, 2013, Elsevier, one of the largest database providers, launched its scientific, medical and technical products on BaseSpace, in collaboration with Illumina. While BaseSpace may not immediately contribute to Illumina revenues, it is expected to increase business leads and ultimately contribute to profits.
Management
Jay Flatley has served as President and Chief Executive Officer since 1999. Under his leadership, sales have grown from $1.3 million in 2000 to over $1 billion in 2012. He holds a bachelor's in Economics and a Master's in Industrial Engineering from Stanford University.
Marc Stapley joined Illumina in 2012 as Senior Vice President and Chief Financial Officer, Mr. Stapley is responsible for finance, accounting, facilities and investor relations, and oversees the company's strategy, planning and operations.
Charles Dadswell joined Illumina in April 2013 as Senior Vice President and General Counsel. Mr. Dadswell is an expert on international legal and intellectual property matters.
Competition
The table below (from Yahoo! Finance) shows Illumina's direct competitors - Life Technologies Corp. (NASDAQ:LIFE), Luminex Corp. (NASDAQ:LMNX) and Affymetrix Inc. (NASDAQ:AFFX) has the largest market capitalization followed by Illumina. However, Illumina and Affymetrix had significantly higher quarterly revenue growth rates of 21% and 20%, respectively. Illumina had the highest operating margin. Illumina's key valuation metrics are well above its direct competitors and the industry average, with a P/E of over 80 (vs. 18 for the industry), PEG of 2.4 (vs. 1.5) and Price/Sales (P/S) of 7 (vs. 3.6 for the industry).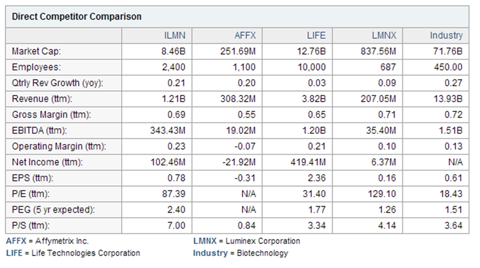 It should be noted that the sector that Illumina operates in is very dynamic. The most dramatic event occurred on April 15, 2013 when Thermo Fisher Scientific, Inc. (NYSE:TMO) signed a definitive agreement to acquire Life Technologies Corporation for approximately $13.6 billion. The end result is that TMO will now have access to Life's leading technologies that are protected by approximately 5,000 patents and licenses.
Financials - First Quarter Ended March 31, 2013
Income Statement
In Q1 2013, Illumina's revenue was up 21% to $331 million on a 16% jump in product revenue. Consumables revenue of $204.9 million was up 19% on increased sales of sequencing consumables. Instrument revenue of $88.1 million was up 11% over Q1 2012 on higher HiSeq shipments. The company's gross margin increased 21% to $219.3 million, with gross margin at 66% of total revenue, flat from a year ago. Revenue gains were offset by high amortization of intangible assets and a legal contingency loss account tied to the Syntrix Biosystems lawsuit and $105.9 million in accrued damages. As a result, the company posted an operating loss of $45.1 million and a net loss of $22.6 million or $(0.18) per share versus a profit of $26.3 million or $0.20 per share in Q1 2012. The company reported an even higher total comprehensive loss of $23 million, down sharply from a year-ago comprehensive profit of $26.3 million.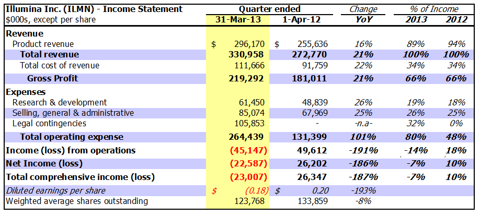 However, adjusting for legal contingencies, acquisition related and non-cash expenses, the company reported a 32% increase in non-GAAP net income of $62.6 million ($0.46 per share), up from $47.6 million ($0.36 per share) in the year-ago quarter.
Balance Sheet
The company ended Q1 2013 with $443.1 million in cash and $624.4 million in short-term investments. The company owns $186.8 million in net plant, property and equipment. Intangible assets include $604.5 million in goodwill and $307.2 million in net intangible assets. Total assets stood at $2.7 billion. The company holds $813.7 million in long-term debt and $1.4 billion in total liabilities. Total stockholders' equity declined marginally to $1.3 billion on negative earnings. The company has substantial working capital and liquidity to expand operations, make strategic acquisitions and invest in foreign subsidiaries in the near future. Long-term debt was 76% of cash and investments, 30% of total assets and 62% of total equity.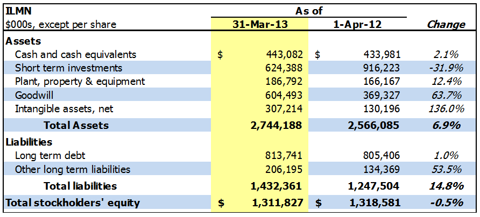 Cash Flow
In Q1 2013, the company generated $87.8 million in net cash from operating activities, up 34%. The company invested $65 million in acquisitions and purchase of available for sale securities, raised $10.7 million from issuance of common stock and spent $25 million on share buybacks. Net cash on financing activities amounted to $13 million and cash jumped 70% over the past year.
Illumina is one of the leaders in its space and continues to deliver impressive revenue and profit growth with innovative solutions and platforms and higher profit margins than its competitors. At the February 2013 Advances in Genome Biology and Technology Conference, Illumina showcased notable R&D advances in products and solutions relative to its peers. The company has a broad customer base and is successfully meeting the market's growing need for customized and specialized analytical tools and systems to analyze and explore the complex structures behind genetics, bioinformatics, etc. - a field that truly represents the future for a host of human treatments. Therefore, Illumina plays in a sector that has solid long-term fundamentals. While there are tremendous growth opportunities in this sector, scarcity of skilled human capital is holding back growth rates. However, Illumina derives a substantial portion of its revenue indirectly from government spending (NIH) and tight budgets could eat into profits. The company's BaseSpace eCommerce platform should increase global revenues and promote customer loyalty and brand. Therefore, Illumina may expand its diagnostic testing business to decrease dependence on government funding.
In its most recent quarter, the company reported robust double-digit revenue and non-GAAP earnings growth which were offset by $106 million in legal contingency expenses. $106 million will not overly impact Illumina's long-term prospects because the company holds over $1 billion in cash and investments. The company has strong liquidity and cash for R&D, foreign expansion and acquisitions. The company recently signed an agreement with Kindstar Global to expand its Asia operations which should contribute to revenue down the road. Illumina does not pay dividends. Shares should continue to move higher due to earnings and revenue growth. Illumina could again become an acquisition target because of its valuation in the consolidating industry.
Disclosure: I am long ILMN. I wrote this article myself, and it expresses my own opinions. I am not receiving compensation for it (other than from Seeking Alpha). I have no business relationship with any company whose stock is mentioned in this article.