Apollo Group, Inc.'s (NASDAQ:APOL) fiscal Q3 2013 earnings call on June 25th [see transcript] was laden with executive statements and analyst questions seemingly pointed in one direction: an on-going company reinvention.
It brings to mind the incredible turnaround story at International Business Machines (NYSE:IBM) engineered by then CEO Lou Gerstner in the 1990s. Gerstner led IBM from a money losing, cash poor hardware behemoth to a world-class leader in IT consulting and services. Big Blue, as IBM is affectionately branded, experienced a dramatic reversal including billions of dollars in cost cutting. During Gerstner's rein, the company stock delivered an eight-bagger to investors just before the dotcom bubble burst in 2000 unleashing carnage on technology stocks. But IBM's historical reinvention, the stuff of legendary business school case studies, continued in recent years under now retired CEO Sam Palmisano.
This unlikely comparison is possible because like IBM (information technology services), Apollo Group (education services) is the largest company in its space. To be sure, Apollo's cash flow and profitability are certainly not in dire straits as was IBM's when Gerstner arrived, but its very existence as a for-profit, mostly on-line educator is being universally questioned. This unspoken black cloud seemed to hang over the fiscal Q3 '13 release and call, as the numbers continued to disappoint investors, driving shares down 10%. Analysts were posing questions well past the normal allotment of time. Conversely, Apollo Group's senior management was not apologizing for reengineering their company into a 'smaller, more nimble, but healthier organization.'
Here's a review of earnings release, conference call, and what may be next for Apollo Group.
What the Numbers are Saying
According to Apollo Group's Q3 2013 earnings release, the company reported fiscal Q3 2013 net revenues of $947 million, compared to $1.1 billion in the fiscal Q3 2012. Income from continuing operations was $80 million or $0.71 per share, compared to $131.4 million or $1.11 per share in FQ3 2012. Results for FQ3 2013 included charges of $63.1 million attributable to the company's restructuring activities. Excluding special items, income from continuing operations for FQ3 2013 was $1.05 per share, compared to $1.18 per share for FQ3 2012. According to the company, the decrease in income was attributable to lower net revenue from declines in enrollment, partially offset by reduced operating expenses.
Income from continuing operations for the nine months ending May 31, 2013, was $2.01 per share, compared to $2.72 per share for the nine months ending May 31, 2012. Results for the first nine months of 2013 included $131.3 million attributable to restructuring activities and $23.2 million of credits associated with favorable resolution of unspecified legal matters. Excluding special items, income from continuing operations for nine months ending May 31, 2013, was $ $2.61 per share, compared to $3.01 per share for nine months ending May 31, 2012.
Net revenue for the first nine months of FY 2013 decreased 12.9% compared to the first nine months of FY 2012, principally due to lower enrollment. In the first nine months of FY 2013, University of Phoenix's average degreed enrollment decreased 15.1% as compared to the same period a year ago. University of Phoenix's degreed enrollment decreased 17.0% from the prior year fiscal Q3, and new degreed enrollment was down 24.5% from FQ3 2012.
The company slightly lowered guidance, and now expects fiscal year 2013 net revenues to be $3.65-3.70 billion.
The following chart illustrates what I consider leading indicators (among literally hundreds) when looking at a company's performance in a simplified screen. It focuses on an investing bent of fundamentals, valuation, and margin of safety (F+V+MoS).
Fundamentals + Valuation + Margin of Safety for Apollo Group, Inc.
Source: * Charles Schwab & Co/Thomson Reuters (as of June 28, 2013) **Targets are generalized to market, not APOL
Disclaimer: the specific indicators used in the above chart are based on my "for own account" portfolio and personal investment philosophy that has returned a cumulative 107.95% since inception on 7/1/2004 vs. 42.28% for the S&P 500 during same period (as of June 28, 2013.) My personal equity portfolio consists of a basket of large cap global companies supporting an investment objective of buying and holding dividend paying, well managed, financially sound companies that produce easy to understand products/services, have enduring competitive advantages, enjoy strong free cash flow, and are trading at a discount to their intrinsic value. The F+V+MoS chart and personal investment objective are for illustrative purposes only and not meant as investment advice nor as a recommendation to buy/hold/sell or short APOL or any other security. Readers should always engage in further research and/or consider consulting a certified financial planner, licensed broker/dealer, or registered investment advisor before making any investment decisions.
It is clear from its balance sheet and cash flow statements that Apollo Group's mostly positive fundamentals are paradoxical to its current state of affairs in the context of falling enrollments, revenues, and income. These outcomes are further challenged by increased regulatory constraints, potential unfavorable accreditation actions, and the ever present 90/10 rule. The federal 90/10 rule is exclusive to for-profits and forbids more than 90% of cash basis revenue being derived from Title IV financial aid funds, which includes federal student loans and grants. Apollo Group's University of Phoenix is currently at a relatively safe 84% assuming no regulatory changes lower the ratio.
Although valuation appears attractive, the company could improve its margin of safety by increasing net profit margin during the turnaround and consider paying a dividend to shareholders. To a large extent the company's challenges can be tied to the macro issues facing the U.S. for-profit, post-secondary education industry. Consequently, Apollo Group's overall market risk remains suspect.
What Management is Saying
The context of the call's conversation centered on an innovative business model at its Western International University unit in Tempe, AZ, that is differentiated from the University of Phoenix. Discussion included growth potential at the company's international division, currently limited to Chile, Mexico, and the U.K.
Greg Cappelli, Apollo Group CEO, spoke to improving retention and persistence by strengthening staff/faculty engagement with students from enrollment to graduation and beyond. He is looking to increase shorter term certificate and associate degree offerings, and continue restructuring the company's cost model which is projected to decrease by $400 million through the end of fiscal 2014. As widely reported, the short term headwind to these turnaround efforts are the imminent results of the Higher Learning Commission's (HLC) re-accreditation decision for University of Phoenix which is not expected until later this month. The HLC board meeting was scheduled for Thursday, June 27, 2013, but as is typical with accreditation commissions, any actions will be kept from the institution and public until the commission prepares and sends to the university a written notice of its decision.
Brian Swartz, company CFO, discussed the decline in existing and new degreed enrollments, tuition discounting through internal grant programs, campus realignment from previously announced closings of certain on-ground facilities, and significance of costs savings anticipated through fiscal 2014.
In response to analysts' questions, CEO Cappelli and CFO Swartz collectively discussed an on-going business model reinvention to a smaller, more nimble, and efficient organization. Objectives include addressing "what is important to students and employers;" keeping marketing costs flat by focusing on recruiting better quality students; and create offerings geared toward employer reimbursed students which improves 90/10 ratios. There was no mention of the MOOCs phenomenon, or massive open on-line courses, currently sweeping higher education.
Cappelli did address the challenges of being a company mired in an industry-wide recession and disclosed the existence of a specialized team within the company that is re-engineering its education product experience. He stated the plan is scheduled to be released in fiscal 2014 and will present a "more competitive product that better understands local markets." Cappelli offered the reinvention plan as a value proposition to better position the company in a new market environment. He said the blueprint will include a rebranding effort, and reiterated his "small, but healthier" stance and that Apollo Group "will do it the right way."
A new pricing paradigm at its Western International University appears similar to Grand Canyon University's (NASDAQ:LOPE) model discussed during its earnings release in early May. A value proposition of quality on-ground education, complimented with an on-line offering, each at competitive tuition pricing.
An analyst question regarding company willingness to buy back its stock at current 2X EBITDA, as opposed to acquiring international educators at a perceived 10X EBITDA, was tabled by management apparently in deference to the upcoming HLC decision. Some industry observers see the international for-profit education market as the best growth opportunity for U.S. based operators. This perception is driven by favorable regulatory environments and increasing student demand for career oriented education in emerging markets.
What the Analysts are Saying
During their Q&A, analysts focused on cost-cutting, marketing expenditures, the impact of student debt, tuition pricing, student retention, the pending HLC accreditation decision, upcoming negotiated rule-making from the United States Department of Education (USDOE), share repurchase vs. international acquisitions, the company's value proposition for renewed growth, revised delivery models, and student services initiatives.
Following the earnings release and call, Deutsche Bank's Paul Ginocchio maintained his "hold" rating and $16 price target for the stock. Ginocchio thinks there is value in the company with a smaller University of Phoenix. He also believes expectations for fiscal 2014 need to become more realistic, and enrollment must stabilize before he will recommend buying more shares.
Stifel Nicolaus' Jerry Herman also backed his "hold" rating. While encouraged by the company's efforts to right-size, improve affordability for students, and raise quality of its University of Phoenix brand, he thinks there isn't much to boost shares right now.
Here is the current mean recommendation for Apollo Group, Inc.: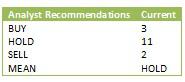 Source: Yahoo Finance: Thomson/First Call
What Isn't Being Said
Contrary to investor comments and media coverage, I was overall impressed with Apollo Group management's focus on a value proposition toward reinvention as opposed to excuses and justifications for what is ailing not only their company, but the industry in general. It is largely documented that for-profit, post-secondary education is in a shakeout and therefore might be more a value trap than a value play. By and large, Apollo Group is not hailed an exception to the value trap notion.
Which brings me back to IBM's legendary turnaround under Lou Gerstner. Opposing opinions will understandably reiterate that IBM did not have the headwinds of regulatory limitations nor accreditation issues. But like Apollo, IBM was facing a reputation crisis stemming from overpriced products and an outdated business model. The company was being written-off as an old tech dinosaur as is now the case for Apollo Group as a once mighty for-profit educator. But a stronger balance sheet and more workable income statement than IBM may give Cappelli breathing room for Apollo Group to experience some wiggling during its planned comeback, something Gerstner's Big Blue IBM apparently lacked as it teetered back in 1994.
Irrespective of public sentiment, corporate culture issues if they exist, and continued federal regulatory pressures, getting past the soon to be disclosed HLC accreditation decision will give Apollo Group the opportunity to reinvent not only their company, but perhaps an entire industry.
Disclosure: I am long IBM. I wrote this article myself, and it expresses my own opinions. I am not receiving compensation for it. I have no business relationship with any company whose stock is mentioned in this article. As an independent research provider of global education services, I have no positions in APOL or LOPE and no plans to initiate positions in either company.