Finish Line Inc. (NASDAQ:FINL) reported earnings on Friday of 10 cents per share. Removing start-up costs at Macy's the company earned 20 cents per share, ahead of the 16 cents analysts had been looking for. Revenue increased 10% year-over-year to $351.1 million and the company continues to guide for a mid single-digit increase in earnings in fiscal 2014. The company ended the quarter with 652 stores and sales at stores opened at least one year climbed 2.4% year-over-year. Much like Nike's (NYSE:NKE) earnings the day before the company saw strength in the running and basketball categories. During the quarter the company repurchased 366,000 shares at a cost of $6.8 million and still has 4.6 million shares remaining on the current repurchase plan.
Finish Line went live at Macy's, Inc, (NYSE:M) during the first quarter and now has 60 Finish Line shops opened at Macy's, with 11 opening this past week. The company remains on track to have 180 Finish Line branded shops at Macy's by the end of the fiscal year. The digital business at Macy's also launched in May with the company saying it is off to a good start. Finish Line is particularly excited about capturing a female demographic at Macy's that would not normally shop in its stores. The Macy's plan for Finish Line does present risks as the company undertakes such a big project to open the branded shops as the company hopes to ramp up openings to 40 to 50 per month. However I believe management has been on track this far and teaming up with Macy's, on the best retailers around, will only help Finish Line pull this off. Interestingly the company said at malls where the Macy's shops are open sales at the Finish Line stores in the same malls are outperforming the rest of the Finish Line chain. While management did not have an explanation for this it could indicate that being in Macy's is introducing the Finish Line brand to a new group of customers. It could also be implied customers are having a positive experience with Finish Line at Macy's if they are then visiting the Finish Line stores as well.
Finish Line's long-term goal is to reach $2.2 billion in sales within 4 years with Macy's adding $250 to $300 million. This represents a CARG of just over 11%. Furthermore the company hopes to drive EPS growth in the low-teens over that time driven by the revenue growth and share buybacks. The company has no debt and cash represents about 20% of the stock price.

Finish Line appears undervalued compared with some of its peers; it has the lowest PEG ratio and lowest EV/EBITDA ratio in this group but also has the fastest growth rate. When you look at Finish Line compared to its larger rival Foot Locker, Inc. (NYSE:FL) its valuation appears near equal with Finish Line having a slightly higher Forward P/E and Foot Locker having a slightly higher EV/EBITDA. With Finish Line's higher growth rate and the possibility of Macy's exceeding expectations Finish Line could soon trade at a premium to its peers.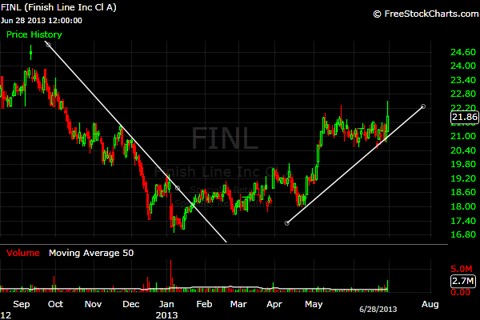 From the chart of Finish Line you can see the stock was in a down trend thru the end of last year before finding support and now putting together a nice uptrend over the past two months. The stock appears to have support just about $20 per share and could be ready to make its next move higher. The success of the Macy's rollout at the start of Finish Line's second-biggest quarter with back-to-school shopping could provide the catalyst the stock needs to go higher. Overall Finish Line is a stock with below-average volatility and strong balance sheet and exciting growth opportunities.
Data sourced from company filings and Yahoo Finance. Chart from Freestockcharts.com.
Disclosure: I have no positions in any stocks mentioned, and no plans to initiate any positions within the next 72 hours. I wrote this article myself, and it expresses my own opinions. I am not receiving compensation for it (other than from Seeking Alpha). I have no business relationship with any company whose stock is mentioned in this article.