We are stuck in the conundrum, which we have faced for months now. News from some parts of the world is great, while others are dragging us down. Europe's economy is dragging, China's is slumping and now Japan's is perking up. All the while things in the US remain sluggish although our growth has been the most steady.
So what is an investor to do? Stick with it. We continue to think that the big caps and blue chips are the way to go with a bit of growth mixed in for the perfectly positioned portfolio right now. With CNBC reporting that $80 billion left bond funds recently (story here), we can only imagine that the capital will have to find its way into an index fund like the SPDR S&P 500 (NYSEARCA:SPY).
Chart of the Day:
This chart does not show the entire move from the past day, but with that factored in Japan is at a new 1 month high. Still a long ways to go back to recent highs, but progress nevertheless.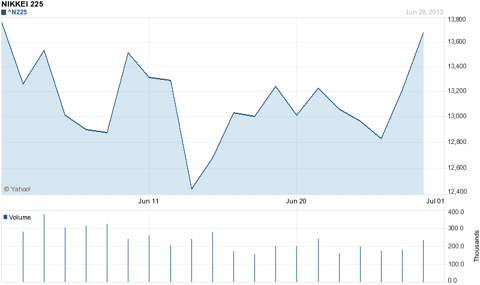 Source: Yahoo Finance
We have economic news due out today, and it is as follows:
ISM Index (10:00 a.m. ET): 50.5
Construction Spending (10:00 a.m. ET): 0.5%
Asian markets finished mixed today:
All Ordinaries -- down 1.79%
Shanghai Composite -- up 0.81%
Nikkei 225 -- up 1.28%
NZSE 50 -- down 0.50%
Seoul Composite -- down 0.41%
In Europe, markets are higher this morning:
CAC 40 -- up 0.85%
DAX -- up 0.43%
FTSE 100 -- up 0.50%
OSE -- up 0.42%
Biotechnology
It is no secret that both technology and biotechnology have been leaders of this rally with deal flow picking up and many companies reaching the point in their growth phases where the pipeline has matured to the point where drugs are coming up for approval by the Food & Drug Administration. We have seen many strong moves and even led readers into Celgene (NASDAQ:CELG) for a nice trade.
Over the weekend, however, we were somewhat blown away by the news that Onyx Pharmaceuticals (NASDAQ:ONXX) rejected a $120/share unsolicited takeover offer from industry heavyweight Amgen (NASDAQ:AMGN). It sounds crazy no matter how many times you say it but the news that followed made this understandable.
Watch for the highs on this chart to get blown out of the water during today's session. Shares are set to open above the $120/share offer from Amgen.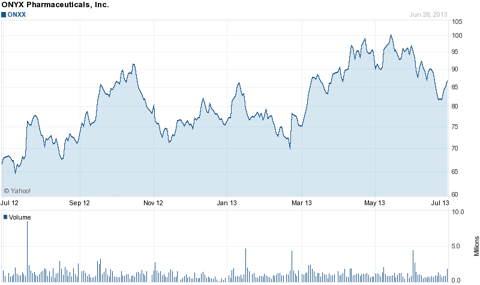 Source: Yahoo Finance.
Onyx rejected the bid in order to put the company on the auction block and in a position to accept a higher offer. Even if another bidder does not emerge, Amgen has effectively set a floor for the process and management has indicated that an unsolicited offer of $120/share is insufficient and the first bid will not work. That is not Amgen's best offer, just their first and if they are to buy Onyx, Onyx management will have a little bit of input on the price. In pre-market trading this morning Onyx was trading up over 50% in the $130/share area.
Technology
It was a 'Black Friday' for investors in BlackBerry (BBRY) to end last week, and not in a good way. Shares in the smartphone maker tumbled nearly 28% to close at $10.46/share on volume of 136 million after a quarter, which was simply a disappointment. A plain and simple disappointment would have been fine, but investors were also met with the news that the company was no longer going to be supplying the market with measurements and data points they have supplied in the past.
Investors and analysts alike were taken aback by this news and the conference call even got a bit heated as the embarrassed analysts directed very pointed questions at BlackBerry's management. As bad as the conference call may have been, the water is only going to get hotter for this management team as it appears more are beginning to lose faith in the turnaround. The only good news is that not all new sales were in this quarter so they have another 3 months to prove to investors that change for the better is underway.
BlackBerry's results did not match the hype and thus the fall. Only one of their new models was included in the numbers, so next quarter will be when investors find out about their second new model.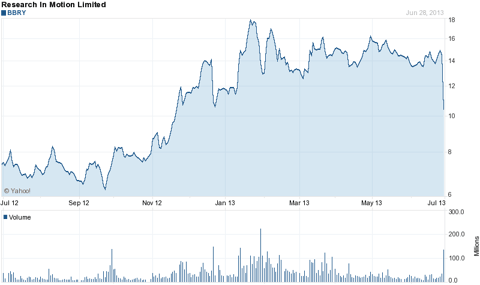 Source: Yahoo Finance.
One deal we just cannot figure out is the Dell (DELL) buyout Carl Icahn is focused on. Yes, we understand that he wants to use the company's cash to leverage up and in turn drive returns higher, but at the end of the day we fail to see where the growth comes from. After this initial windfall from utilizing the cash reserves is over, what position is the company in as far as credit health and its ability to continue as a viable company for the next decade? We see an Icahn deal shortening the lifespan of Dell, but that is merely our opinion. Good news for investors is that there are still major hurdles to overcome, like how to utilize the company's overseas cash (see story here).
Disclosure: I have no positions in any stocks mentioned, and no plans to initiate any positions within the next 72 hours. I wrote this article myself, and it expresses my own opinions. I am not receiving compensation for it (other than from Seeking Alpha). I have no business relationship with any company whose stock is mentioned in this article.