On Friday, June 28th, the second week sales figures, as reported by IMS Health (a proprietary data set that requires a subscription), came in for the Arena Pharmaceuticals (NASDAQ:ARNA) anti-obesity drug Belviq. According to IMS Health, the sales of prescriptions for the second week came in at 1,829. The sales number is not bad, but not good either. Here is why. It is not pointing to blockbuster status, but is ahead of the hockey stick line in the model below.

The first thing investors need to understand is that the $150 million sales target by the end of the year was something that Eisai (OTCPK:ESALY) and Arena established on launch day (June 7th). The second thing investors need to understand is that sales are counted in a certain manner, and this track to $150 million is not about the NET sales split between Arena and Eisai, but rather pure and simple sales.
This is important. There is a lot of discussion about the $150 million in sales translating to about $50 million for Arena. This is an erroneous assumption and appears to be based on the deal between the two companies that gives Arena between 31.5% and 36.5% of NET sales. The $150 million Eisai and Arena spoke of is not NET sales, but rather overall sales.
The reason that this distinction is important is because there is also a lot of chatter about these early sales being 15-day free trials and that even though prescriptions are being filled, there is no revenue tied to them. Essentially, that chatter is about free pills. That assertion is only part of the story. Let me clarify.
The 15-day free trial, as well as the $75 per month rebate card, are taken after the fact. This means that a $200 bottle of Belviq sells to a pharmacy for the full $200 price. That is sales. The 15-day free trial and $75 off rebates come after the fact. Thus, the sales are indeed being generated that can count toward the $150 million target. The free trial and rebates are processed and paid to the pharmacy that filled the script later. There is likely also a processing fee of sorts as well, but that number is likely negligible. Taking the rebates and fees away from the sales figure brings us to NET sales.
For NET sales we need to start with the $200 in the sale of a script and then deduct items like discounts, shipping, etc. By example, If I were to get a script of Belviq for $200 and utilize the 15-day free trial, the NET sales for my prescription would be $200 less $100 for the 15-day trial, less any processing fee for the pharmacy, and less the shipping. Thus, the net sales for my prescription would likely be somewhere between $90 and $95. Arena would get 31.5% of the NET sales figure, but the sales figure would be $200. If in the following month, I took advantage of the $75 off card, the NET sales would be $200 less the $75, less the pharmacy processing fee, and less the shipping. In the second month, Arena would get 31.5% of about $115 (NET sales), while the $200 in sales remains intact. While overly simplistic, I hope this clears up some of the questions I am seeing.
Where NET sales become important is if Belviq NET sales can track to $250 million in a year. For the current year, net sales have to hit that number by July 31st of 2013. The reason it is July is that July will be the first full month in which Belviq has been on the market. If the drug can reach $250 million in NET sales in 1 year, it will trigger bonuses and adjustments in the royalty Arena receives. It is worth tracking this as well, but for the moment, the big target that the street is looking at is $150 million in sales.
Before moving forward, I need to caution readers that the $150 million figure was not official guidance offered up by either Arena or Eisai. In fact, it can be argued that it was simply an effort by the companies to be positive about their product and its prospects at the launch. That being said, it is now a target that will receive focus and attention, and deservedly so. At this point, with no guidance to speak of, the $150 million statement is the only sales target the street has from either Arena or Eisai.
The good news about the second week of IMS health numbers is that my cumulative adjusted total (which assumes that the IMS number is 30% low) of 3,791 is tracking ahead of the 3,052 in the hockey stick model of my chart below. The bad news is that the 3,791 adjusted total is tracking below the 4,239 my more straight line progression model in the same chart. This is why I say that the second week is not bad, but not good either. If you were expecting a massive second week, you are likely disappointed. If you were expecting a second week flop, you are also disappointed.
I had previously stated that a key element in the possibility of reaching the $150 million in sales was that the adjusted data point remain above at least one line of these models. Thus far that is exactly what we have. Bear in mind, when looking at the chart that the orange line of week two is difficult to see still but will begin to become more apparent as time progresses. Readers that requested my model can see the progress in the spread sheet.
One key element here is that this model is simply my way of tracking the possibilities of $150 million in sales on two paths (straight line and hockey stick). Investors may well have their own model that tabulates the data differently. If you have taken the time to develop such a model, I commend you in doing true research into the equity you are invested in. For those that desire to use my model, it will be published weekly. Remember, this model is about tracking the $150 million target that the Street will now be looking for. It is Street expectations that will move the equity.
How does this all boil down to simpler terms? With Belviq carrying a wholesale price of $199.50 (I use $200 in my model to simplify), we need to see 750,000 prescriptions written in 30 weeks. That time-frame takes us from the June 7th launch to January 3rd of 2014. Through two weeks, we have seen an adjusted IMS total of 3,791 prescriptions sold. That means that we need to see 746,209 more scripts sold in the remaining 28 weeks. From a sales perspective, we now have the two weeks of cumulative sales at $756,264. That means we need to see $149,243,736 more in sales over the next 28 weeks.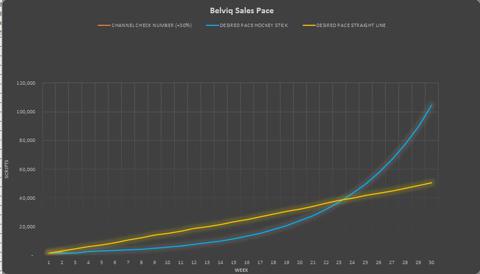 For some investors this information may come as a reality check. Reaching the $150 million target is not easy. If it does happen, it points to the possibility of a successful drug. That is what many investors are banking on. The current pace keeps that possibility intact, but is not demonstrating that the course will be easy.
Long ago, I had stated that I felt that 40,000 scripts in the first 3 months was good. I also wrote that 75,000 would be great, and that 20,000 would be poor. It would appear that the current pace is not in the "great" category, nor the "poor." My hockey stick model shows that cumulative scripts need to be at 43,591 by week 12. The straight line model dictates that the scripts need to be at 118,492 in that same week. Savvy investors will be paying keen attention between weeks 12 and 16. It is in that area (week 12 to 16) that the hockey stick model beginnings a more vertical move. We are behind on a straight line model, but slightly ahead on the hockey stick.
One concern regarding Arena that I have is the delta between sales and net sales. When I established my model, the reason I qualified 40,000 as good was because it outlines the possibility of Arena getting to the bonuses that start to kick in at $250 million in NET sales. The current discounting (15 days free and $75 off per month) makes the number of scripts needed to reach the $250 million in NET sales more challenging. I am not changing my track yet, but will want to monitor the financials closely over the next two quarters to see what type of revenue Arena gets as compared to the sales we are tracking. This concern is not an indictment on Arena or Belviq. It is simply an exercise that every investor needs to go through to consider whether or not the company is tracking to your own expectations as well as the expectations of the Street.
Looking ahead to next week, my hockey stick model dictated that the adjusted sales number needs to be at least 1,901 scripts. It would seem that this number could be attained with relative ease. In contrast, for the straight line model, the adjusted sales number would need to be 4,522. This number is possible, but not likely. What this means to investors is that the script data is still going to create volatility. Be ready for that. Active traders will love this pace as it creates opportunity to trade long and short.
Disclosure: I am long ARNA. I wrote this article myself, and it expresses my own opinions. I am not receiving compensation for it (other than from Seeking Alpha). I have no business relationship with any company whose stock is mentioned in this article.