Introduction
After some significant deals between the Canadian and the Chinese E&P companies, Canada tightened the takeover rules for state-owned foreign enterprises. The potential suitors will have to establish a "net benefit" to Canadians who will continue to participate in operations domestically and internationally, supporting ongoing innovation, research and development. Furthermore, the capital expenditures will have to maintain the Canadian business in a globally competitive position.
Is this really enough to keep the Chinese suitors away from acquiring more Canadian resources? I do not really know. I just know that:
1) China remains on a global hunt to find oil and gas resources.
2) Several Chinese companies have problems with their operations in Africa.
3) The Canadian energy companies have attractive valuations versus their US-based peers.
I will further elaborate on these issues in the next paragraphs where I will also discuss two Canadian companies which are attractively priced at the current levels. These two Canadian companies are different from Penn West Petroleum (PWE) and Pengrowth Energy (NYSE:PGH) which I analyzed in early May. In that article, I also pointed out that Penn West and Pengrowth might be acquisition targets. My article is here.
China And The Canadian Resources
The following chart speaks volumes: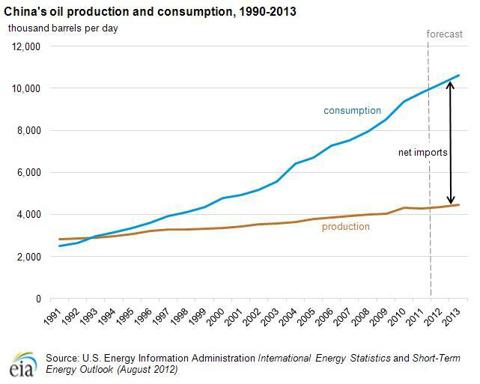 There is a growing deficit between oil production and consumption in China. This is the reason why the Chinese E&P majors have acquired the following Canadian companies thus far:
1) In October 2011, Sinopec (NYSE:SHI) bought Daylight Energy for more than $2 billion.
2) In late 2012, PetroChina (NYSE:PTR) made a JV with Encana (NYSE:ECA). PetroChina gained a 49.9% interest in Encana's 445,000 acres in the Duvernay play for total consideration of C$2.18 billion.
3) In February 2013, CNOOC (NYSE:CEO) acquired Nexen, gaining access to a diversity of oil and natural gas producing properties. The Nexen acquisition gives CNOOC new offshore production as well as producing onshore properties in the Middle East. In Canada, CNOOC gained control of Nexen's Long Lake oil sands project in Alberta, conventional natural gas and coalbed methane producing assets, as well as billions of barrels of reserves in the world's third-largest crude storehouse, the oil sands in Alberta.
China And The Russian Resources
Despite these deals above, China remains on a global hunt to quench its thirst for oil and gas as indicated by the following recent facts:
1) Russia's Rosneft (OTCPK:RNFTF) made a $270 billion deal to double oil supplies to China, as the Kremlin energy champion shifts its focus to Asia. The deal is one of the biggest ever in the history of the global oil industry, bringing Rosneft $60-70 billion in upfront pre-payment from China.
2) The state-owned China National Petroleum Corporation (CNPC) agreed to take a 20% stake in Novatek's (OTC:NOVKY) $20 billion liquefied natural gas (LNG) project on Russia's remote Yamal peninsula.
As part of the stake, CNPC will receive 3 million metric tonnes of LNG per year by tanker to the Beijing-based company under a long-term contract. Novatek has expanded rapidly in recent years to become Russia's second-biggest gas producer after Gazprom, which to date has had a monopoly on gas exports but failed to make a deal with CNPC in the past.
Those readers who are interested in getting more information about the emerging LNG Global Trade and the primary beneficiaries, are urged to read my recent LNG-related article here.
China's Problems In Africa
China has taken the lead in fostering relations with African countries and over the last few years Chinese influence in the continent has increased markedly. China has emerged as Africa's largest trading partner. Two-way trade has increased dramatically to an all-time high of $166.3 billion, triple the figure for 2006.
However, the Chinese enthusiasm for investments in Africa has seemed to wane lately. There are some recent incidents that made the Chinese companies re-evaluate their expansion in Africa. These incidents are shown below:
1) According to the latest news, Gabon plans to seize an oil field from Sinopec's Addax Petroleum. Addax has been in a legal dispute with Gabon over an oilfield in which claims and counter claims total more than $1 billion. Gabon's ministry of oil transferred the Obangue oilfield from Addax to the two-year-old Gabon Oil in January 2013 because Addax had failed to pay customs duties and comply with other laws.
Sinopec acquired Addax Petroleum in 2009. Addax properties were in Africa and in Kurdistan. Addax owned 42.5 MMboe of proved and probable reserves in Iraq's Kurdish territory back then, and its assets were close to the assets of Westernzagros (OTCPK:WZGRF) and ShaMaran Petroleum (OTCPK:SHASF). Both companies were analyzed in my article here.
2) In March 2013, the Belinga iron ore project in Gabon was placed under review and Gabon is still negotiating with its Chinese partner on how to develop this giant mine. Gabon would likely bring in other miners and could break up the vast concession. China's CMEC (China Machinery Engineering Corporation) secured rights to the iron ore deposit in a 2007 deal. The deal with CMEC was signed by the late president Omar Bongo, but his son and successor, Ali Bongo, called for a review of the agreement after he came to power in 2009.
3) In late February 2013, three licenses were revoked in Zambia's coal sector. Zambia cancelled all three mining licenses held by Collum Coal mine, a Chinese-owned coal mine over poor safety and environmental compliance, as well as a failure to pay mineral royalties. The government took over the running of the mine and would continue operating it until a new investor was found. The government also alleged that the Chinese owners were not operating the mine properly but the mine was looking like a farm instead.
Venezuela, Argentina and Bolivia
The revoked licenses of the Obangue oilfield and Collum coal mine above remind me of Venezuela's, Bolivia's and Argentina's nationalization strategy that has hurt several foreign E&P players so far. This is something that the Chinese companies know very well. They also know that they will most likely spend a significant amount of time and money with doubtful results in case they pursue the resolution of a nationalization case through the international arbitration. For instance:
1) A few months ago, Bolivian President Evo Morales nationalized the foreign-owned company that operates the country's three largest airports, in his latest move to widen government control over the economy of the impoverished South American nation.
Since 2006, Evo Morales has nationalized the oil and gas industry, telecoms, much of electricity generation and then zinc and tin mining all followed. In late 2012, Morales announced the expropriation of two electricity-distribution companies owned by Iberdrola, a Spanish company.
2) As presented in my recent article about Argentina and the Argentinian stocks, Cristina Kirchner nationalized 51% of YPF (NYSE:YPF) without paying a single penny. Furthermore, Petrobras Argentina (NYSE:PZE) had its Veta Escondida concession revoked in April 2012.
The Argentinian government has also revoked Fortin de Piedra Block from the privately-held Tecpetrol and Covunco Norte concession in the Neuquen Basin from the Canadian oil junior Azabache Energy. My article about the "Vaca Muerta" War and the E&P players in Argentina is here.
3) Venezuela has nationalized the gold-producing properties of Vancouver-listed Rusoro Mining and Canadian-miners Crystallex International and Gold Reserve.
Unfortunately, this expropriation has taken place more than once in Venezuela. It is also worth noting that Rusoro is a Russian company and Russia has traditionally maintained friendly relations with Venezuela. Nevertheless, the power of money proves to be stronger than the political ties.
Enerplus, Lightstream Resources And The Peers
Meanwhile, Canada remains a safe haven with political stability and sound corporate legislation. On top of that, an investor can find Canadian companies that still carry low valuations in comparison to their US-based peers. These firms also own significant acreage in more than one formation for risk diversification.
Being an one-basin company with relatively small acreage is a significant negative parameter for an acquisition scenario in my opinion. This is why I believe that companies like Kodiak Oil (NYSE:KOG) or Oasis Petroleum (NYSE:OAS) have very low odds in attracting the interest of a big Chinese player.
After all, let's dig into the details to see why Enerplus (NYSE:ERF) and Lightstream Resources (PBKEF.PK) are attractively priced at the current levels:
1) Enerplus: I recommended Enerplus in late February 2013 when the stock was at $12.35. In that article, I also recommended WPX Energy (NYSE:WPX) at $14.61. Enerplus and WPX Energy have risen 20% and 35% respectively since then despite the fact that S&P has been in correction territory lately. My article is here.
Enerplus has a diversified asset base of oil and gas properties across a variety of resource plays both in Canada and the United States. Its oil properties extend from the Bakken/Three Forks resource play in North Dakota to the liquids rich Deep Basin area of British Columbia, Alberta and throughout the Western Canadian Sedimentary Basin. Add on this, a large natural gas weighted position in the Marcellus shale gas region in the northeast U.S. and significant waterflood operations in Canada.
Enerplus produces 87,183 boepd (48% oil and liquids) and holds 227.3 MMboe of proved reserves (60% oil and liquids) as of December 2012. With an Enterprise Value at ~4 billion, it trades at $45,900/boepd and $17.6/boe of proved reserves.
Enerplus has a good balance sheet with a D/CF (annualized) ratio of 1.7x. The income seekers must not ignore the lofty 7.3% dividend. The company also maintains its annual average production guidance of 82,000 to 85,000 boepd with an exit rate of 84,000 to 88,000 boepd.
US-based Magnum Hunter Resources (MHR) and Carrizo Oil and Gas (NASDAQ:CRZO) are directly comparable to Enerplus.
A) Magnum Hunter Resources operates in the U.S. and has exposure to three unconventional shale resource plays, namely the Marcellus, Utica and Williston/Bakken Shale. Moreover, it has a balanced production mix between oil and natural gas.
After the recent Eagle Ford asset sale to Penn Virginia (PVA), Magnum produces 17,000 boepd (~55% oil and liquids) and holds 61.6 MMboe of proved reserves (~60% oil and liquids). With an enterprise value at ~1.6 billion and market cap ~$600 million currently, the company's debt (net of cash) is ~$1 billion. After all, it trades at ~$94,100/boepd and $25.97/boe of proved reserves. The huge difference with Enerplus' valuation on these two key metrics is obvious.
My generous estimate is that Magnum has ~$100 million operating cash flow for 2013, resulting in a sky high D/CF (annualized) ratio of 10x. Moreover, Magnum does not pay a dividend and guides for an exit rate of 23,000 to 25,000 boepd for 2013.
B) Carrizo Oil and Gas has a balanced production mix like Enerplus. Its properties are located in the Eagle Ford Shale in South Texas, the Barnett Shale in North Texas, the Marcellus Shale in Appalachia, the Niobrara Formation in Colorado, and the Utica Shale in Eastern Ohio.
According to the company's presentation, Carrizo produced ~26,300 boepd (42% oil and liquids) in Q2 2013 and had 115.1 MMboe of proved reserves (39% oil and liquids) as of December 2012.
With an enterprise value at ~$2.1 billion, Carrizo trades at $79,850/boepd and $18.25/boe of proved reserves. Carrizo does not pay any dividend and has a D/CF (annualized) multiple at 2.7x.
All in all, both Magnum and Carrizo carry higher valuations on key metrics than Enerplus although both companies are fundamentally much weaker than Enerplus.
2) Lightstream Resources: Lightstream Resources, formerly Petrobakken Energy, is one of the main Canadian E&P players. The company is light-oil focused and its principal operating areas include southeastern Saskatchewan where it targets the Bakken formation and conventional Mississippian reservoirs, central Alberta, where it targets the Cardium formation, and north-central Alberta, where it is engaged in exploring for and delineating emerging light oil resource plays (i.e. Duvernay).
In addition, Lightstream has land holdings in the Horn River and Montney plays in northeast British Columbia that provide the company with natural gas optionality. Lightstream's properties total over 1 million net acres of undeveloped land.
In Q1 2013, Lightstream produced ~49,100 boepd (82% oil and liquids) and holds 131.4 MMboe of proved reserves (82% oil and liquids).
With an enterprise value at ~3.6 billion, it trades at $73,300/boepd and $27.4/boe of proved reserves. Lightstream has a D/CF (annualized) ratio of 2.8x and pays a hefty 12% dividend. The company also guides for 2013 exit rate of 49,000 to 52,000 boepd.
Lightstream gets more attractive when compared to Continental Resources (NYSE:CLR). US-based Continental is one of Lightstream's competitors. It is less oil-weighted than Lightsteam and holds ~1,5 million net acres, targeting more than one formations. Its core operations are in the Bakken formation of North Dakota and Montana, as well as in the SCOOP and Northwest Cana plays of Oklahoma.
In Q1 2013, Continental produced 121,500 boepd (~80% oil and liquids) and had 785 MMboe proved reserves (~80% oil and liquids) as of December 2012.
With an enterprise value at ~$19.5 billion, Continental trades at ~$160,500/boepd and $24.84/boe of proved reserves. Continental does not pay a dividend and its D/CF (annualized) ratio stands at ~2.2x.
Conclusion
I am not saying that Enerplus and Lightstream Resources are going to be acquired by a Chinese E&P player tomorrow. I just believe that both companies are currently two attractive investment opportunities from the Canadian energy patch.
Meanwhile, China has to satisfy its growing needs for hydrocarbons and several Chinese companies have problems with their operations in Africa. It remains to be seen how this puzzle will play out.
Disclosure: I have no positions in any stocks mentioned, and no plans to initiate any positions within the next 72 hours. I wrote this article myself, and it expresses my own opinions. I am not receiving compensation for it (other than from Seeking Alpha). I have no business relationship with any company whose stock is mentioned in this article.