Joe's Jeans (NASDAQ:JOEZ) designs, produces and markets apparel products to more than 1,000 in several countries. The last 5 years were very volatile for the investors of the company mostly due to the economic conditions; however, things have been improving recently.
The company produces high-end products that are priced accordingly. Many of the company's products will range between $150 and $500 in price. The products of Joe's Jeans can be found in department stores like Nordstrom (NYSE:JWN), Macy's (NYSE:M), Saks (NYSE:SKS), Bloomingdale's as well as specialty stores like Kitson, American Rag, and Anthropologie. Currently, the company's products are being sold in 25 countries across the world. In addition, the company operates its own stores but the number of stores is pretty low at this point. Currently, Joe's Jeans operate 28 brick and mortar stores in addition to a website that sells its products. There are also 2 stores that the company has franchised out.
Joe's Jeans has 5 business segments that generate revenues for it. In 2012, Joe's Whole Sale women's accounted for 51% of the company's revenues as opposed to the 59% in 2011. This is good for the sake of diversification. Joe's Retail accounted for 20% of the revenues as opposed to the 19% in 2011. "Else" accounted for 7% of the company's revenues in 2012 after being launched in the same year. Else is a Joe's Jeans brand that is exclusive to Macy's stores. The brand had a very successful start in 2012 and it is expected to be one of the main drivers of growth for the company in the future.
Last year, the company conducted a marketing research where it found interesting facts about its average customer. The average female that buys denim jeans turned out to be 32 years old, professional, with an income of $140,000 per year, doesn't have kids, currently has 7 pairs of high-end jeans and buys a new pair every 2 months. She sees being on trend as "cost of business" and is willing to spend extra money on a pair that fits her body right. The customer base of the company is very loyal and they realize that jeans don't come "one-size-fits-all." The costumers of this company believe that different body types should wear different jean types, which the company addresses with its 6 different models based on body type.
Last year, the company's Wholesale Women's business segment posted a modest revenue growth over 2011. While this segment is the backbone of the company, it is expected to report a slower growth than the rest of the company because it is more established. In the last year, most of the growth came from colored and printed jeans, which is becoming a new trend. By next year, the company expects to increase its distribution channels in order to make its products available to more people, which should help fuel further growth for the business segment.
Men's Wholesale is the fastest growing business segment of the company. Revenues of the business segment grew from $16 million to $21 million, reflecting a growth rate of 31%. This was helped by the fact that the products are available in more locations, up from 928 to 1,064, an increase of 15%. If we look at revenue by location, this metric is up from $17,000 to $20,000, which is an increase of 18%.
In 2012, the markets outside of the US have accounted for only 5% of the company's revenues. Joe's Jeans plans to increase this number to 30% eventually. In order to accomplish this goal, the company hired a new VP of international sales last year. In Europe, the company went through a major restructuring while it refreshed its contracts in Japan. The company has very little exposure to developing nations such as Brazil, China and Russia where it could generate a lot of growth in the future. Once the restructuring in Europe is complete, the company will be focusing more on these growing markets. The chart below shows the revenue breakdown of the company by region outside of the US.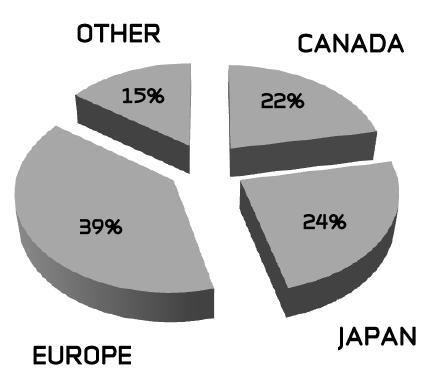 Furthermore, the company expects a lot from its own stores. In 2009, Joe's Jeans' own stores generated $4.8 million in revenues. The following year, this number increased by more than 100% to $13 million. In 2011, the store revenues totaled $18.5 million and in 2012 the numbers reached $23 million. By 2017, the company hopes to increase its store revenue to $115 million (which is its total revenue right now). Out of the 28 stores operated by the company, 6 were opened last year and the company plans to open another 10 stores this year. In addition to opening new stores, the company's same-store growth rate was 10% last year, which is impressive at a time most stores post single-digit same-store growth rates at best.
While the average store size is 2,100 square feet at the moment, the company is shooting for smaller stores. Last December, two stores of 1,000 square feet were opened for test purposes. The smaller stores seem to have comparable productivity with the bigger stores while having much lower costs. Prior to 2011, the company's CapEx per new store was $380,000 whereas the number is $250,000 per store now. As a result, the company's margins are increasingly nicely towards its goal of 25% which is almost within reach for the first time ever.
Combining all the business segments and locations of the company, Joe's Jeans had a fairly successful year in 2012. The revenue was up by 21% compared to 2011. EBITDA margin was up from 4% to 10% during the same period. The company's EBITDA posted a 175% growth from $4 million to $11 million.
The company's balance sheet is pretty healthy with $13 million cash, $49 million in current assets, $18 million in current liabilities and no debt.
The top 10 customers of the company account for 61% of its revenues. This creates a risky situation for the company because if it were to lose one of the top customers, it would be losing a significant portion of its income. Also, because the company addresses a high-end market, when the economy is not performing well, the company's business model is expected to take a strong hit. Finally, due to the fact that this is a small cap company, there are risks associated with the situation. Small cap stocks tend to be more volatile and they tend to be more prone to manipulations. Investors should be cautious and remember to do their homework before investing in any company; but they should pay even more attention to smaller cap companies.
If the company increases the number of stores it has, reaches the goal of having margins above 25%, successfully launches itself in the international markets, it can easily double or even triple. If it fails at one or more of these goals, there will be still upside but the upside may be rather limited. There is still a lot of work before the company reaches its long term goals; but this may be a good bet for those that have a long time horizon.
Disclosure: I have no positions in any stocks mentioned, and no plans to initiate any positions within the next 72 hours. I wrote this article myself, and it expresses my own opinions. I am not receiving compensation for it (other than from Seeking Alpha). I have no business relationship with any company whose stock is mentioned in this article.